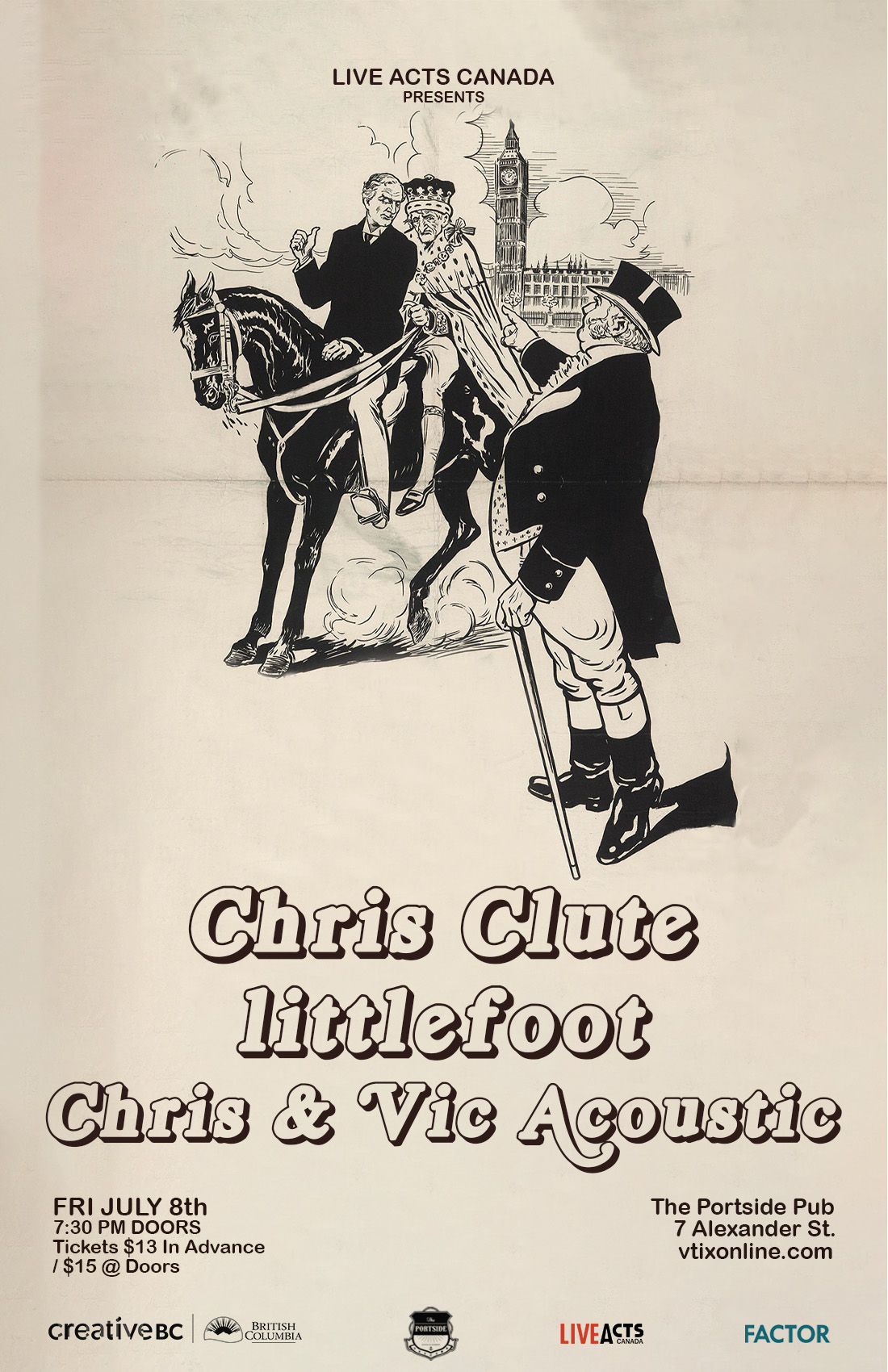 Chris Clute with Special Guests Littlefoot, and Chris & Vic Acoustic
Friday, July 8, 2022 | 7:30pm
The Portside Pub
Live Acts Canada Presents
Chris Clute with Special Guests Littlefoot, and Chris & Vic Acoustic
The Portside Pub. Doors: 7:30PM/ 19+
Tickets $13.00 In Advance $15.00 @ The Door
THE PORTSIDE PUB, 7 Alexander St.
Chris Clute//
Clute's previously released track "Body" found himself questioning the feelings of unknowns and what it's, which had been brought by a previous relationship. After going through the motions, Clute takes us on a midnight ride through the city. The forthcoming track, "Midnight Drive" came to fruition shortly after Clute and close friend/producer Sal Verma of Sound of Kalima heard The Weeknd's tracks "Heartless" and "Blinding Lights." In homage to the two inspired tracks they threw in some synthwave and 80's/Stranger Things vibes. The creative process allowed Clute to take a new sound and tailor it to his unique voice and personality. It also opened the door to bringing in another vocalist on the track, Saya Helton, who he met at UBC University.
"Midnight Drive is a desperate drunken love song about someone trying so hard to salvage a relationship that is falling apart. They are so anguished by not being with this person that they would drive miles in an inebriated state just to see them." He explains that, "The two verses and first chorus take us on a downward spiral going head first until we reach the bridge lyric "I just wanna feel good" which is the inevitable rock bottom for our main character. This person has come to terms with how much they need the validation that their lover provides. The character in this song is experiencing a momentary lapse in judgement with no regard for the consequences which is something we've all experienced at one point or another."
Spotify - https://open.spotify.com/artist/2jmBciEwUq2NUp5kr0Oj8m?fbclid=IwAR2Smj-2o-DeOOMJHVgprcHPCeGYWveSgP6kdLVDnub_PoYH8P411cciFZw
Facebook - https://www.facebook.com/chrisclutemusic/
Instagram - https://www.instagram.com/chris___clute/?hl=en
Littlefoot//
Soundcloud - https://soundcloud.com/littlefoot-2