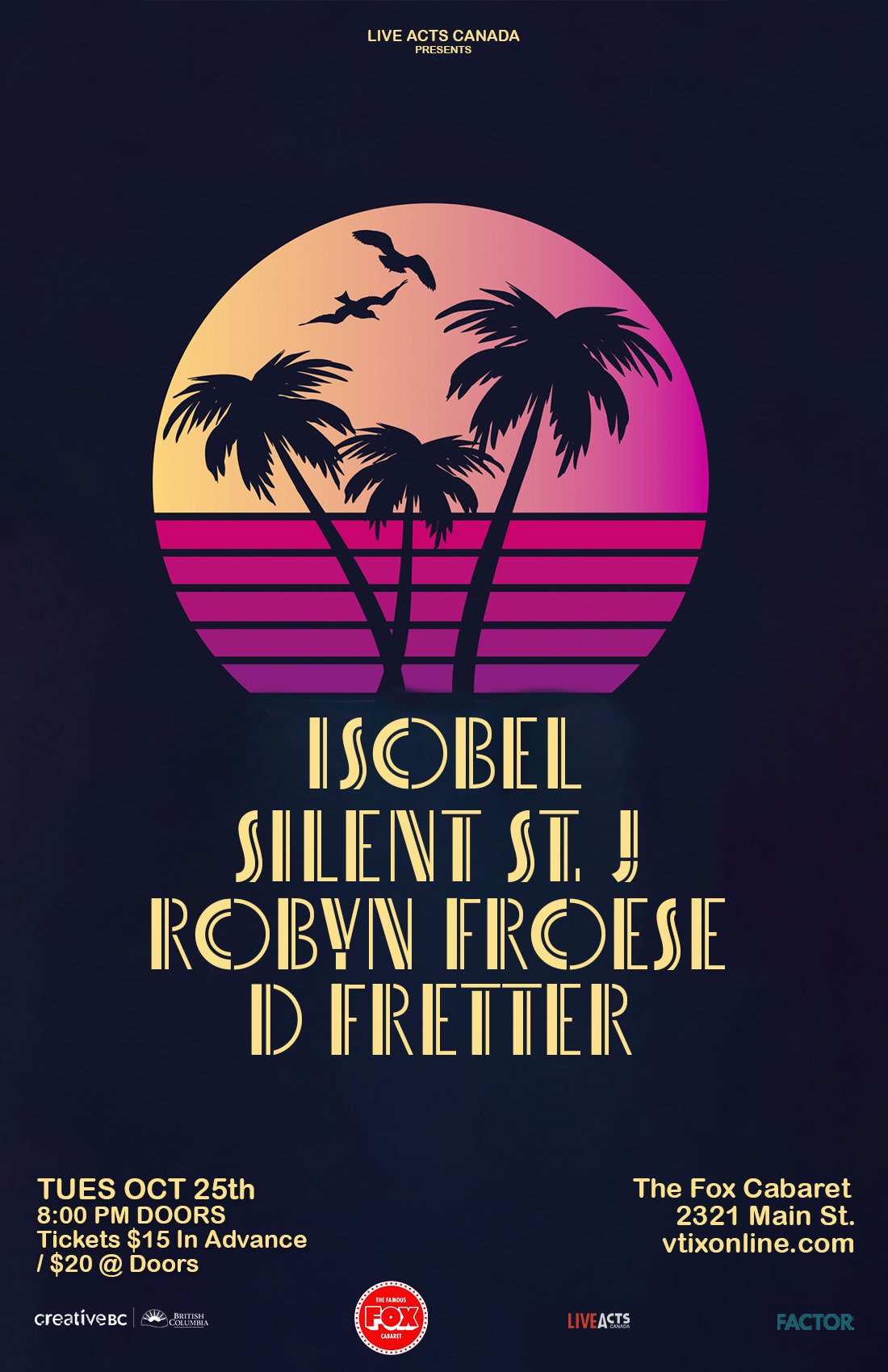 Isobel with Special Guests Silent St. J, Robyn Froese, D Fretter
Tuesday, October 25, 2022 | 7:00pm
The Fox Cabaret
Live Acts Canada Presents
Isobel with Special Guests Silent St. J, Robyn Froese, D Fretter
The Fox Cabaret. Doors: 7:00PM/ 19+
Tickets $15.00 in advance/ $20 @ the door
THE FOX CABARET, 2321 Main St.
Isobel//
Silent St. J//
perfectly marries alternative folk and soul. She graciously creates an emotional resonance with her music, and has the ability to enchant her listeners. With honest and captivating lyrics and soothing vocals, Silent St. j sparks a sense of wonder in the hearts of any audience, taking them on a journey through the liminal spaces of her mind.
Facebook - https://www.facebook.com/SilentSt.j
Robyn Froese//
Robyn Froese is a Canadian singer songwriter based in Vancouver, B.C. Robyn's commanding yet unique voice has drawn comparisons to timeless artists like Janis Joplin or Florence and the Machine, while her deliberate lyrics are reminiscent of sad girl rock queens such as Phoebe Bridgers and Soccer Mommy. Robyn's genuine stage presence makes you feel like you're old friends sitting down for a drink or having deep chats while singing on the kitchen floor late at night together. She plays solo, in a duo Robyn & Romaunt, or with a band being backed by a group of phenomenal musicians and nice friends.
Facebook - https://www.facebook.com/robbsme/
Instagram - https://www.instagram.com/robbs_me/
Youtube - https://www.youtube.com/channel/UCMDO8kmqw0W3UquLlItjtXw
Website - http://robynfroese.com/
D Fretter//
Facebook - https://www.facebook.com/dfretter
Spotify - https://open.spotify.com/artist/08hGo7ONwlhWltf9ts57ZC
Instagram - https://www.instagram.com/_dfretter/