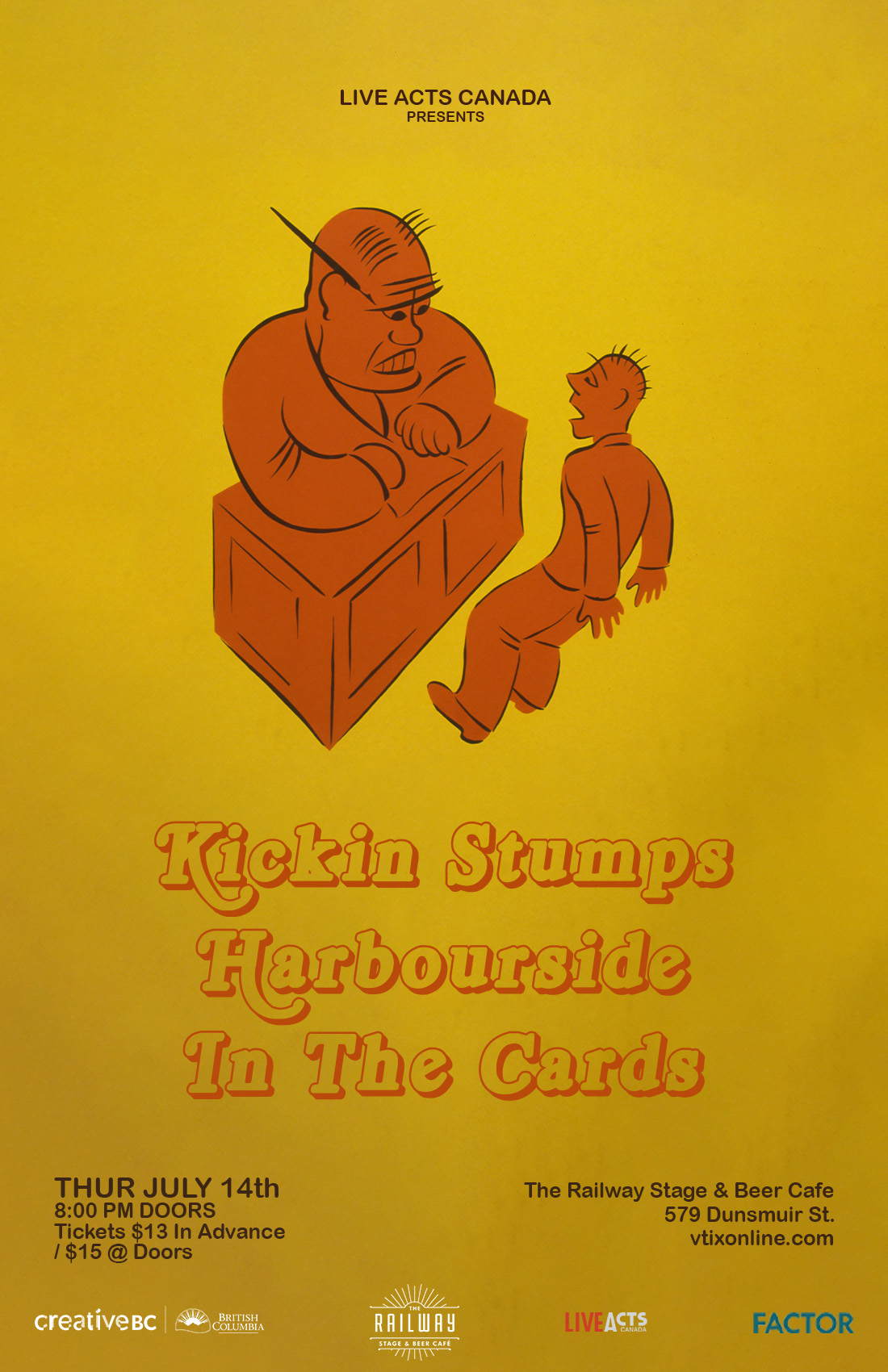 Kickin Stumps With Special Guests, Fomites, Harbourside, and In The Cards 
Thursday, July 14, 2022 | 8:00pm
The Railway Stage and Beer Cafe
Live Acts Canada Presents
Kickin Stumps With Special Guests, Fomites, Harbourside, and In The Cards
The Railway Stage and Beer Cafe. Doors: 8:00PM/ 19+
Tickets $13.00 In Advance $15.00 @ The Door
THE RAILWAY STAGE AND BEER CAFE, 579 Dunsmuir St
Kickin Stumps//
Fresh out of the mountainous trees from North Vancouver comes the brand-new arrival, "Kicking Stumps". Formed back in late July of 2021, this band's multi-genre eclectic style will turn your head. Influences of Led Zeppelin, Jimi Hendrix, Tool, Jeff Buckley, RHCP, and many more. One would say they can do it all. Always ready to rock, you won't want to miss them.
Fomites//
Mild-mannered employees by day, bloodthirsty punk rock monsters by night, The Fomites are a three-piece punk band based out of Vancouver. Hailing from the alleys, sewers, and graveyards of the Lower Mainland, The Fomites came together in 2018 to infect the West Coast with their brand of fast and fun punk rock. Influenced by skateboarding, pizza, and all things rad, they sing about Stephen King, cosmic horror, and partying in the face of Armageddon.
Dearly departed, let's get this party started.
Kindacoolrecords - https://www.kindacoolrecords.com/thefomites?fbclid=IwAR1lWCnLbO8PMUeRlZy_QOQivXKohS_agoTOBBEJ-XSYmEKeUavZ-hJ3XWU
Insta - thefomites
Facebook - @TheFomitesBand
Harbourside//
Facebook - @harboursideband
Insta - harboursideofficial
In The Cards//
In The Cards, is a local four-piece blues-rock group, playing for just over two years together. We all met in music school years ago and just enjoy getting together and doing what we love. We have been lucky enough to play in great venues in Vancouver such as The Red Room, The Railway Club, and the Roxy. We're looking to expand our brand and become a staple of the Vancouver music scene.
Youtube: https://www.youtube.com/watch?v=HRPkr93K3-E
Facebook: https://www.facebook.com/inthecardsband
Instagram: https://www.instagram.com/inthecardsbandofficial/?hl=en
BandCamp: https://inthecardsvan.bandcamp.com/releases

https://www.facebook.com/railwaySBC
https://www.twitter.com/railwaySBC
https://www.instagram.com/railwaySBC
For more information, email info @donnellygroup.ca