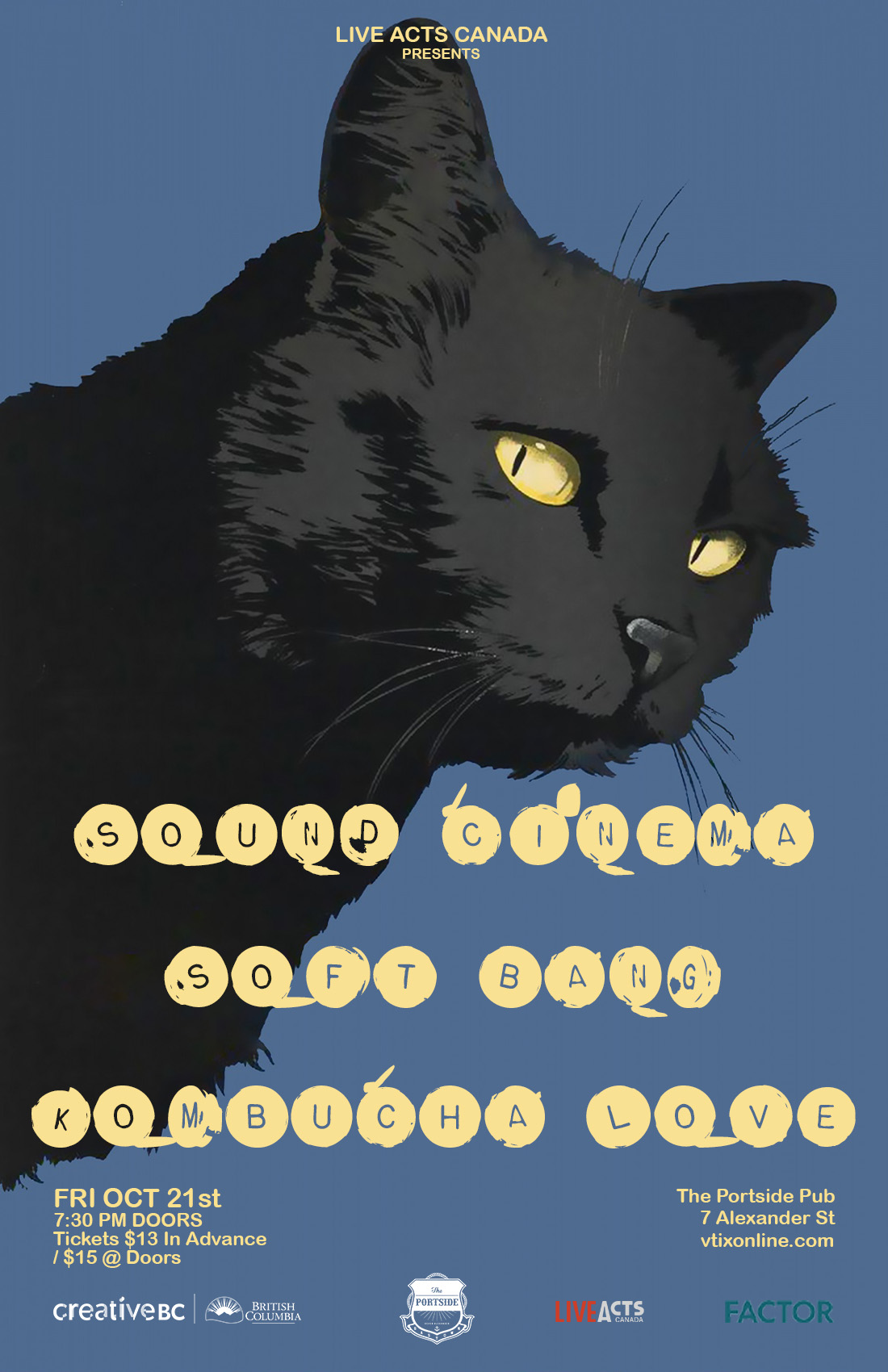 Sound Cinema with Special Guests Slightest Clue and Soft Bang
Friday, October 21, 2022 | 7:30pm
The Portside Pub
Live Acts Canada Presents
Sound Cinema with Special Guests Slightest Clue and Soft Bang
The Portside Pub. Doors: 7:30PM/ 19+
Tickets $13.00 In Advance $15.00 @ The Door
THE PORTSIDE PUB, 7 Alexander St.
Sound Cinema//
An evolution of the groups "The Strange" and "45 Spacer", Sound Cinema was formed in 2019 by brothers Jack (vocals and guitar) and Patrick Di Blasio (piano and drums) along with Shawn Heeren (bass). Sound Cinema blends contemporary pop-rock and EDM. Since its inception, the band has played gigs at notable venues like the Pacific Coliseum in Vancouver, British Columbia, and the Whiskey a Go-Go in Los Angeles, California. The brothers first played together at an elementary school talent show and spent their high school years crafting their sound in garages and basements – even while prompting neighbors to throw beer bottles across the street at the source of the noise. The band has opened for artists Shaun Frank, Joey Badass, and GoldLink and won Battle of the Bands in Los Angeles.
The band plans to release their second EP in early September.
Website - https://www.soundcinemaband.com/
Facebook - https://www.facebook.com/soundcinemaband/
Instagram - https://www.instagram.com/soundcinemaband/
Twitter - https://twitter.com/soundcinemaband
Spotify - https://open.spotify.com/artist/7cMNnZbeBu9MF3mKoeKWR3
Slightest Clue//
Born from the bedroom and bred into an energetic four-piece live act, Vancouver-based Slightest Clue marries the sounds of post-punk and alt-rock into a unique hybrid of dark, heavy pop. Fusing jazz chords and melancholic melody with shifting dynamics, Slightest Clue believes in playing their hardest to earn your ears and connect with you as though you're simply having a conversation with a close friend.
Website - https://www.slightestclue.com/
Facebook - https://www.facebook.com/SlightestClueBand/
Instagram - https://www.instagram.com/slightestclue
Spotify - https://open.spotify.com/artist/4KlsPb31tYyGZGJt4FUaWP
Soft Bang//
Linktree - https://linktr.ee/softbang
Facebook - https://www.facebook.com/softbangband
Instagram - https://www.instagram.com/soft__bang/
Bandcamp - https://softbang.bandcamp.com/releases