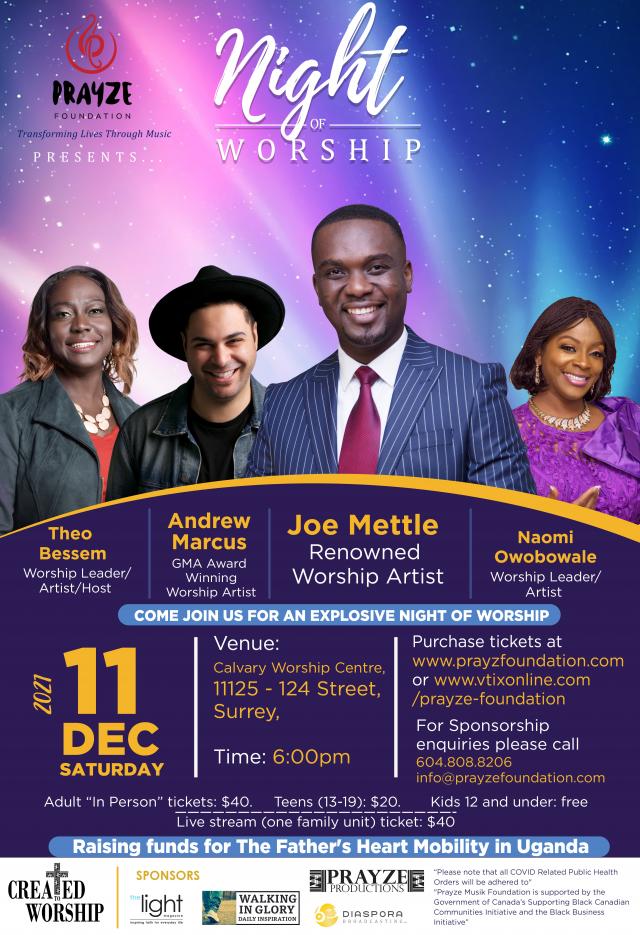 PRAYZE FOUNDATION PRESENTS
WORSHIP NIGHT WITH SINACH LIVE IN CONCERT, THEO BESSEM AND DEE JONES
Sunday, November 3, 2019 | 6:00pm
Chandos Pattison Auditorium
10238 168 Street, Surrey, BC V4N 1Z4
Come on out to An Extraordinary Evening of Praise and Worship with SINACH Live in Concert, Theo Bessem and Dee Jones. It will be a night you don't want to miss!
Date: Sunday November 3, 2019 at Chandos Pattison Auditorium, 10238 168 Street, Surrey, BC V4N 1Z4
Time: 6.00pm
Adult Tickets: $50 IN ADVANCE | $55 AT THE DOOR
Kids Tickets (ages 10-15): $25.00 (limited seats - 50 seats available)
PRAYZE FOUNDATION - Transforming Lives Through Music | http://www.prayzefoundation.com/
Prayze Foundation is a not-for-profit platform created to provide a proactive resource for worship/gospel and musical ministry events. Essential elements of Prayze Foundation include organising and hosting concerts with Local and International Artists. It is an organisation dedicated to demonstrating the love of God by Transforming Lives Through Music. This will be achieved by investing in the musical needs of underprivileged children across the globe through vocal and musical intervention, and by providing the instruments needed to empower their growth. There are many urban areas that have come to our attention that need help and training musically, and we desire to be a part of meeting these needs. In addition to the talent developmental transformation, we are likewise committed to providing a portion of funds raised from our endeavours (such as concerts), which will undoubtedly go a long way in fulfilling these goals.
SINACH | https://sinach.org/
Sinach is an award winning songwriter, vocalist and a specially anointed international worship leader of our time. She is known globally for several gospel hits songs which include, 'Way Maker', 'I Know Who I Am', 'Great Are you Lord', 'Rejoice', 'He did it Again', 'Precious Jesus', 'The Name of Jesus', 'This Is my Season', 'Awesome God', 'For This', 'I stand Amazed' , 'Simply Devoted', 'Jesus is Alive' and many more which have become anthems in many Churches and homes all around the world. For over 25 years, her songs have ministered to millions bringing healing, hope, encouragement and strengthening their faith. Thousands of comments, and hundreds of testimonies are recorded daily from around the world, making known the impact her music is having around the world. She organizes the "SINACH LIVE IN CONCERT", a series of worship concerts which in 2017 alone, held in Nigeria, Ghana, South Africa, Zimbabwe, Uganda, Amsterdam, Cameroon, USA, Trinidad, Tobago, British Virgin Islands, Seychelles, Lusaka and 13 more countries around the world. At each location, thousands and thousands gather to worship God from all over the Country, packed and sold out. Sinach is greatly motivated with the desire to see her songs, writings and concerts inspire the church and the whole world to worship God and be lifted, healed and for her listeners to be filled with the Glory of God through her music.
THEO BESSEM | http://www.theobessem.com/
Theo Bessem is an International Worship Leader, Singer/Songwriter and Recording Artist with five recording projects under her belt. She has had the privilege of leading worship for over 25 years in various countries, churches and conferences with international headline speakers. Theo currently leads worship at Calvary Worship Centre in Surrey, a multi-cultural, non-denominational church with over 1000 members. Her continued passion is to see the body of Christ come together to experience true worship on a highly intimate level.
DEE JONES | http://www.deejonesmusic.com
Daniel "Dee" Jones is an International Worship Leader, Producer/Recording artist/ Singer/ Song Writer/ Music Director with a dynamic difference. Dee Jones has led worship around the world and has produced numerous accomplished and independent artists in the USA, UK, Africa, Asia and still counting. His versatility and skill combined with the anointing has made him one the most sort after Music Ministers of this generation. One of his past albums "Elevated" was nominated for best indie USA Gospel Album in 2011 and he has won numerous awards including "Star Gospel Award" in 2011. Dee Jones has most recently produced a choir in a live recording featuring Pastor Donnie Mccklurkin.