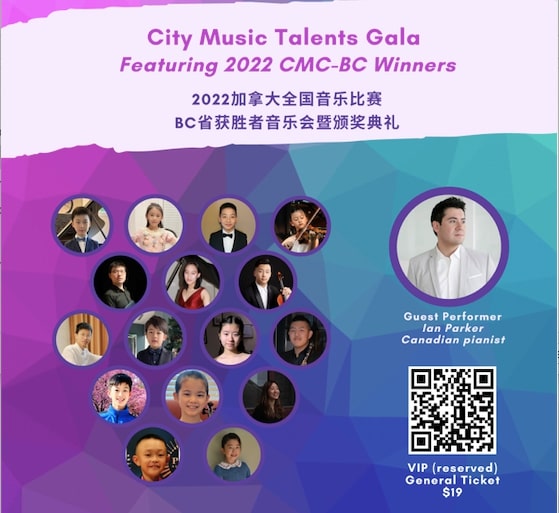 Featuring 2022 CMC-BC Winners
City Music Talent Gala
Sunday, November 13, 2022 | 1:00pm
Vancouver Playhouse
600 Hamilton St, Vancouver, BC V6B 2P1
*To purchase tickets in multiple rows, please process more than one transaction.
City Music Talent Gala
Featuring 2022 CMC-BC Winners
The top three winners of each age category of the 2022 Canadian Music Competition from BC will perform their own curated solo piece, along with the awards presentation.
Guest Performer: Canadian Pianist, Ian Parker
The Canadian Music Competition has been at the centre of musical life across the country for close to 65 years. Since it was founded in Montreal in 1958 by Claude Deschamps, Pierre Emond, and Charles Charrère, the organization has ensured the vitality of new generations of high-level classical musicians in every community in which it is active, thereby demonstrating its commitment and raison d'être on the Canadian cultural landscape.
Since its creation in 1958, the Canadian Music Competition has been witness to an ongoing stream of thousands of young musicians, among them, some of the greatest names on the national and international scene today, including Marc-André Hamelin, Chantal Juillet, Louis Lortie, Martin Beaver, Marie-Nicole Lemieux, André Laplante, Gwen Hoebig, Richard Raymond, Susan Hoeppner, Stéphane Lemelin, Robert Silverman, Angela Cheng, Boris Brott, Anne-Marie Dubois, Jacques Hétu, Desmond Hoebig, Denis Brott, Angela Hewitt, Janina Fialkowska, Glen Montgomery, James Ehnes, Kerson Leong, and many more.