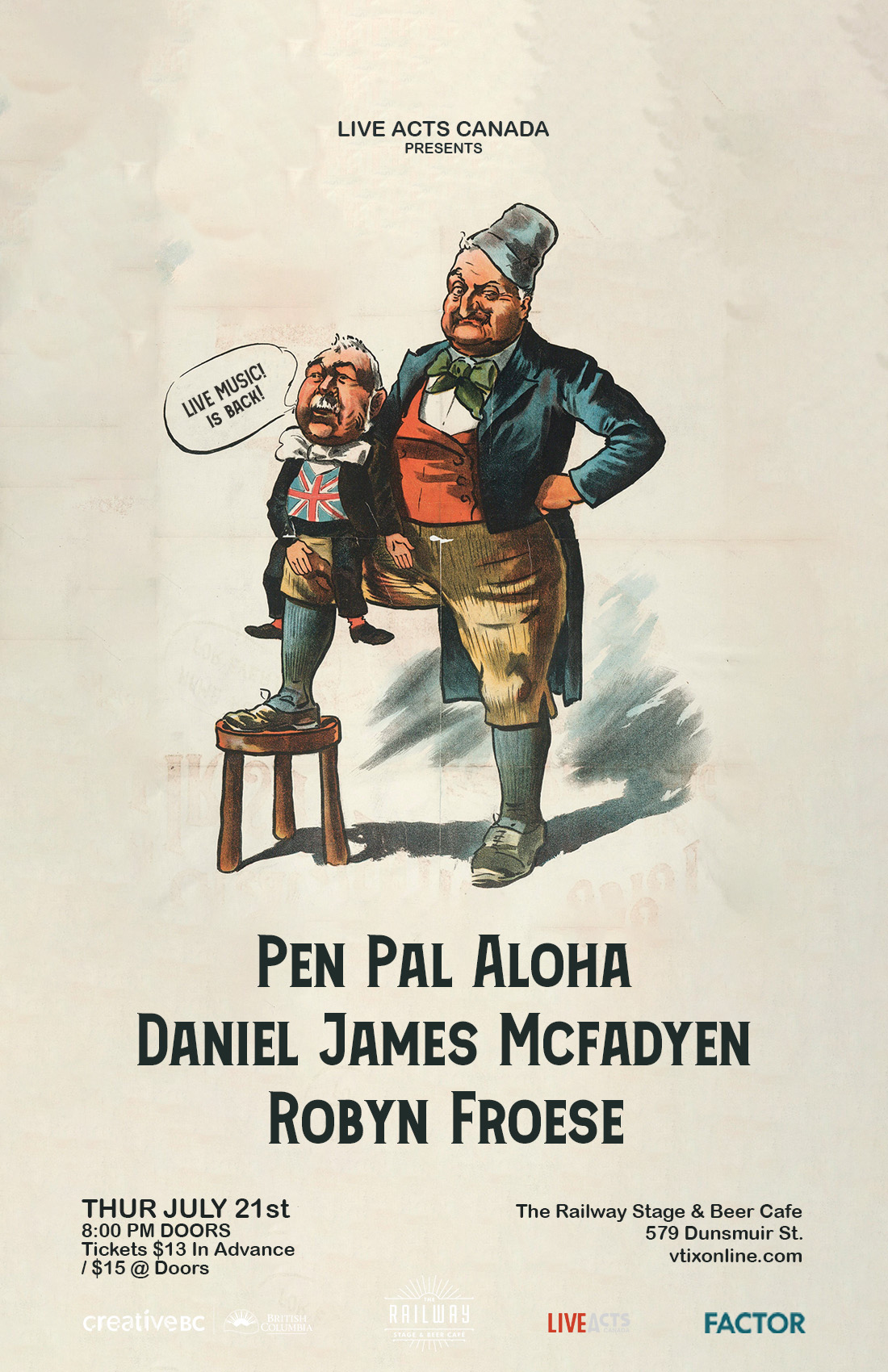 Pen Pal Aloha with Special Guests Daniel James McFadyen and Robyn Froese
Thursday, July 21, 2022 | 8:00pm
Railway Stage and Beer Cafe
Live Acts Canada Presents
Pen Pal Aloha with Special Guests Daniel James Macfaden and Robyn Froese
Live From The Railway Stage & Beer Cafe. Doors: 8:00PM/ 19+
Tickets $13.00 In Advance $15.00 @ The Door
RAILWAY STAGE & BEER CAFE 579 Dunsmuir Street
Pen Pal Aloha//

Pen Pal Aloha is a rock band from Vancouver, British Columbia. The trio of Steve David (vocals, guitar), Shane Roberts (bass) and Craig Marsden (drums) have been writing and honing their sound since early 2019, churning out hooky and anthemic songs that draw on the world of indie, punk and alternative music from the 80s onward
Website - https://penpalaloha.com/
Facebook - https://www.facebook.com/penpalaloha/
Spotify - https://open.spotify.com/artist/34l1aPiIdufj40z2ULSRyn
Daniel James McFadyen//
Halifax based singer/songwriter Daniel James McFadyen began his musical journey by playing at small, bustling venues in and around the Annapolis Valley. After touring Nova Scotia extensively in 2019, Daniel's music began to gain publicity and popularity. The release of his second EP "Goin Back" (featuring the popular single of the same name), landed Daniel in a position to make music his full time career. His upbeat and captivating storytelling mixed with his interactive performances has made him a crowd favourite throughout the province. In 2020, he won The Grapevine's "Best Musician in the Annapolis Valley" award. Daniel released his debut album "August, I'm Yours" in June of 2021.
Website - https://danieljamesmcfadyen.com/
Facebook - https://www.facebook.com/danieljamesmcfadyen
Instagram - https://www.instagram.com/danieljamesmcfadyen/?hl=en
Robyn Froese//
Robyn Froese is a Canadian singer songwriter based in Vancouver, B.C. Robyn's commanding yet unique voice has drawn comparisons to timeless artists like Janis Joplin or Florence and the Machine, while her deliberate lyrics are reminiscent of sad girl rock queens such as Phoebe Bridgers and Soccer Mommy. Robyn's genuine stage presence makes you feel like you're old friends sitting down for a drink or having deep chats while singing on the kitchen floor late at night together. She plays solo, in a duo Robyn & Romaunt, or with a band being backed by a group of phenomenal musicians and nice friends.
Instagram - https://instagram.com/terra_nobody?utm_medium=copy_link
Spotify - https://open.spotify.com/artist/0DI50FQoJWgQGJftzpIFbc?si=IgrsFIdYRKaD-8pVMYpjRw
Bandcamp - https://terranobody.bandcamp.com/releases
Youtube - https://youtube.com/channel/UCdM2Cgu9rE-iK82raSieFKA
https://www.facebook.com/railwaySBC
https://www.twitter.com/railwaySBC
https://www.instagram.com/railwaySBC
For more information, email info @donnellygroup.ca