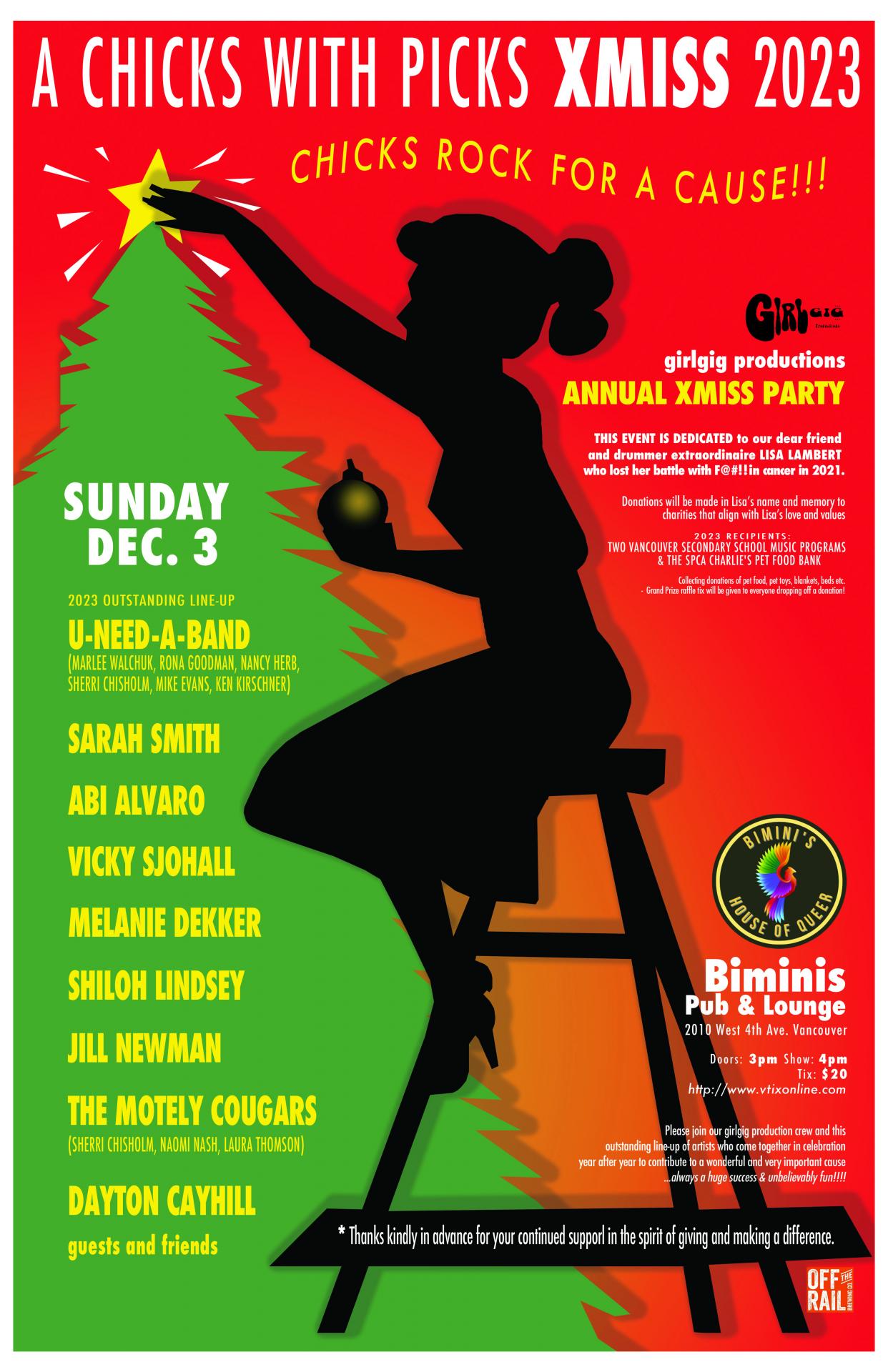 girlgig productions
A CHICKS WITH PICKS XMISS 2023
Sunday, December 3, 2023 | 3:00pm
Biminis Pub & Lounge - 2010 West 4th Ave.
SUNDAY DECEMBER 3
A CHICKS WITH PICKS XMISS 2023
CHICKS ROCK FOR A CAUSE!!!
girlgig productions ANNUAL XMISS PARTY ...
THIS EVENT IS DEDICATED to our dear friend and drummer extraordinaire, LISA LAMBERT, who lost her battle with F@#!!in cancer in 2021.
Donations will be made in Lisa's name and memory to charities that align with Lisa's love and values ... 2023 Recipients ... TWO VANCOUVER SECONDARY SCHOOL MUSIC PROGRAMS & THE SPCA CHARLIE'S PET FOOD BANK
collecting donations of pet food, pet toys, blankets, beds, etc. - grand prize raffle tix will be given to everyone dropping off a donation!
BIiminis Pub & Lounge
2010 West 4th Ave.
Vancouver
Doors: 3 pm Show: 4 pm
Tix: $20 - http://www.vtixonline.com
Please join our girlgig production crew and Outstanding line-up of artists who come together in celebration year after year to contribute to a wonderful and very important cause ... always a huge success & unbelievably fun!!!!
2023 OUTSTANDING LINE-UP ... U-NEED-A-BAND (MARLEE WALCHUK, RONA GOODMAN, NANCY HERB, SHERRI CHISHOLM, MIKE EVANS, KEN KIRSCHNER) - SARAH SMITH - ABI ALVARO - VICKY SJOHALL - MELANIE DEKKER - SHILOH LINDSEY - JILL NEWMAN - THE MOTELY COUGARS (SHERRI CHISHOLM, NAOMI NASH, LAURA THOMSON) - DAYTON CAYHILL guests and friends ...
*Thanks kindly in advance for your continued support in the spirit of giving and making a difference