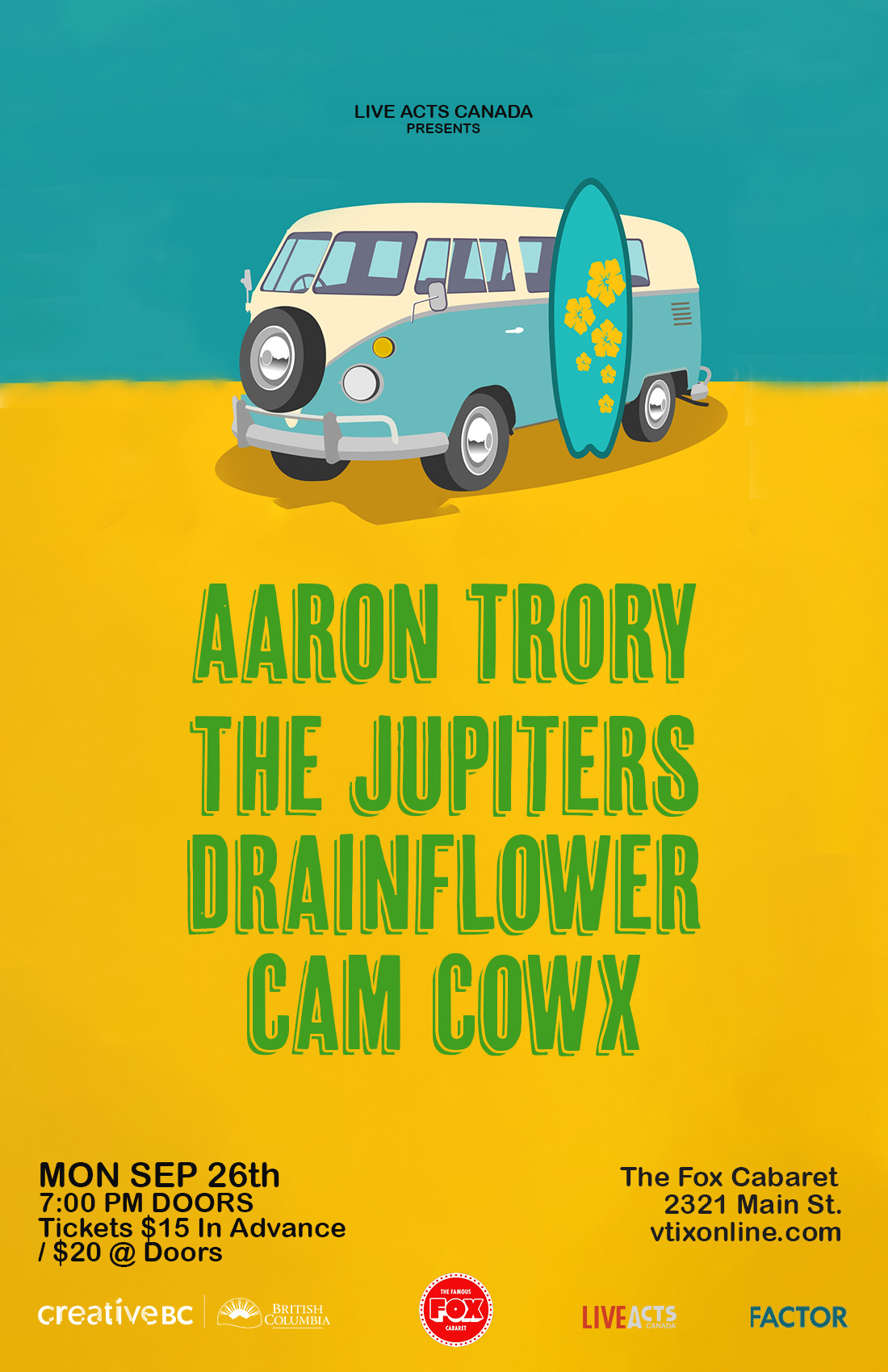 Aaron Trory Band with Special Guests The Jupiters, Drainflower, and Cam Cowx
Monday, September 26, 2022 | 7:00pm
The Fox Cabaret
Live Acts Canada Presents
Aaron Trory Band with Special Guests The Jupiters, Drainflower, and Cam Cowx
The Fox Cabaret. Doors: 7:00PM/ 19+
Tickets $15.00 in advance/ $20 @ the door
THE FOX CABARET, 2321 Main St.
Aaron Trory Band//
Aaron Trory was born in the stereotypically-known hippie community called Salt Spring Island, where he developed an interest in punk rock music. Through the help of peers and community members, he was turned on to bands like The Replacements and Guided by Voices. After dropping out of Jazz school in Naniamo, Aaron headed to Vancouver to persue of his musical path, and has met cool folks there.
Bancamp - https://aarontrory.bandcamp.com/
Spotify - https://open.spotify.com/artist/5Y774nuxvPSfs6EsrbkrjV
Facebook - https://www.facebook.com/aarontrorymusic/
Instagram - https://www.instagram.com/aarontrorymusic/
The Jupiters//
What started as a school project spiralled out of control and became The Jupiters. Taking inspiration from one end of the musical spectrum
to the next, The Jupiters channel their diverse influences, flowing from soulful vocal melodies and pop hooks to pulsing guitars and cutting grooves. Featuring Mandukhai on vocals and piano, Adriana
Abreu on vocals and guitar, Cristobal Jara on bass, Aden Goertzen on drums and Graham Wall on guitar, The Jupiters are wielding their diverse musical backgrounds to create what can only be described
as music soup. Really yummy music soup.
Instagram - https://www.instagram.com/jupiterstheband/
Facebook - https://www.facebook.com/TheJupitersMusic/
Drainflower//
Drainflower is an alternative indie rock band from Vancouver, BC. Their sound is varied, with examples of shoegaze, post-punk and dream pop appearing in their music. They are currently working on new tracks with plans to release them as soon as possible.
Facebook - https://m.facebook.com/Drainflower-2308235092574615/
Twitter - https://twitter.com/drainflower1
Bandcamp - https://drainflower.bandcamp.com/releases
Cam Cowx//

Cam Cowx is a multi-instrumentalist, songwriter and recording engineer. He has played and collaborated with a number of local bands and released his debut songwriting project Neighbor in 2020, drawing inspiration from genres such as folk-rock, shoegaze, psychedelia and surf rock. He's currently working on material for his new project Sunora.
Instagram - https://www.instagram.com/camcowx/