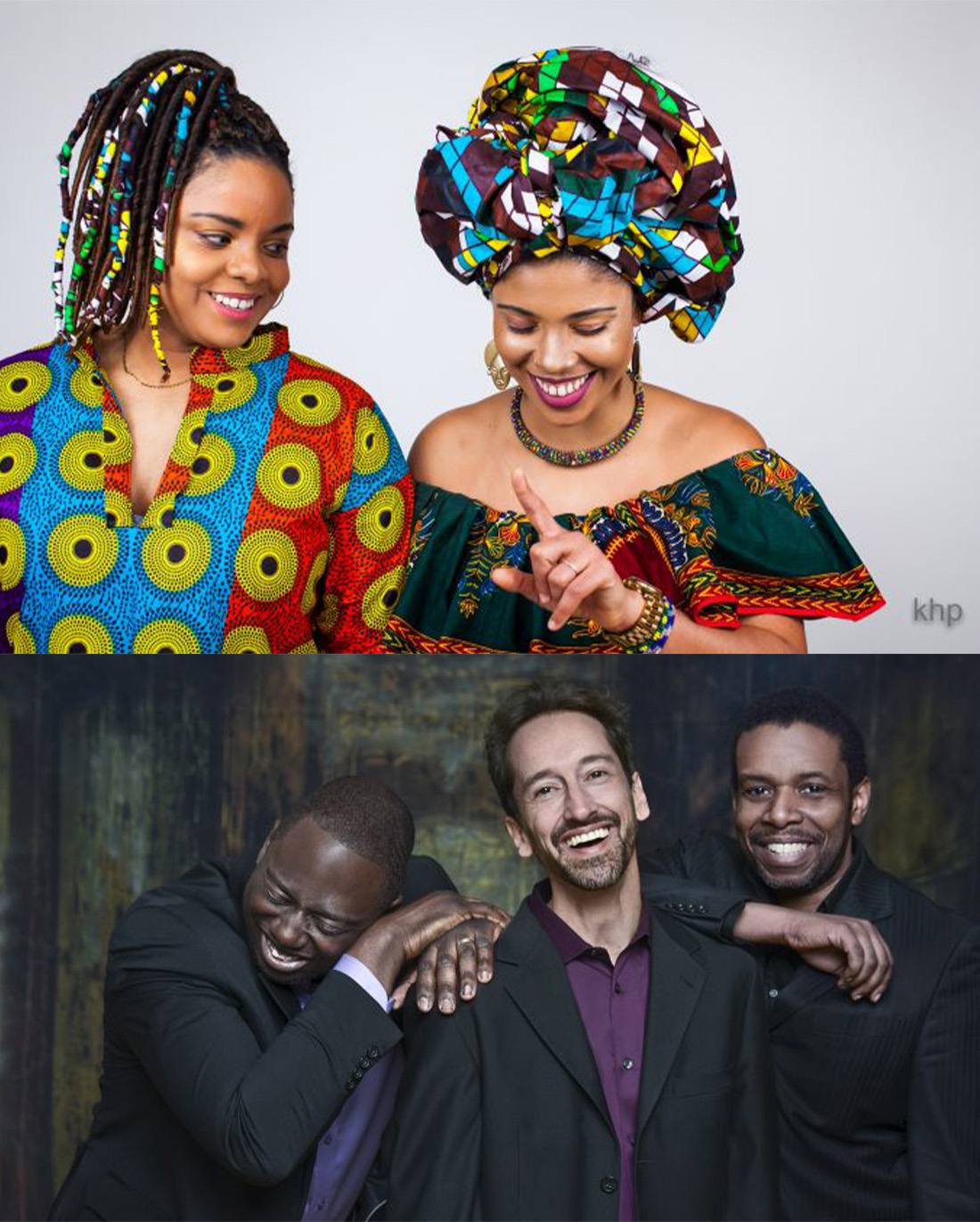 Online sales ended. Tickets at the door at 6pm.
AFRO-CUBAN & LATIN JAZZ FEST
Featuring

JEREMY LEDBETTER Latin Jazz Trio: April 16
Hermann's Jazz Club
OKAN Afro-Cuban Ensemble: April 13 & 14
Hermann's Jazz Club & Hermann's Upstairs
Victoria, BC
Caravan World Rhythms hosts 3 evenings of exciting Afro-Cuban & Latin Jazz music with two of Canada's top group based out of Toronto. The Juno award winners OKAN led by the charismatic Elizabeth and Magdelys make their 3rd appearance in Victoria, selling out their two previous shows to rave audiences, so this time we are hosting them for two consecutive evenings. Special guest local superstar pianist Pablo Cardenas will join the group for one of their shows. On the 3rd night of the fest, Okan's pianist Jeremy Ledbetter brings is Latin Jazz trio to Victoria for the first time with Grammy-winner drummer Larnell Lewis (Snarky Puppy) and bassist Rich Brown.
(IF YOU ARE FACING FACING FINANCIAL BARRIERS AND CANNOT AFFORD THE TICKET PRICES BELOW Please email us to at to request a 40% discount price.)
*********************
Jeremy Ledbetter Latin Jazz Trio
April 16, 7:30pm
Doors 6pm
Hermann's Jazz Club
$25.00 plus service charges without Package discount. Studnets $20. $5 more at the door.
ABOUT JEREMY LEDBETTER LATIN JAZZ TRIO
Forged in a cauldron of raging, inspiring contemporary jazz, the Jeremy Ledbetter Trio features three Canadian virtuosos — pianist and bandleader Jeremy Ledbetter (CaneFire), drummer Larnell Lewis (Snarky Puppy), and bassist Rich Brown (rinsethealgorithm) — at the absolute top of their game. Ledbetter's compositions for the trio format push the boundaries of jazz and world music, and provide an undiluted display of the astonishing musicianship of the Trio's members.
The Jeremy Ledbetter Trio's debut album, "Got a Light?", is a controlled explosion of big musical ideas, stylistic variety, vivid colors, and compelling musical storytelling. Forged in an interstellar collision of contemporary jazz and world music, Ledbetter's compositions form a style that is truly organic and uniquely his own.
At the piano, Ledbetter's playing features unrelenting energy and a playful spirit. He has worked with world-renowned artists from the worlds of jazz.
ARTIST LINK: https://jeremyledbetter.com/trio/
*******************
OKAN Afro-Cuban Jazz Ensemble
April 13 & 14, 8:30pm
Doors 7pm
Hermann's Upstairs - 19+ only. No minors.
$32.00 plus service charges without Package Discount. Students $25. $5 more at the door.
The Two nights will be slightly different program/theme.
APRIL 13: (With Jeremy Ledbetter on piano) - Afro-Cuban Jazz with Heart: This will be more of a sit-down concert, but still high-energy and joyful, with some room to dance.
APRIL 14: (With Pablo Cardenas on piano) - Cuban Son, Pilón and Salsa Dance Party Lots more room for dancers on this evening, but some seating will also be available.
********************
If you wish to purchase 2 tickets you get a 15% discount. You can choose from the following two combinations:
$54.40 Tickets
(This ticket option will be for the two OKAN Afro-Cuban Jazz Ensemble shows occuring on April 13th and April 14th)
$48.45 Tickets
(This ticket option will be for one OKAN Afro-Cuban Jazz Ensemble show occuring on April 13th OR April 14th and the Jeremy Ledbetter Latin Jazz Trio show occuring on April 16th)
If you wish too purchase tickets for ALL 3 SHOWS, you get a 20% discount
$71.20 Tickets
(This option will cover all 3 shows happening at the Afro-Cuban Jazz Fest)
*******************
ABOUT OKAN

Fusing Afro-Cuban roots with jazz, folk and global rhythms in songs about immigration, resistance and love, OKAN takes their name from the word for heart in their Afro-Cuban religion of Santeria. With vocals in Spanish, English and Spanglish, OKAN is led by the Cuban-born violinist and vocalist Elizabeth Rodriguez and percussionist and vocalist Magdelys Savigne, both Grammy and Latin-Grammy nominees.
Having recently worked with Bomba Estereo, Lido Pimienta, and Dayme Arocena, OKAN's Juno-winning sophomore release Espiral debuted at number 1 on !Earshot and was included in CBC Music's top 20 and NPR's top 10 Alt Latino's albums of that year.
Passionate advocates for freedom of expression, queer rights and gender equality, OKAN has gained a reputation for their powerful live performances, which showcase their incredible harmonies, virtuosic musicianship, potent lyrics as well as an unfailing ability to connect with audiences on a deep emotional level.
Embracing genres that have not historically fostered women artists outside of the role of singer, OKAN co-leaders, composers and multi-instrumentalists Elizabeth Rodriguez and Magdelys Savigne bring a fresh perspective to Latin and world jazz fusion through their powerful harmonies, incredible musicianship and provocative but playful lyrical content.
Born in Havana, Cuba, Elizabeth Rodriguez is a classically trained violinist who served as concertmaster for Havana's Youth Orchestra. Magdelys Savigne hails from Santiago de Cuba and graduated with honors in orchestral percussion from Havana's University of the Arts.
Called "lush and vibrant, urgent but specific and deeply intentional" by CBC Music, OKAN's second album Espiral delves deeper into the group's rich Cuban roots, finding renewed inspiration in this powerful musical heritage. The Santeria influences are most evident in the title track, which uniquely blends guajira, the folk genre of Eastern Cuba, with Santeria-derived chants.
ARTIST LINK: www.okanmusica.com/
****************************