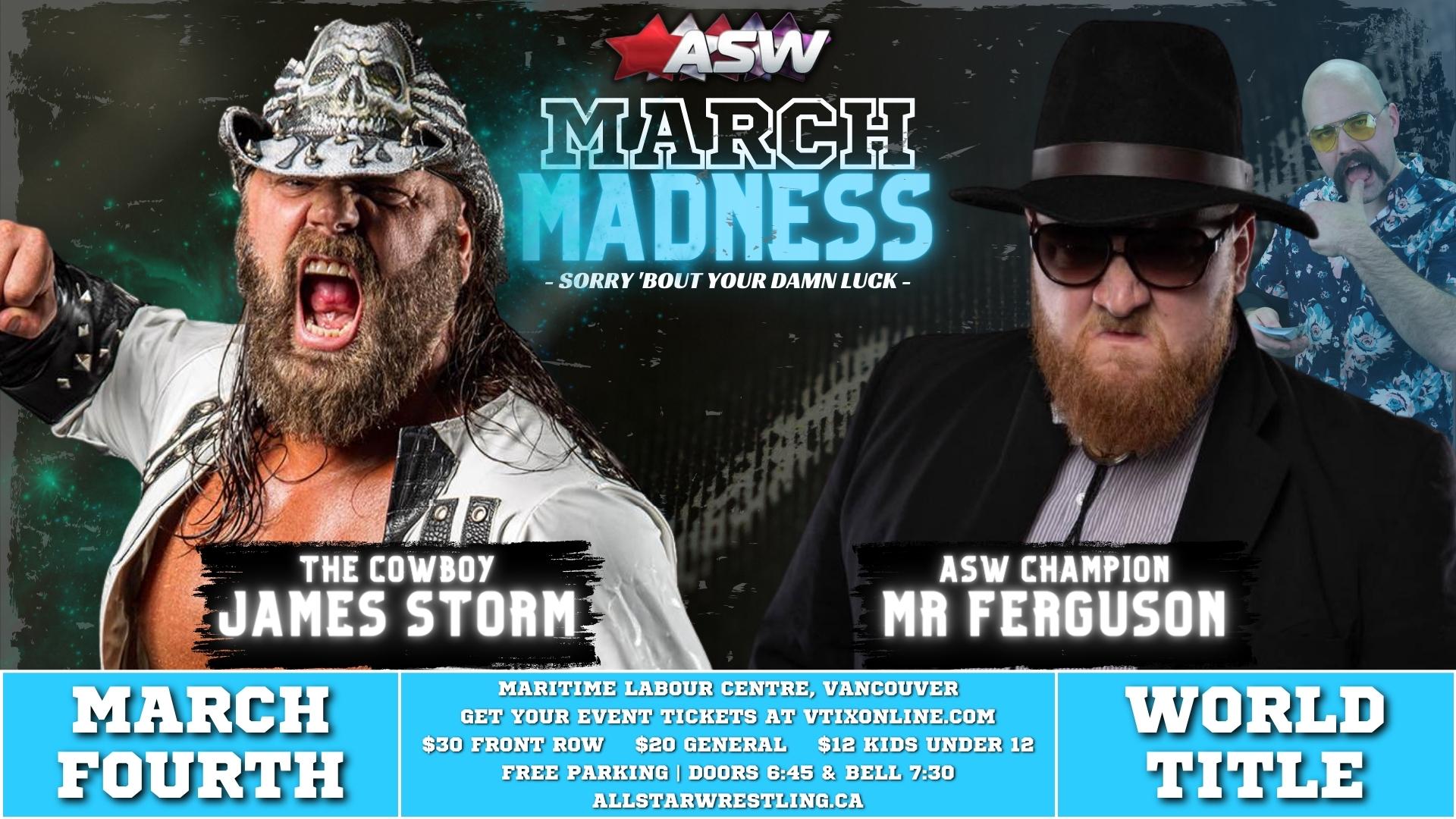 All Star Wrestling presents March Madness on March 4, 2023!
ASW March Madness
Saturday, March 4, 2023 | 6:45pm
Maritime Labour Centre
1880 Triumph Street
All Star Wrestling presents: MARCH MADNESS!
Live at the Maritime Labour Centre, 1880 Triumph St. in Vancouver, BC
March 4, 2023 DOORS 6:45PM BELLTIME 7:30PM
We are SORRY 'BOUT YOUR DAMN LUCK!
Arriving from Tennessee, it's COWBOY JAMES STORM live in Vancouver
He is bringing some BEER MONEY to the ring to face the newly crowned ASW Heavyweight Champion, MR. FERGUSON! What will FERGUSON's devious manager, NICK PESKY, have up his sleeves to keep the ASW Heavyweight Title away from COWBOY JAMES STORM?
Have you seen a Punjabi Strap March before? Neither have we! Someone's gonna get whupped! It's Thunder from Jalandhar taking on Scotty Mac!
No Escape - it's a Lumberjack Match, as ASW Cruiserweight Champ Braydon Goss and challenger, The Dastardly Danni Deeds, will be surrounded at ringside and unable to leave the ring without being tossed back in!
It's the Fallen Flower Kikyo, one mean lady, taking on another lady who can take care of herself just fine, Riea Von Slasher!
For a bye in the Pacific Cup on April 22, 2023, it's everyone's hero Battlewasp taking on a wildcard, Rook Kelly
From the funeral parlor, The Cremator is going to team with that old hoss, Moondog Manson; they are going to take on three dudes more interested in yoga, Davey Deals, Justin Cider, and Charlie Joseph
With Heavyweight Title ramifications, The Superjacked Silverback Odin Rex will be hitting the ring with Mr. USA, Chris Ryseck
In a dark match at 7:15PM, Dance Daddy Red Denero will be taking on the Gambler for a spot in the Pacific Cup
Also, James Storm will be meeting and greeting fans at the door opening time of 6:45pm until 7:30pm - come to meet The Cowboy!
See ASW live on March 4, 2023!

Family friendly for kids! Free Parking! Great classic pro wrestling action!