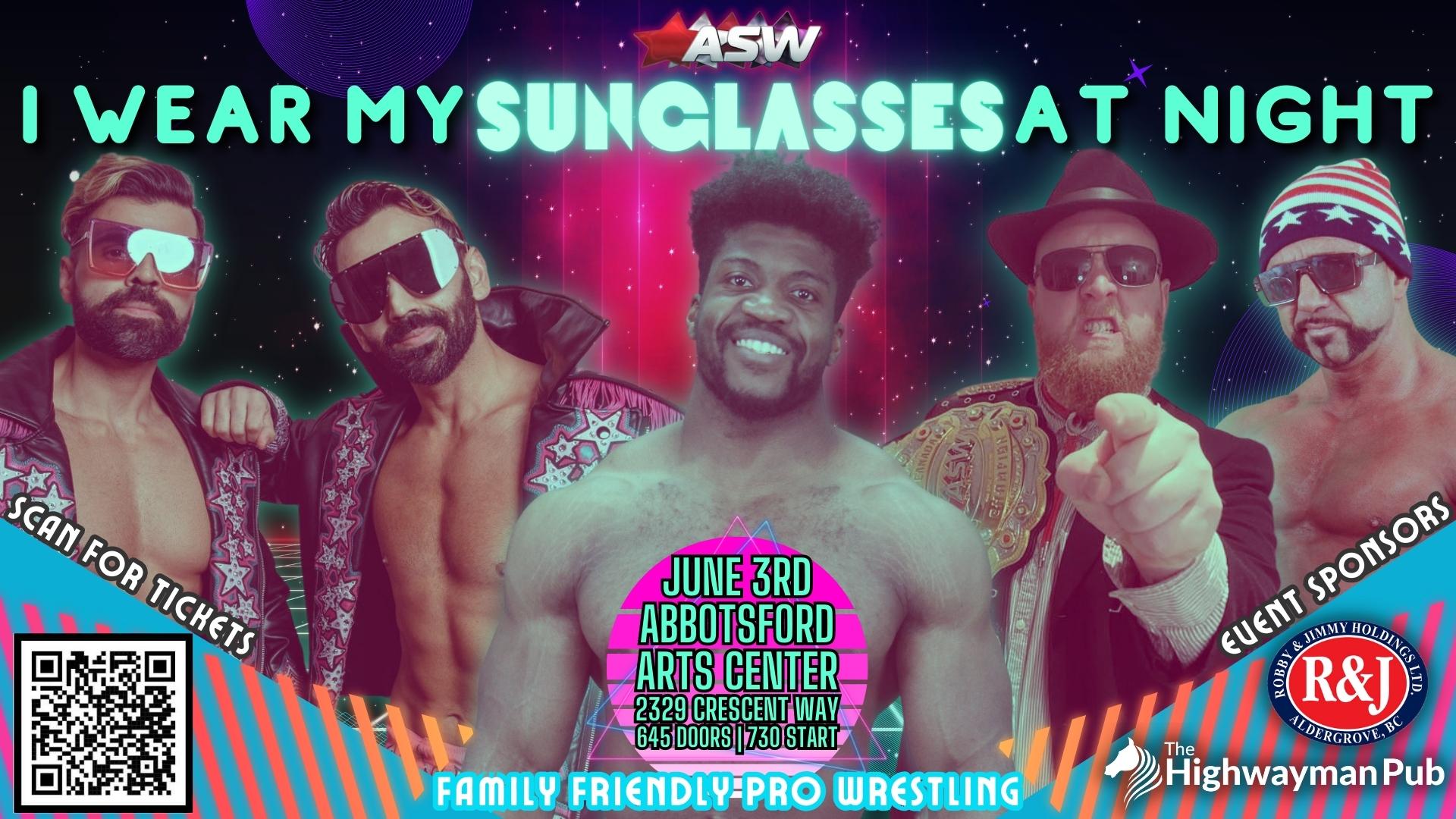 All Star Wrestling presents I Wear My Sunglasses At Night
I Wear My Sunglasses At Night
Saturday, June 3, 2023 | 6:45pm

ASW Wrestling presents: I Wear My Sunglasses At Night!
ASW returns to Abbotsford at the Abbotsford Arts Centre
SATURDAY, June 3, 2023 | 6:45PM Doors 7:30PM Belltime
The Main Event: The ASW Tag Team Champions, The Bollywood Boyz, will defend against Double Impact (Rook Kelly and Pitfall Jones)! See Harv and Rurv live at the Abbotsford Arts Centre! It's Hollywood vs. Bollywood!
Abbotsford's own, The Mighty Lokombo, with his sidekick Denzel, will be challenging for the ASW Heavyweight Title, held by the unstoppable Mr. Ferguson!
It's a third title match, as the ASW Women's Heavyweight Title is also on the line, as the Champion, The Fallen Flower Kikyo, will defend against the veteran Riea Von Slasher
In a rematch from ASW Pacific Cup, the tournament winner The Prodigy, Shawn Murphy, will face off against the man he defeated in the finals of the tournament - he is the Verified One, the best of Seattle, Steve Migs!
We have a Handicap match with a twist, as two members of Team USA (Christopher Ryseck and Azeem the Dream) will face the trio of Battlewasp, Boogie Knight and Abbotsford's own Big Rig, Jimmy Mitchell!
Another big Abbotsford boy, Tood Quality, seconded by the nefarious Lance Skullz, will face off against one of the best from Vancouver Island, BJ Laredo!
Come early as The Bollywood Boyz will be meeting and greating fans starting at 7:00PM, and they will also be kicking off this hot card with an even hotter opener in the first match - Bollywood vs. Hollywood hits the ring at 7:30PM!
Free parking and reduced prices for kids tickets!
Bring your appetites, as Mama's Fish and Chips will be right at the front door tempting you with the best cod you can imagine!
We hope to see you at the Abbotsford Arts Centre, 2329 Crescent Way, in Abbotsford, BC on June 3, 7:30PM - remembers, doors open at 6:45pm and the Bollywood Boyz will meet and greet fans at 7:00pm that night!