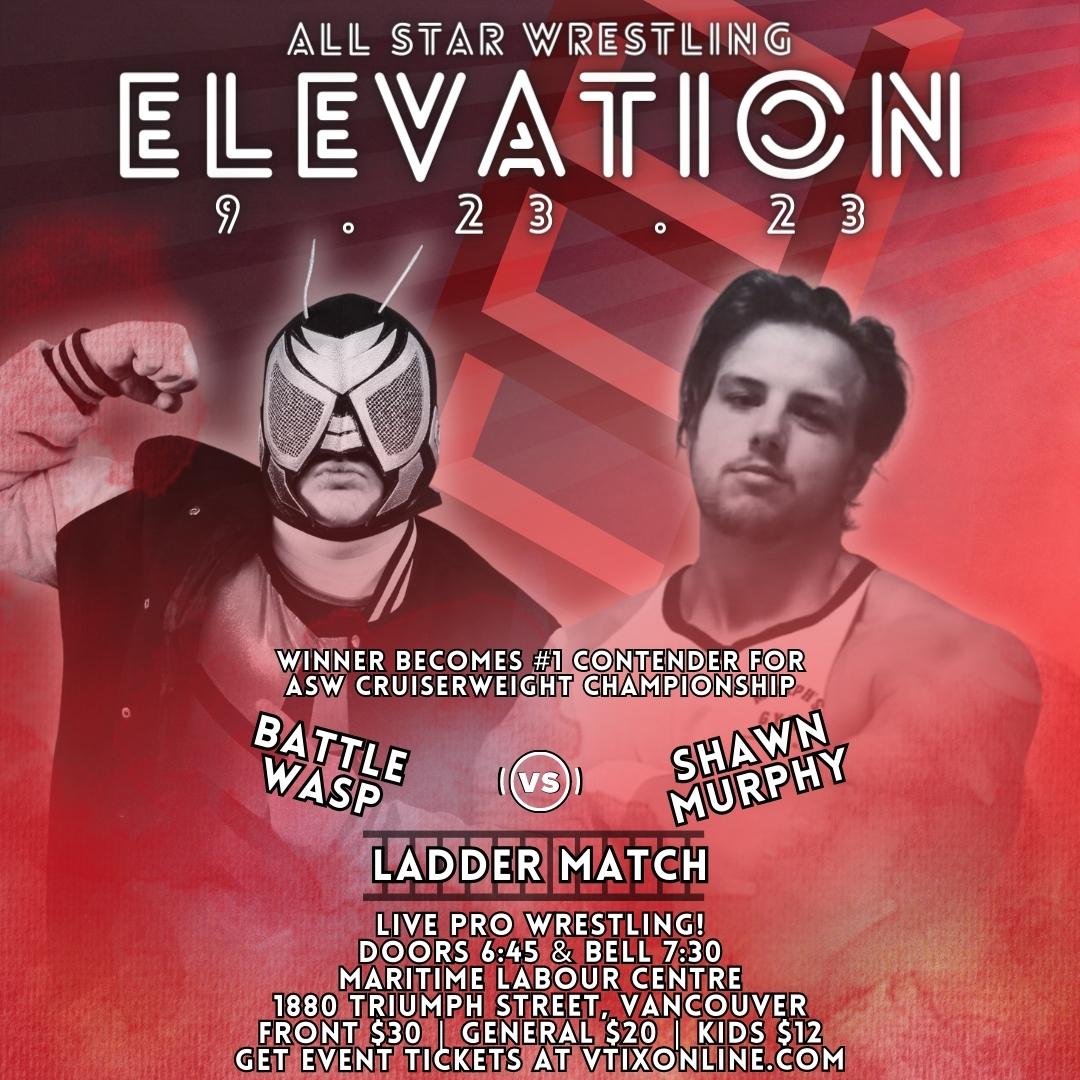 All Star Wrestling presents Elevation on September 23, 2023!
ASW Elevation
Saturday, September 23, 2023 | 6:45pm
Maritime Labour Centre
1880 Triumph Street
All Star Wrestling presents: ASW Elevation!
Live at the Maritime Labour Centre, 1880 Triumph St, Vancouver, BC
September 23, 2023 DOORS 6:45PM BELLTIME 7:30PM
THE MAIN EVENT - A LADDER MATCH between Battle Wasp and Shawn Murphy - the winner will get a shot at the Cruiserweight Title at another event
The first ASW Heavyweight Title Defense for The Mighty Lokombo as he will be tested by The Ideal Reflection, Chris Ryseck!
The ASW singles debut of Sebastian Wolfe, who will face quality competition in Todd Quality!
Kikyo will defend her ASW Woman's Title against 90s Child, Murphy Madsen!
The ASW debut of the Illa Tribe who will go head to head with the Big Stack Bullies
Who will be featured on Pesky's PowerBall? What does this have to do with his matchup with the Midnight Marauder, Casey Ferreira?
It's Italy vs. India as the rivalry resumes between Fabulous Fabio and The Thunder from Jalandhar
And a referee, Michial Marsh, steps into the ring to defend his family's honour against the despicable Azeem the Dream
More to be announced - see it live at
the Maritime Labour Centre in Vancouver, SEPT 23 730PM! Don't miss any of these show stealing matchups!
Family friendly for kids! Free Parking! Great classic pro wrestling action!