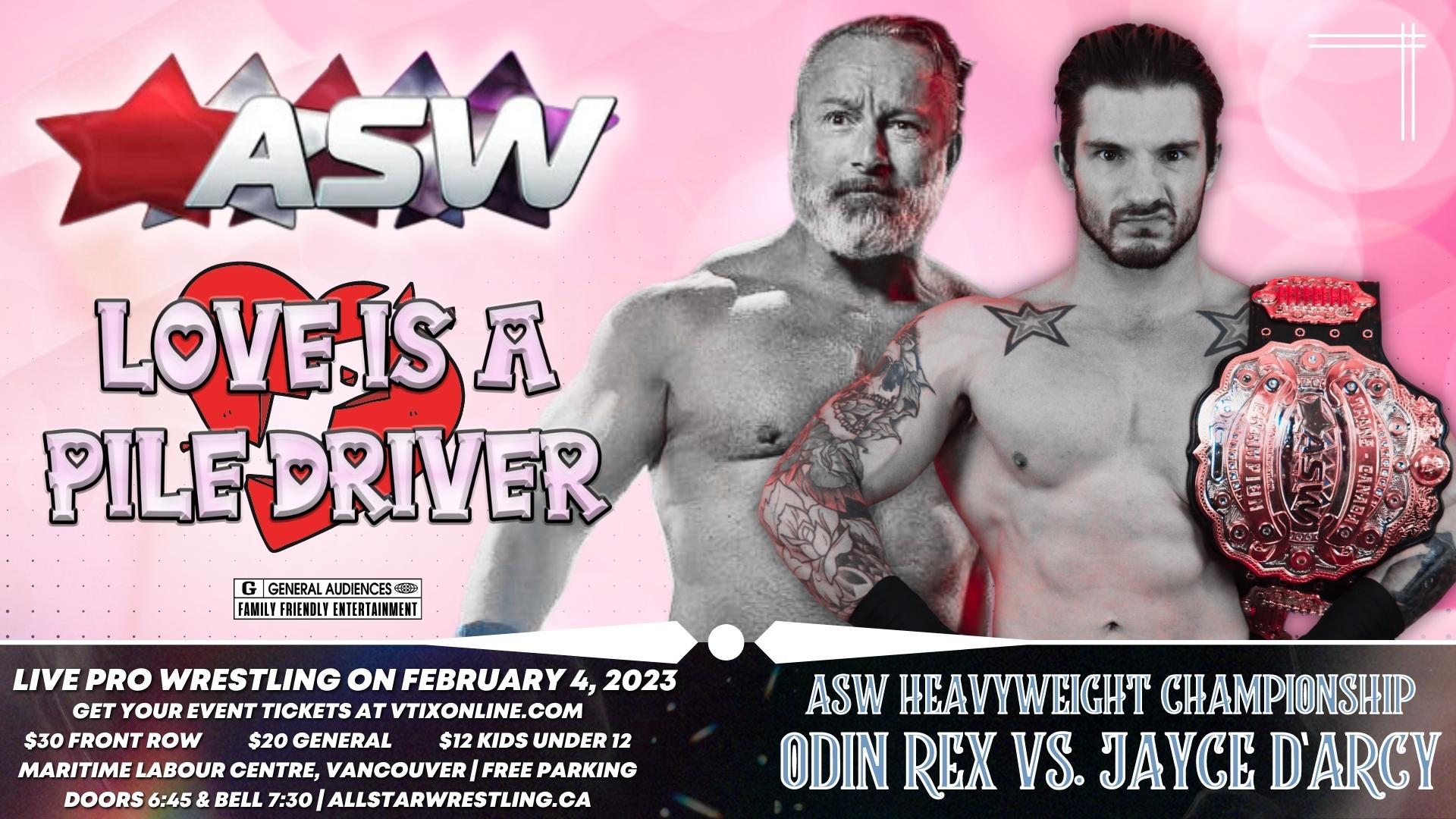 All Star Wrestling
ASW Wrestling presents: Love Is A Piledriver
Saturday, February 4, 2023 | 6:45pm
MARITIME LABOUR CENTRE LTD.#10
ALL STAR WRESTLING
ASW WRESTLING PRESENTS: LOVE IS A PILEDRIVER
SATURDAY, FEBRUARY 4, 2023 | 6:45PM Doors 7:30PM Belltime
MARITIME LABOUR CENTRE LTD.#10 - 1880 Triumph Street
Vancouver, BC V5L 1K3
MAIN EVENT: For the ASW Heavyweight Title, Jayce D'Arcy will defend against Odin Rex
NO DQ! For the ASW Cruiserweight Title, 'Backstage Pass' Bradyon Goss will defend against Danni Deeds, who stole his belt in December and has been carrying it around!
A battle of two heavyweights vying for a Heavyweight Title Shot - Mr. Ferguson returns to ASW to take on the Mighty Lokomobo with sidekick Denzel
TAG TEAM ACTION! For #1 Contender Status: Team USA (Azeem the Dream and Christophyer Ryseck) will take on Re:Loaded (Jacky Lee and Shareef Morrow)
For a Bye in the upcoming Pacific Cup Tournament: Elliot Tyler vs. Casey Ferreira
Dance Daddy Red Nero wants to dance, dance, dance, but the The Momentaker, Jordie Taylor, is unlikely to give him a chance. We are not expecting a dance off in this matchup
Scotty Mac, the Controversial One, will be in action!
The monster Wrath has put out the challenge to take on multiple opponents - who will answer the call?
More action to be announced!