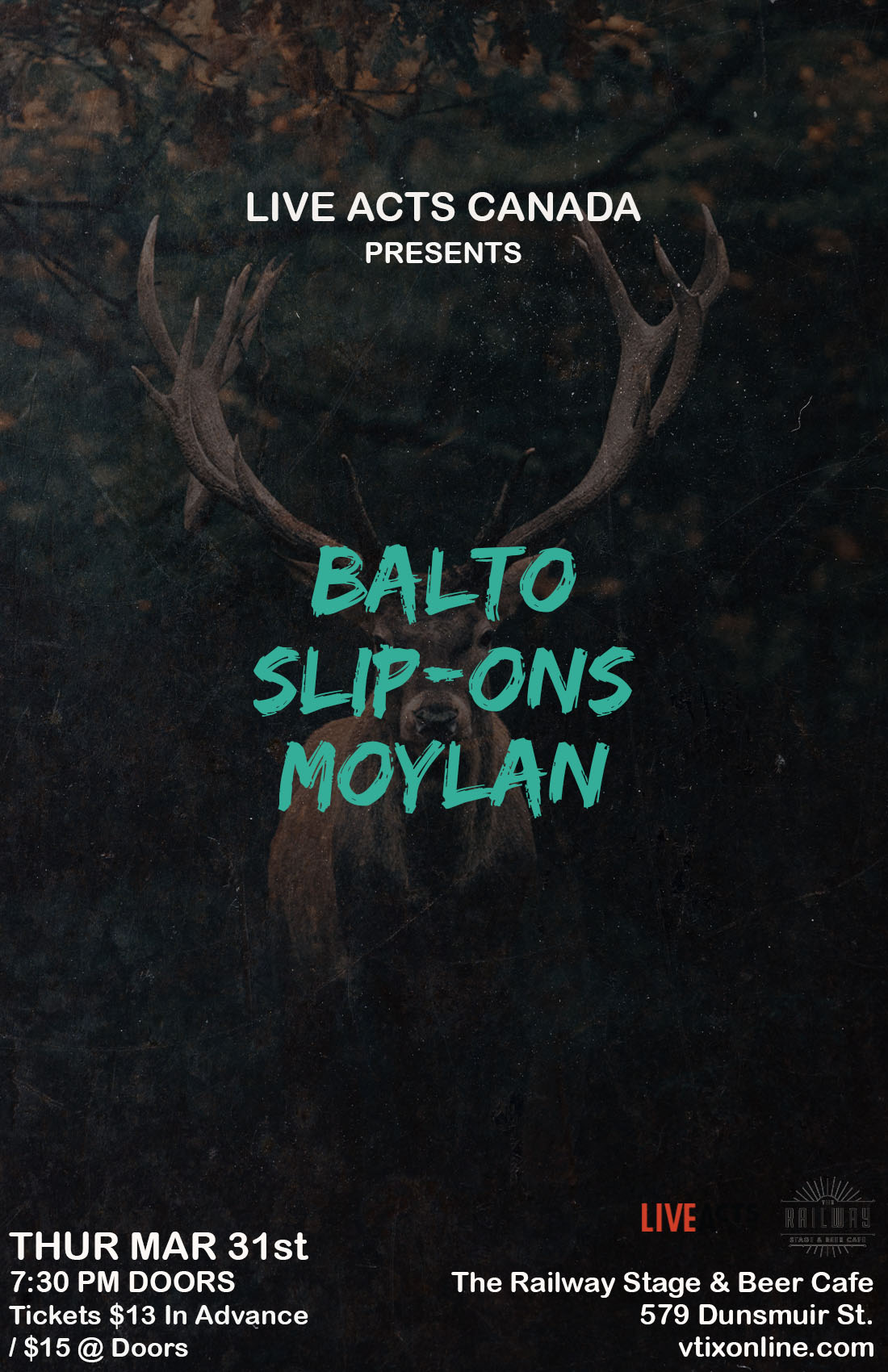 Balto With Special Guests, SLIP-ons + Moylan
Thursday, March 31, 2022 | 8:00pm
The Railway Stage & Beer Cafe
Live Acts Canada Presents
Balto With Special Guests, SLIP-ons + Moylan
Live From The Railway Stage & Beer Cafe. Doors: 8:00PM/ 19+
Tickets $13.00 In Advance $15.00 @ The Door
RAILWAY STAGE & BEER CAFE 579 Dunsmir Street
*Please note, stage four COVID restrictions are being implemented. You must have proof of full COVID-19 vaccination, via your passport and a second peice of government issued photo ID.
Balto (Los Angeles, CA) //
Summer, 2017. A touring rock quartet from Los Angeles, CA called Balto blows the head gasket of a friend's Ford Econoline Van 100 miles south of Seattle. They arrive at the venue on the back of a tow truck just before showtime, grinning and buzzed; an empty thermos of Bloody Mary rolls out into the street. The bar fills, the band kicks in, the roof needs repair, the tow truck driver catches the set and drives half the band back to Portland. The tour went on, and has never stopped.
Balto is the kind of band that is unafraid to bleed for their craft. Young working musicians with thousands of miles of highway and hundreds of shows already under their belts, possessed of a deep appreciation of where their music comes from and where it's headed. They are card-carrying cultists of the Great American Song, the Great American Groove, and the Great American Highway... Long May They Run.
Website - https://www.baltotheband.com/
Stream Link - https://smarturl.it/BaltoBSMB
Link Tree - Music & Socials - https://linktr.ee/baltotheband
SLIP-ons//
Slip-ons play ragged heartfelt guitar rock with a nod to Minneapolis.
FB: @slip.ons.band
Blog: http://www.slip-ons.ca/slip-ons
Insta: sliponsvancouver
Bandcamp: https://slip-ons.bandcamp.com/album/bad-tv
Moylan//
Instagram: moylanmusic
https://www.facebook.com/railwaySBC
https://www.twitter.com/railwaySBC
https://www.instagram.com/railwaySBC
For more information, email info @donnellygroup.ca