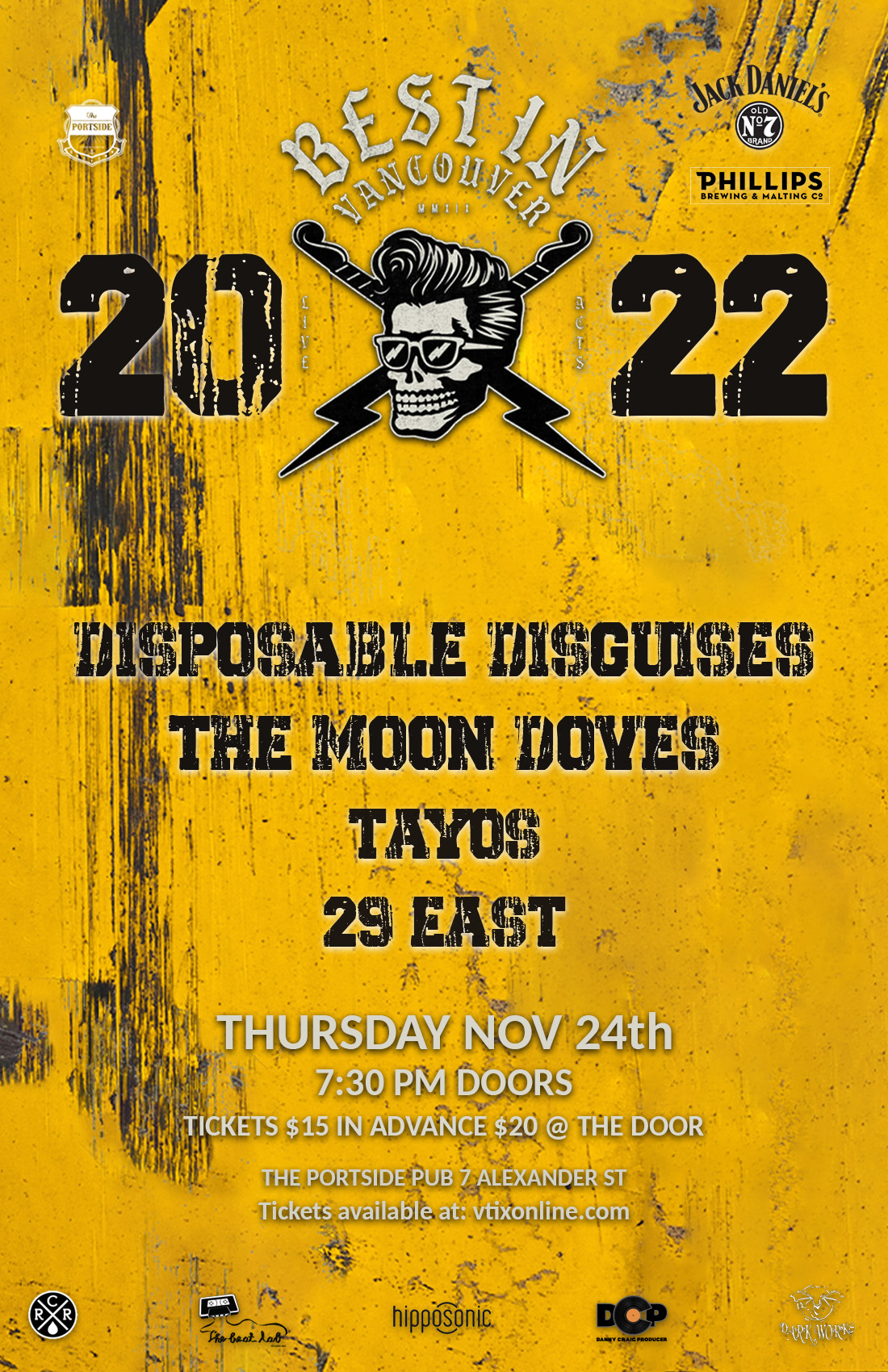 Best in Vancouver 2022, feat - Disposable Disguises, The Moon Doves, Tayos, 29 East
Thursday, November 24, 2022 | 7:30pm
The Portside Pub
Live Acts Canada Presents
Best in Vancouver 2022, feat - Disposable Disguises, The Moon Doves, Tayos, 29 East
Live From The Portside Pub. Doors: 7:30PM/ 19+
Tickets $15.00 In Advance $20.00 @ The Door
THE PORTSIDE PUB, 7 Alexander St.
Prizes Include:
Song recording & production at The Beatlab Studio + Darkworks Photoshoot

Song recording & production with Danny Craig at HippoSonic + Darkworks Photoshoot

Song recording & production with Raincity Recorders + Darkworks Photoshoot
Sponsored by Philips Brewery + Jack Daniels
Disposable Disguises//
Spawned during the Pandemic during the midst of uncertainty and disposable masks, Disposable Disguise's music resides somewhere between grunge & emo as well post-hardcore, experimental and theatrical post-rock & punk opera. Buried between metaphors and sonic structures, their songs are raw & honest at their core which is a breath of fresh air in an overly processed & diluted world.

YouTube - https://m.youtube.com/channel/UCHOkUGA8vUuWIyNKSROiIOA

Instagram - https://www.instagram.com/disposable_disguises/

Facebook - https://www.facebook.com/profile.php?id=100077090100634
The Moon Doves//
The Moon Doves are a psych band based out of Vancouver, BC.
Facebook - https://www.facebook.com/themoondoves/
Bandcamp - https://moondoves.bandcamp.com/music?fbclid=IwAR3gE5POyl5i9hmsf-eM9guK-kpQfRJQ2hqWgWY1Ze3n7DE9EyISQUQ2Qfg
Tayos//
Tayos is a four-piece Chilliwack band made up of
Connor James; lead singer and rhythm guitarist,
Raphael Medina; bassist and backup vocalist,
Bryce Richardson; lead guitarist and backup vocalist and
Mykal Storey; percussionist.
With the most recent additions being; Aron Burchart, sound engineer,
Landon Johnston, band videographer, rounding out the technical side of things.
The group began by playing a multitude of cover songs, quickly moving onto writing their own original music showing no signs of slowing down anytime soon. Drawing inspiration from Led Zeppelin to Bob Dylan, Van Halen to The Beatles and everything in between, the group has acquired an eclectic grouping of originals on their debut album "Flintlocks and Feathers", out on all major music streaming platforms now!

Facebook - https://www.facebook.com/tayosofficial
Instagram - https://www.instagram.com/tayosofficial/
29 East//
29 East is a Vancouver-based funk and alt-rock band that launched at the start of the end of the world. Having persevered through an inability to perform live, they focused all their efforts into writing, recording, mixing, gambling, takin' some L's, doing multiple PSA's and just having a good ol' time. After releasing their latest blood-pumpin' beast of a track "What Dream?", they've now transitioned their sights onto the stage and are coming soon to a theater near you. Having been dubbed as "A band like no other in Vancouver", 29 East is determined to give you the night of your life whether you're listening alone in your room or out just tryin' to snag a vibe. As they begin this new phase of their journey, the band looks forward to showing you that 4 unnecessarily tall men aren't necessarily intimidating. On guitar and vocals: The Suavior; Toze Campos. On vocals and guitar: The Shoulder-length Sheba; Cole Dine. On bass and vocals: The Human Bear; Daniel Hunter. And "Cody" on the drums. See you tonight.
Website - 29east.ca
Insta - https://www.instagram.com/29east/
Youtube - https://www.youtube.com/channel/UCEjWnZ44wMdyrN_ecJflgog
Facebook - https://www.facebook.com/29eastmusic
Spotify - https://open.spotify.com/artist/6njkL151lUZc76rguMj7z2?si=nmkP_k4jR62rwfjJTP3Ksg&dl_branch=1
Apple Music - https://music.apple.com/ca/artist/29-east/1514337861