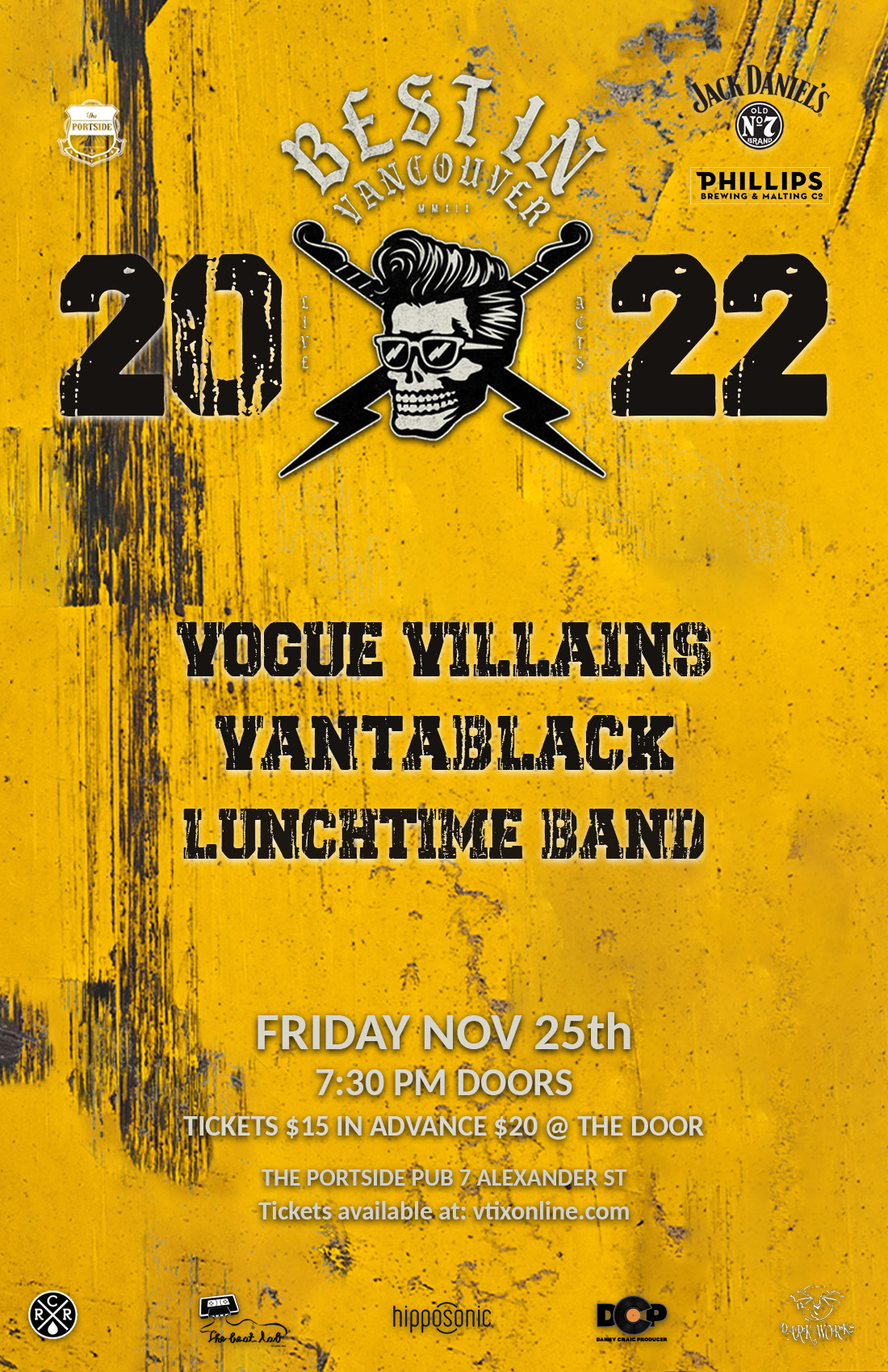 Best in Vancouver 2022, feat - Vogue Villains, Vantablack and Lunchtime Band
Friday, November 25, 2022 | 7:30pm
The Portside Pub
Live Acts Canada Presents
Best in Vancouver 2022, feat - Vogue Villains, Vantablack, and Lunchtime Band
Live From The Portside Pub. Doors: 7:30PM/ 19+
Tickets $15.00 In Advance $20.00 @ The Door
THE PORTSIDE PUB, 7 Alexander St.

Prizes Include:
Song recording & production at The Beatlab Studio + Darkworks Photoshoot
Song recording & production with Danny Craig at HippoSonic + Darkworks Photoshoot
Song recording & production with Raincity Recorders + Darkworks Photoshoot
Sponsored by Philips Brewery + Jack Daniels
Vogue Villains//
In the summer of 2017, Canadian rock band Vogue Villains was formed in the small city of Campbell River, BC. Set on making music that felt unique yet was not afraid to wear its influences on its sleeves the band created a sound that is unmistakably and undeniably VV.
Taking an alt-rock stance, the Villains are also planted firmly in catchy melodies and multipart harmonies. Their live sound is big, dirty, and full of raw energy, while also having a humorous stage presence that goes hand in hand with their tongue-in-cheek original music and lyrical sensibilities.
Vogue Villains is made up of four members: Andrew Baskin (Lead Vox, Bass), Lucas Antoni (Lead Vox, Guitar), Nate Cox (Drums, Vox), and Robert Johnston (Keyboard, Guitar, Vox).
Webiste - https://www.voguevillains.com/
Facebook - https://www.facebook.com/VogueVillains/
Instagram - https://www.instagram.com/voguevillainsband/?hl=en
Spotify - https://open.spotify.com/artist/2IiYlAIDZKCZKMSv58CYE8
Vantablack//
Lose yourself in the heavy-hitting, yet soothing melodies and riffs of Vantablack. With a concoction of influences ranging from Queens of the Stone Age, Soundgarden, and Rage Against The Machine, Vantablack touches on all of the grungy garage sounds of pure rock and roll. This Canadian-based band is sure to energize and intrigue as they strive to create original sounds and riffs that keep you coming back for more.
Apple Music - https://music.apple.com/ca/artist/vantablack/1537005476
Spotify - https://open.spotify.com/artist/4enMavEDwc71B3h0OgWVuh?si=RKy8juKkRzaDLzl7gJBkGA
Facebook - @vantablack.project
Insta - vantablack.band
Lunchtime Band//
Lunchtime consists of, Luc Torreggiani singing along with rhythm guitar, Ruedi Mani on the bass, Michael Read on lead guitar, and Greg Johnston on the drums.
Our sound is constantly changing and our ideas are always bouncing and growing off of each other, resulting in an ethereal watery up-beat grimness with an unapologetic genre-bending sound, appealing to any audience we play for.
LinkTree (Music + Socials): https://linktr.ee/lunchtime.band?fbclid=IwAR0kL3Nr5E3r-MM09a54MOW7e_ls7BMYdoKxyluUE8q827sM_lKCeb0ok5M