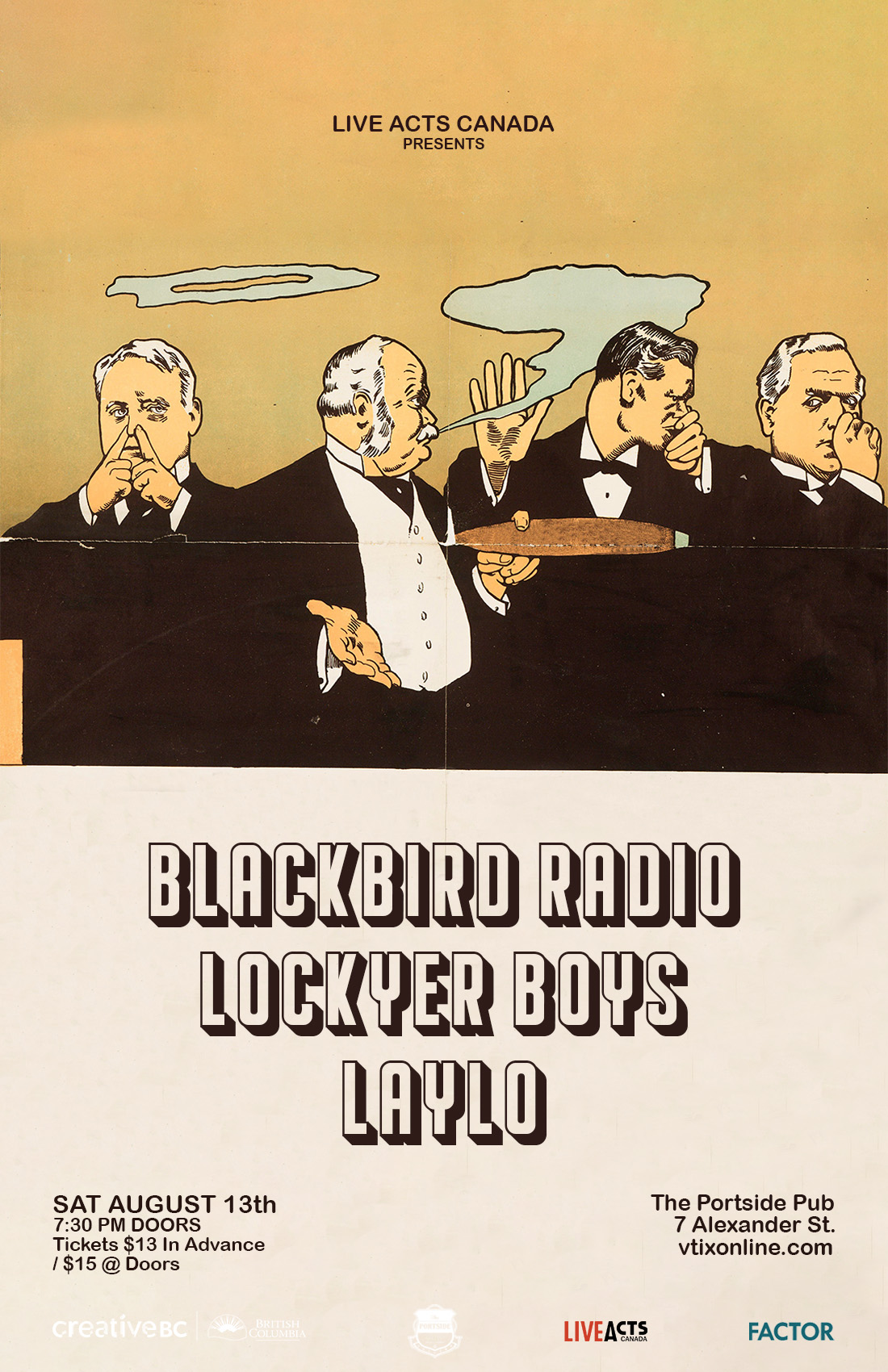 Blackbird Radio With Special Guests, Lockyer Boys, and Laylo
Saturday, August 13, 2022 | 7:30pm
The Portside Pub
Live Acts Canada Presents
Blackbird Radio With Special Guests, Lockyer Boys, and Laylo
The Portside Pub. Doors: 7:30PM/ 19+
Tickets $13.00 In Advance $15.00 @ The Door
THE PORTSIDE PUB, 7 Alexander St.
Blackbird Radio//
Blackbird Radio is the musical pseudonym for Vancouver-based singer/songwriter Phoenix Bermudez.
His songwriting is a rich and varied sound of progressive guitar-based rock and blues subtly tinged with folk and soul dynamics. His influences are diverse and include such artists as Peter Gabriel, Daniel Lanois, Jeff Buckley, The Beatles, Stevie Wonder and Micheal Jackson. His songs are an expression of life experiences fueled by emotional and spiritual transformation. He creates melodic imagery, layers harmonies, then colours them in a sonic palette of dynamic and rhythmical musical arrangements.
Phoenix created Blackbird Radio as a performance group to bring together talented musicians from several genres to perform his recorded music within a live setting. He is a self-taught multi-instrumentalist who has toured throughout Canada with various original acts and worked as an accomplished sound engineer and producer. Working professionally in Canada and the US, he has worked in such studios as Seventh Wave productions in Seattle, Washington, and Steve Vai's Mothership studios in Los Angeles, California. He has engineered recordings and live sound for several Artists as well as some Award-winning musicians across the country such as WCMA Jazz artist Rubim de Toledo, Chris Andrew, and Jazz/Blues legend Clarence "Big" Miller. Phoenix's latest musical endeavour Blackbird Radio is a chronicle of both his lyrical storytelling style and diverse musical explorations.
His upcoming album was co-produced/engineered with Andy Schichter who has recorded notably with such names as The Decemberists, Sleepy Gonzales and Jack Botts. Featured musicians include Lyle Mozan on drums ( Jann Arden, Dean Brody, Kathleen Edwards) Kaitie Sly on Bass (The Controversy, The Khourys, Mimi Page) Aline Daigle on violin (Rumour Mill, Cowboy Irie, Buckman Coe) and Brian Bermudez on Saxophone (The Seattleites, Marina and the Dreamboats). His latest single "Brand New You" is now available everywhere. He plans to release two more singles in June and August of 2022 and is slated to release the self-titled album "Blackbird Radio" in October of 2022.
Experience them live at a venue near you.
Website & Socials - https://blackbirdradio.ca/
Lockyer Boys//
Lockyer Boys (Will and Charlie Lockyer) are brothers born and raised in Thunder Bay, Ontario. Entertaining crowds with stage presence far beyond their years made them an immediate show-stopper at festivals, concerts, and event openings.
Performing in the Pop genre, they are currently completing their DEBUT ALBUM. It features their poignant songwriting as well as songs co-written with Jeff Dawson, Shawn Hook, Scott Helman, Daniel Powter, Brian Howes, Alan Poettcker, and Akylla.
Website & Socials - https://www.lockyerboys.com/
Laylo//