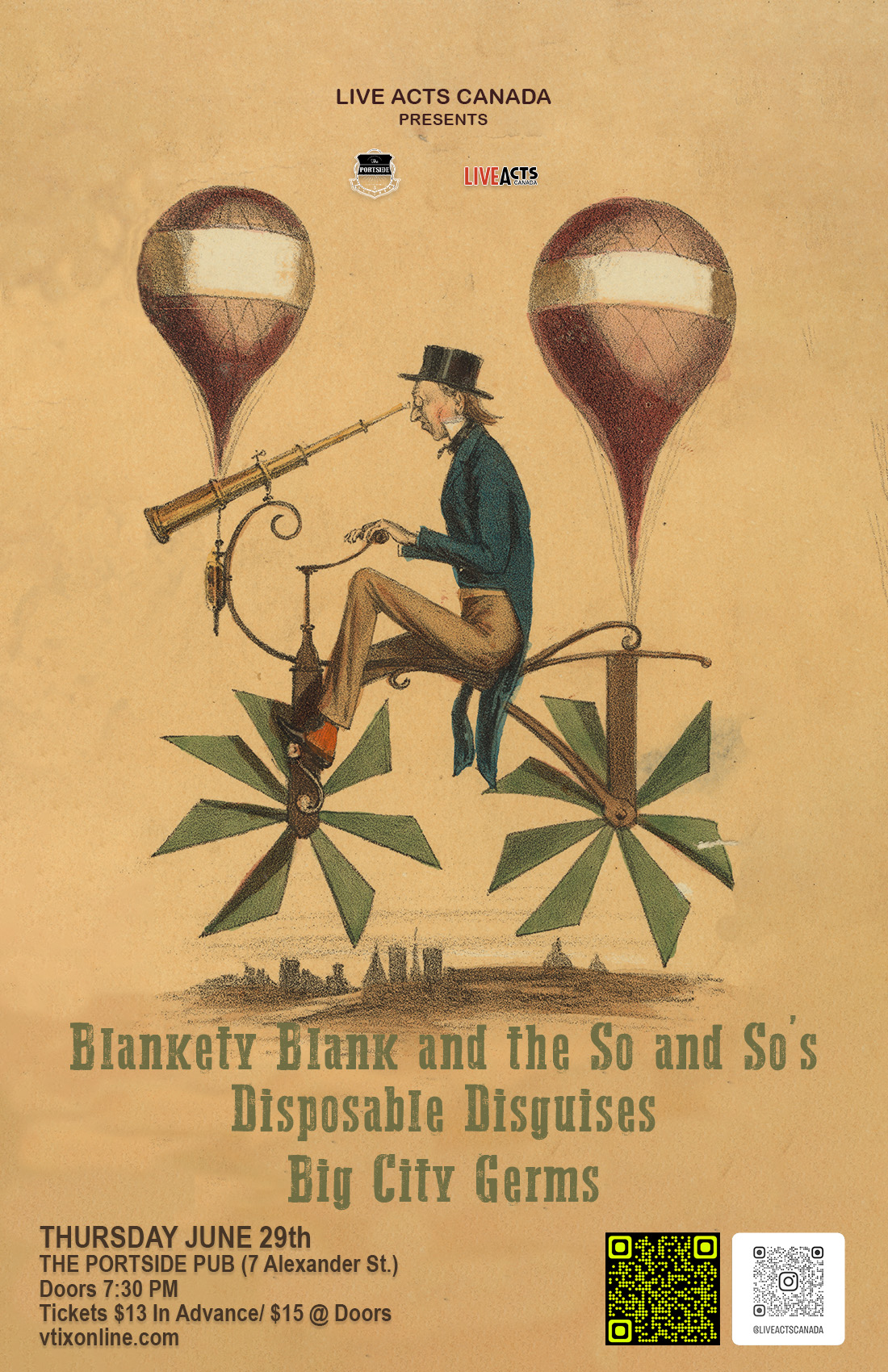 Blankety Blank and the So and So's with Special Guests Disposable Disguises and Reverend Ape
Thursday, June 29, 2023 | 7:30pm
The Portside Pub
7 Alexander St., Vancouver, BC V6A 1E9
Live Acts Canada Presents
Blankety Blank and the So and So's with Special Guests Disposable Disguises and Reverend Ape
The Portside Pub. Doors: 7:30PM/ 19+
Tickets $13.00 In Advance $15.00 @ The Door THE PORTSIDE PUB, 7 Alexander St
Blankety Blank and the So and So's //
Blankety Blank and the So and So's are a 5-piece surf/garage rock band from Vancouver. The band formed in 2022 from a collection of ex-skateboarding artists who used to play in a Punk Band — heavily influenced by artists like Dick Dale, The Shadows, and Agent Orange. Their unique take on the genre fuses high energy covers and memorable original songs.
Instagram: https://www.instagram.com/blanketyblankandthesoandsos/
Disposable Disguises //
Spawned during the pandemic and at the peak of uncertainty and disposable masks,, Disposable Disguises music falls somewhere in between the lines of grunge, emo, experimental, theatrical post-rock, and punk opera. Buried between metaphors and sonic structures, their songs are raw and honest at their core.
Instagram: https://www.instagram.com/disposable_disguises/
Reverend Ape //
Reverend Ape is a progressive groove rock band lookingto get bodies moving and heads banging — prying open your third eye.
Instagram: https://www.instagram.com/reverendape/