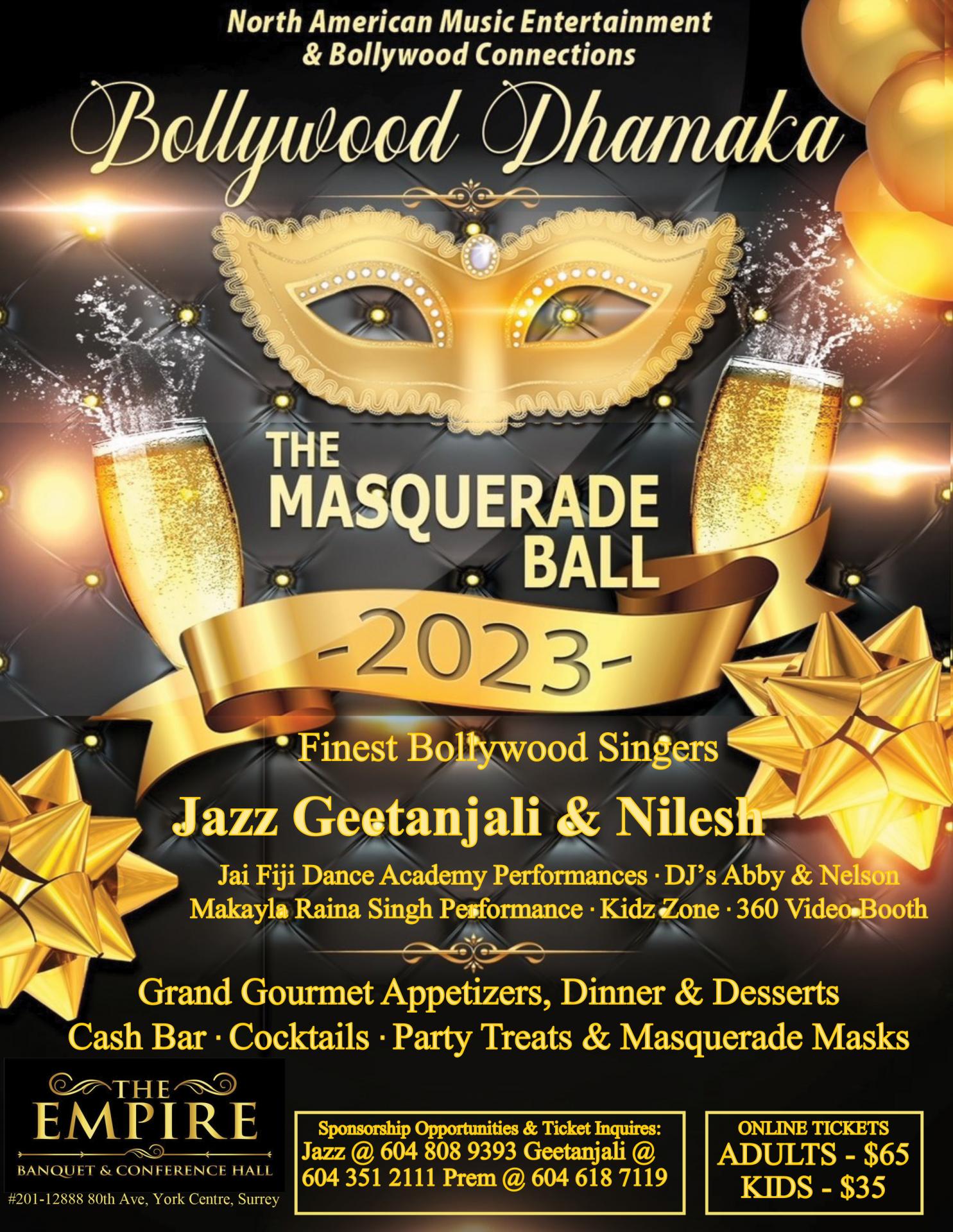 North American Music Entertainment & Bollywood Connections
Bollywood Dhamaka - The NYE Masquerade Ball 2023
Saturday, December 31, 2022 | 6:30pm
Empire Banquet & Convention Centre
It's happening this year!!
Bollywood Dhamaka - The NYE Masquerade Ball 2023 .... grab you table today as whats guaranteed to be the BIGGEST most elegant, stylish, exhilarating and entertaining Bollywood style Dhamaka New Years Eve party in the City!
Get your evening ballgowns and tuxedos ready for the Ball .. the color theme is Black and Gold! Get masked up for the most sophisticated, fun & lavish Masquerade Ball!
Guaranteed to be a sold out event by early Dec so avoid the disappointment and get your numbered tables now for the best seats to the Ball.
To purchase tickets for this event, do the following:
1. Choose the seats you would like to sit at from the interactive seat map below

2. In the 'Review your Seats' window at the bottom of the screen choose between a kid or adult ticket from the Class drop-down list.
3. Once your seats and ticket classes have been chosen, click on the checkout button which will take you to the checkout page where you will need to provide your credit card information.
4. Once you have provided all the necessary information on the checkout page then you can click on 'Buy Now' and our system will automatically email you, your tickets
*Children ages 4 and under will only require a ticket if they are sitting in a chair.
If you have any questions or concerns with purchasing tickets feel free to reach out to Vtix Customer Service by emailing us at: or phone us at the following toll-free number: 1 (888) 961-6111