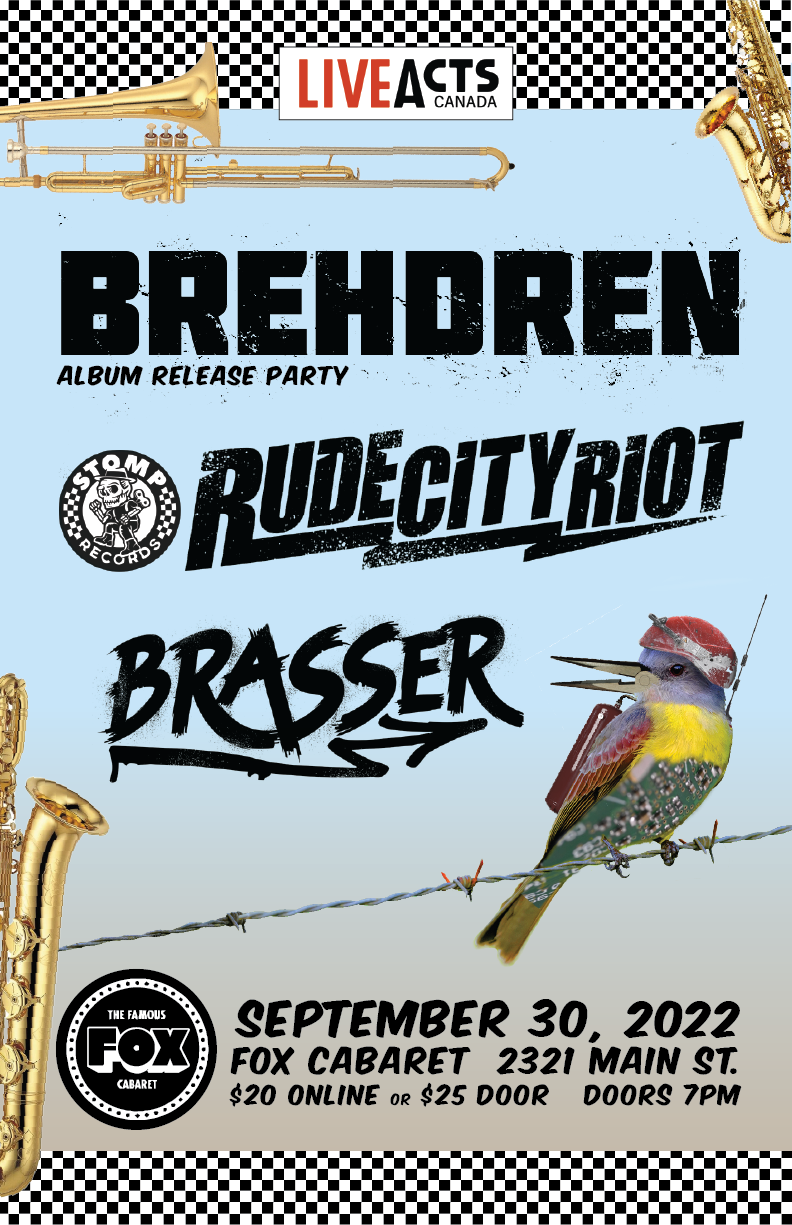 Brehdren (Album Release) with Special Guest Rude City Riot and Brasser
Friday, September 30, 2022 | 7:00pm
Fox Cabaret
Live Acts Canada Presents
Brehdren (Album Release) with Special Guest Rude City Riot and Brasser
The Fox Cabaret. Doors: 7:00PM/ 19+
Tickets $20.00 In Advance $25.00 @ The Door
THE FOX CABARET 2321 MAIN ST.

Brehdren (Album Release)//
Formed in East Vancouver in 2010, Brehdren is an upbeat 9-piece with varied influences and a shared love of ska. Together the band has decades of stage experience and has played Victoria Skafest and opened for NYC ska heroes The Slackers. Motivated to pack the dancefloor, Brehdren has drawn praise for a fun and irreverent style brought to life in both their music and stage presence.
Website - https://brehdren.com/
Youtube - https://www.youtube.com/channel/UCmQS3TQr845VlzAHtQ4jJjg

Rude City Riot//
Something truly amazing happens when you put together the seven unique personalities that make up Vancouver Ska/Punk band Rude City Riot. By all accounts it shouldn't work – BUT does it ever! Inspired by the greatest like Rancid and the Mighty Mighty Bosstones, Rude City Riot's music have a strong reverence for the mighty ska traditions and seamlessly blend punk, rock, and reggae to create a unique and powerful mix that is all their own. The immediate success of their highly anticipated sophomore album, "Shady Schemes & Molotov Dreams" marked the band's official return to the music scene, along with multiple singles hitting popular Spotify playlists, and a series of shows including the 2021 Montreal Ska Festival, and Stomp Records 26th Anniversary show at the legendary Toronto Horseshoe Tavern. Rude City Riot's melodic hooks and edgy vocal lines will be ringing in your head the morning after the concert or from the moment you start listening to their debut 2011 record, "Nothin' But Time" for the first time.
Facebook - https://www.facebook.com/RudeCityRiot
Website - https://rcrmusic.wixsite.com/rude-city-riot

Brasser//
A new lease on old brass. Former members of The Brass Action. Plus a guy from Kownterpoint. 4 piece!
Facebook - https://www.facebook.com/brasserband
Bandcamp - https://brasserska.bandcamp.com/releases