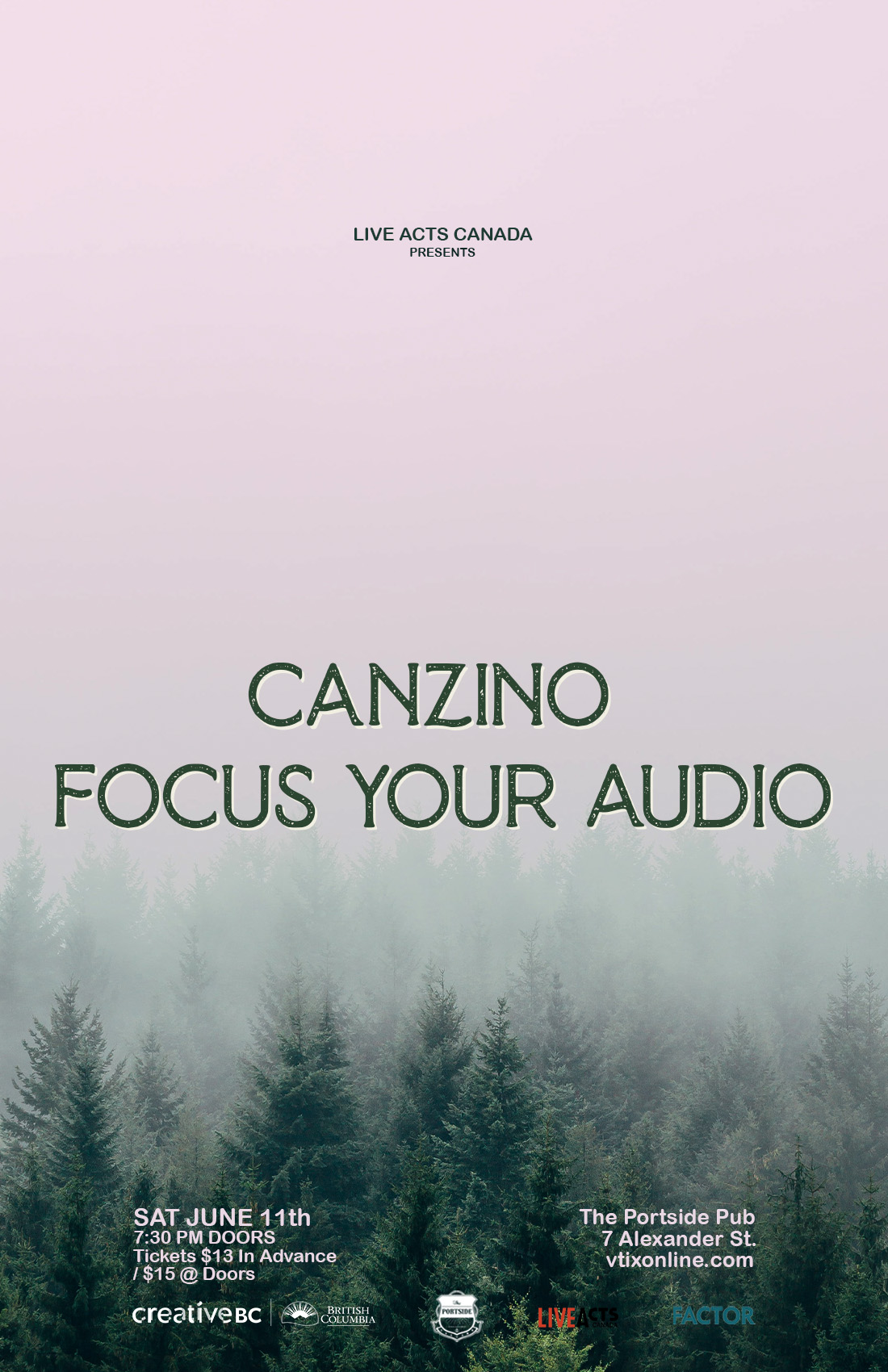 Canzino With Special Guest Focus Your Audio
Saturday, June 11, 2022 | 7:30pm
The Portside Pub
Live Acts Canada Presents
Canzino With Special Guest Focus Your Audio
The Portside Pub. Doors: 7:30PM/ 19+
Tickets $13.00 In Advance $15.00 @ The Door
THE PORTSIDE PUB, 7 Alexander St.
Canzino//
Canzino is ia Musician, DJ, & Live-Looper residing in Vancouver, BC. The audio "jam-sauce" comes in the form of Alt-Dance-Rock with a splash of Electronic Pop Melodies. His live act consists of using a live looper, guitar, and computer to generate funky beats and melodies to dance and jive to. "Keeping it saucy" is the motto and what his live mix-jams are mostly about!
Soundcloud:
https://soundcloud.com/canzino
Spotify:
https://open.spotify.com/artist/0xmP5o5vGIj47ogpEiBWTM?si=79QmuURdQI-KDDEELxW5LA
Instagram:
instagram.com/canzinomusic/
Youtube:
https://www.youtube.com/channel/UCfmD4gjR6DjfGeaH-8JMFjg/videos
Twitch:
https://www.twitch.tv/canzinomusic
Focus Your Audio//
Vancouver's Focus Your Audio is truly a dynamic musical duo. The new band consists of the wildly talented Bobby McAloney and Sarah McArthur. They are impossibly well suited and illuminate one another's generous skills. Their music seamlessly weaves together the best parts of Folk, Americana, and Rock and Roll. Sarah's voice is a sonic avalanche packed with passion and depth while Bobby provides the perfect musical landscape around it. Their chemistry together is palpable in their material. They emulate a natural passion that is impossible to fake.
Sarah grew up in small-town Ontario then moved to the Maritimes and comes from a musical family, it's in her blood and runs deep within her. Bobby grew up in Coquitlam, BC and started playing music at a young age. He has played in an array of established bands such as the esteemed Modern Day Poets. They have both traveled the extensive and dusty road of the music industry before finding one another.
Focus Your Audio is a celebration of both of them discovering their sound, in all of its emotive and vulnerable glory. The east coast charm and west coast grit flawlessly fuse together in their music.
Website & Socials - https://focusyouraudio.ca/