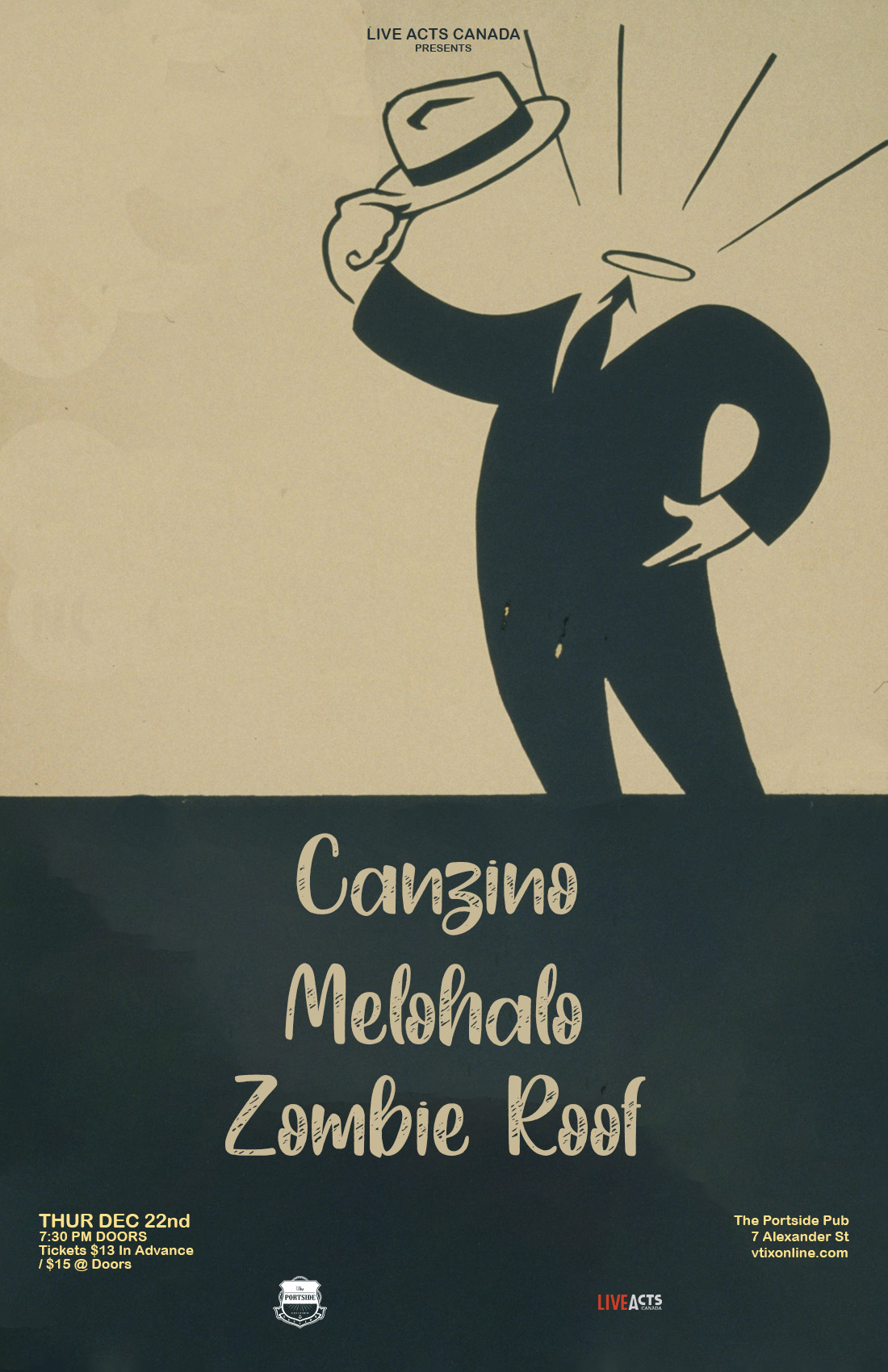 Canzino with Special Guests Melohalo and Zombie Roof
Thursday, December 22, 2022 | 7:30pm
The Portside Pub
Live Acts Canada Presents:
Canzino with Special Guests Melohalo and Zombie Roof
The Portside Pub. Doors: 7:30PM/ 19+
Tickets $13.00 In Advance $15.00 @ The Door
THE PORTSIDE PUB, 7 Alexander St.
Canzino//
Canzino is ia Musician, DJ, & Live-Looper residing in Vancouver, BC. The audio "jam-sauce" comes in the form of Alt-Dance-Rock with a splash of Electronic Pop Melodies. His live act consists of using a live looper, guitar, and computer to generate funky beats and melodies to dance and jive to. "Keeping it saucy" is the motto and what his live mix-jams are mostly about!
Soundcloud:
https://soundcloud.com/canzino
Spotify:
https://open.spotify.com/artist/0xmP5o5vGIj47ogpEiBWTM?si=79QmuURdQI-KDDEELxW5LA
Instagram:
instagram.com/canzinomusic/
Youtube:
https://www.youtube.com/channel/UCfmD4gjR6DjfGeaH-8JMFjg/videos
Twitch:
https://www.twitch.tv/canzinomusic
Melohalo//
Melohalo is a musical duo from Vancouver, BC. The band is made up of multi-instrumentalist singer-songwriters Amanda Joan & Nathan Salloum. They blend electronic & trip-hop beats with sultry & haunting pop-rock vocals. Emotionally driven content with reminiscent sounds of Portishead, Melohalo has a vulnerable edge similar to Billie Eilish supported by power, not unlike Alanis Morrisette.
Facebook - https://www.facebook.com/melohalomusic/
Website - https://www.melohalomusic.com/
Instagram - https://www.instagram.com/melohalomusic/
Zombie Roof//
Zombie Roof's sounds is hard driving, Alternative Rock. The influences can be traced back to Janes Addiction, Mother Love Bone, Sons of Freedom and Rage Against the Machine. As bastard children of the 70's rock and punk era the current sound can be described as dynamic, guitar rock with a driving rhythm section blessed with intense melodic vocals
Website - https://zombieroof.com/
Facebook - https://www.facebook.com/zombieroof/
Bandcamp - https://zombieroof.bandcamp.com/releases