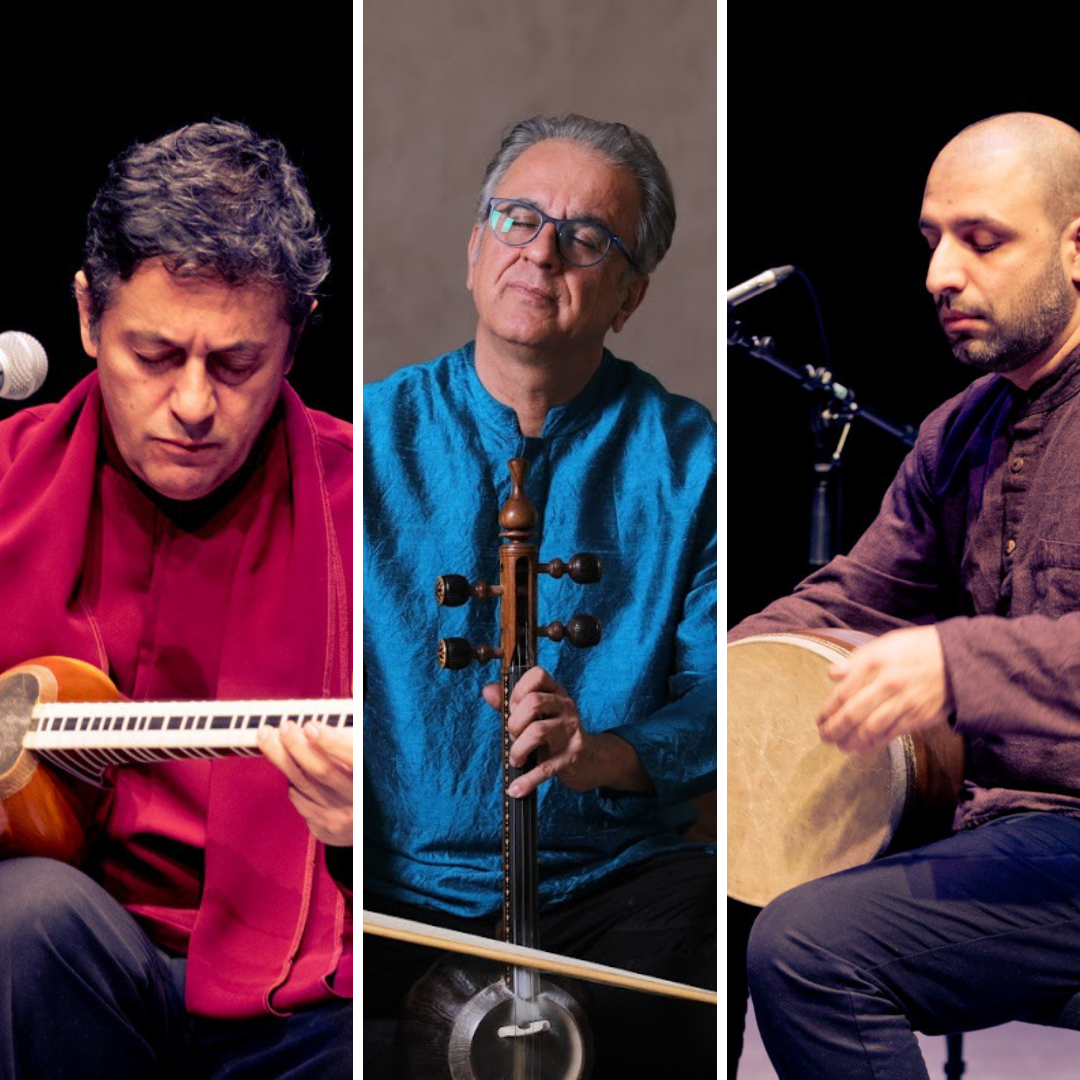 Caravan World Rhythms & Vashaan Music Society present
The Music of Persia
Sunday, July 10, 2022 | 8:00pm
First Church of Christ Scientist
Caravan World Rhythms & Vashaan Music Society present
The Music of Persia
Exploring the deep roots of Persian classical music
Featuring:
Saeed Farajpouri - Kamanche (Spike Fiddle)
Amir Koushkani - Tar (Persian lute)
Hamin Honari - Tombak (goblet drum)
Saeed Farajpouri is among the greatest performers of the Iranian Kamanche (Spike Fiddle). He is joined by Dr. Amir Koushkani, who is a researcher and master performer of the Iranian Tar (Long-necked lute) and Hamin Honari on the Tombak (Goblet drum). These musicians come together to present Iranian music in a manner that is faithful to the style of music which would have been presented during the late Qajar Dynasty of Iran (1789-1920).
Persian classical music dates back many centuries and these artists will present music which honours these ancient traditions in a mystical and beautiful concert.
ABOUT THE PERFORMERS
AMIR KOUSHKANI is a performer, composer and instructor of the traditional stringed instruments Tar and Setar. He holds a Master's Degree in Western Musical Composition, and a PhD inEthnomusicology. Over the last three decades, apart from concentrating on different aspects of classical Persian music. He has composed widely for theatre, orchestra, andvarious musical ensembles. Koushkani has recently published a two-volume study on the "Persian Avaz" in collaboration with Master Mohammad Reza Shajarian and Professor Robert Simms.
SAEED FARJPOORI was born in Sanadaj, Iran. He is a composer, performer and an instructor of a classical Iranian Kamancheh. He began his musical education at the age of 9 under Maestro Hassan Kamkar, and later studied the Iranian music repertoire (Radif) under Maestro Mohammad Reza Lotfi. Farajpoori has performed with ensembles such as: Shayda, Aref, Aava, Paivar and Dastan.
At the same time, he collaborated with Maestro Mohammad Reza Shajarian for more than three decades performing at many concerts inside and outside Iran. Farajpoori has instructed Kamancheh at Chavosh Music Center, Music Conservatory of Tehran, and several universities and art institutes inside and outside Iran. He is a recipient of Iran's highest art honor award. He also has several solo recordings such as: Kamancheh Album, Segah Homayoon, and Kurdish folklore music. In Kurdish music, he has produced the following albums such as: Awaat, Zamaneh, in memory of S. Ali Asghar Kurdestani.
HAMIN HONARI is an Iranian-Canadian percussionist who specializes in Iranian hand percussion (tombak, daf and dayereh). He has also trained to adapt his playing style and technique to different musical genres. He has toured as a member of the Dastan Ensemble, one of Iran's best-known classical Persian music ensembles. He is a principal member of ensembles such as "Les Arrivants", Gordon Grdina's "The Marrow" and "Vashaan." He has also performed alongside great musicians and singers such as Salar Aghili, Parissa, Hossein Omoumi, Hossein Behroozinia, Saeed Farajpouri and Itamar Erez. Hamin lives in Montreal (Quebec) where he is a very active musician in the fields of Persian and Middle Eastern music.