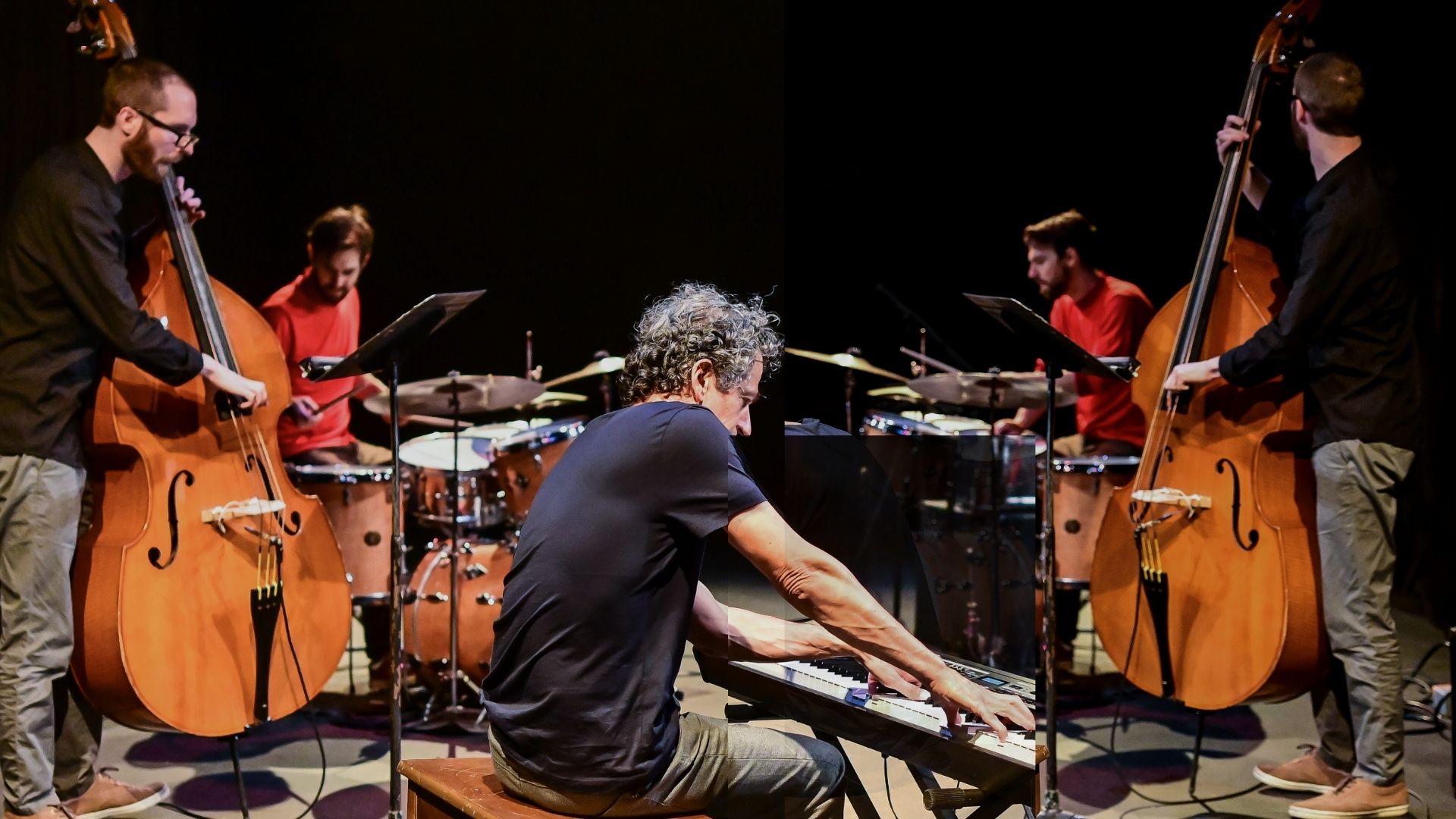 Caravan World Rhythms presents
Itamar Erez Jazz-World Trio with Francois Houle
Monday, November 30, -0001 | 12:00am
Hermann's Jazz Club
753 View St., Victoria, BC V8W 1J9
"The music really catches fire...Erez stretches out, using his impressive instrumental technique to great effect..." (Songlines Magazine)
"A showcase of stunning musicianship" (Vancouver Sun Newspaper)
The Itamar Erez Trio is:
Itamar Erez- piano/guitar
Jeff Gammon- bass
Kevin Romain- drums
With Special guest: François Houle- clarinet
Itamar Erez BIO
Itamar's music holds a depth and sensitivity that touches listeners deeply.
It blends the delicateness of Middle Eastern music, the freedom found in jazz and the passion of flamenco, creating a unique sound all his own. Recipient of the 2014 ACUM Prize for Special Achievement in Jazz and the prestigious 2014 Landau Prize, Itamar Erez is an internationally renowned composer and guitarist who has shared the stage with such musicians as Omar Faruk Tekbilek, Jean-Louis Matinier, Zohar Fresco, and others.
Itamar has released 5 CDs so far, two with his quartet 'The Adama Ensemble': "Desert Song" (2006) & "Hommage" (2010).
His most recent release "May Song" was released Oct 2022 with the support of the Canada Council for the Arts, featuring his trio (Jeff Gammon- bass & Kevin Romain- drums) with guest performance of clarinet virtuoso François Houle.
In recent years, Itamar has performed in Canada, USA, Israel, Germany, Greece, Netherlands, Austria, Cyprus, Israel, India, Tunisia, Hungary, Colombia & Surinam. Itamar made his Carnegie Hall (NY) debut Apr 2018 performing with the Omar Faruk Tekbilek Ensemble with Ara Dinjkian & Brian Keane as special guests.
Among the venues and festivals that Itamar played throughout his career were: Barbican Hall (London UK), Sydney Opera (Sydney, Australia), the Jerusalem Jazz Festival (Israel), Oman Opera House, The Megaron (Athens, Greece), Schauspiel Leipzig (Germany), Amsterdam Jewish Music Festival (Holland), the Vancouver International Jazz Festival, Carnegie Hall (NY), and others.
During the pandemic, Itamar has presented several online performances commissioned by the Vancouver International Jazz Festival, The Niagara Jazz festival, as well as his own private solo performance.
At the 2021 Vancouver International Jazz Festival, Itamar has participated as a leader of the Itamar Erez Quartet, as well as a workshop facilitator, discussing his musical work, creative process and inspiration. A new CD is in the works, coming out in 2022!
In 2022 Itamar was chosen to showcase his quartet at 'JazzAhead' music conference in Bremen (Germany), and presented a 45 min set of his original music, and toured in Israel with shows in Tel Aviv, Zichron Yaaqov, Haifa and Tzfat.
Early 2023 Itamar will join 'International Guitar Night' with shows in Duncan, Victoria, Nanaimo and New Westminster, with world renowned guitarists Stephanie Jones, Jesus Guerrero and Jocelyn Gould, as well as touring Vancouver Island with his trio.
Musicians Bios
Canadian contemporary/jazz bassist, composer and educator, Jeff Gammon, is a sought-after musician,
playing with some of Vancouver's much loved artists including The Sojourners, Dave Sikula, Paul Pigat,
Brad Turner, Hugh Fraser, Steve Kaldestad, Mike Allen, Jesse Cahill and Cory Weeds. He is currently a
member of The Dave Sikula Trio, Only A Visitor, Last Ark Out and Simple City.

Drummer and composer Kevin Romain has established himself as one of the most in-demand drummers
in Vancouver's creative music scene. Kevin moves freely between jazz, improvised and contemporary
styles and has garnered acclaim as a unique voice on the drum set.
He has toured regularly across North America as well as Europe, China, Japan and West Africa. He has
studied with Mark Guiliana, Dan Weiss, Tomas Fujiwara, Bernie Arai and Dylan Van Der Schyff, and has
shared the stage with Anthony Braxton and legendary Senegalese percussionist Doudou N'Diaye Rose.
Clarinetist François Houle has established himself as one of today's most innovative musicians, in all of the diverse musical spheres he embraces. Inspired by collaborations with the world's top musical innovators, François has developed a unique improvisational language, virtuosic and rich with sonic embellishment and technical extensions. He has worked with Dave Douglas, Mark Dresser, Joëlle Léandre, Benoît Delbecq, Evan Parker, Samuel Blaser, Gerry Hemingway, Marilyn Crispell, Myra Melford, René Lussier, Alexander Hawkins, John Butcher, Kris Davis, Georg Graewe, Håvard Wiik, Guillermo Gregorio, Eyvind Kang, Hasse Poulsen, and many of Canada and the International scene's top creative music artists.
Website: https://www.itamarerez.com
YouTube channel: https://www.youtube.com/itamarerezmusic
Instagram https://www.instagram.com/itamarerezmusic