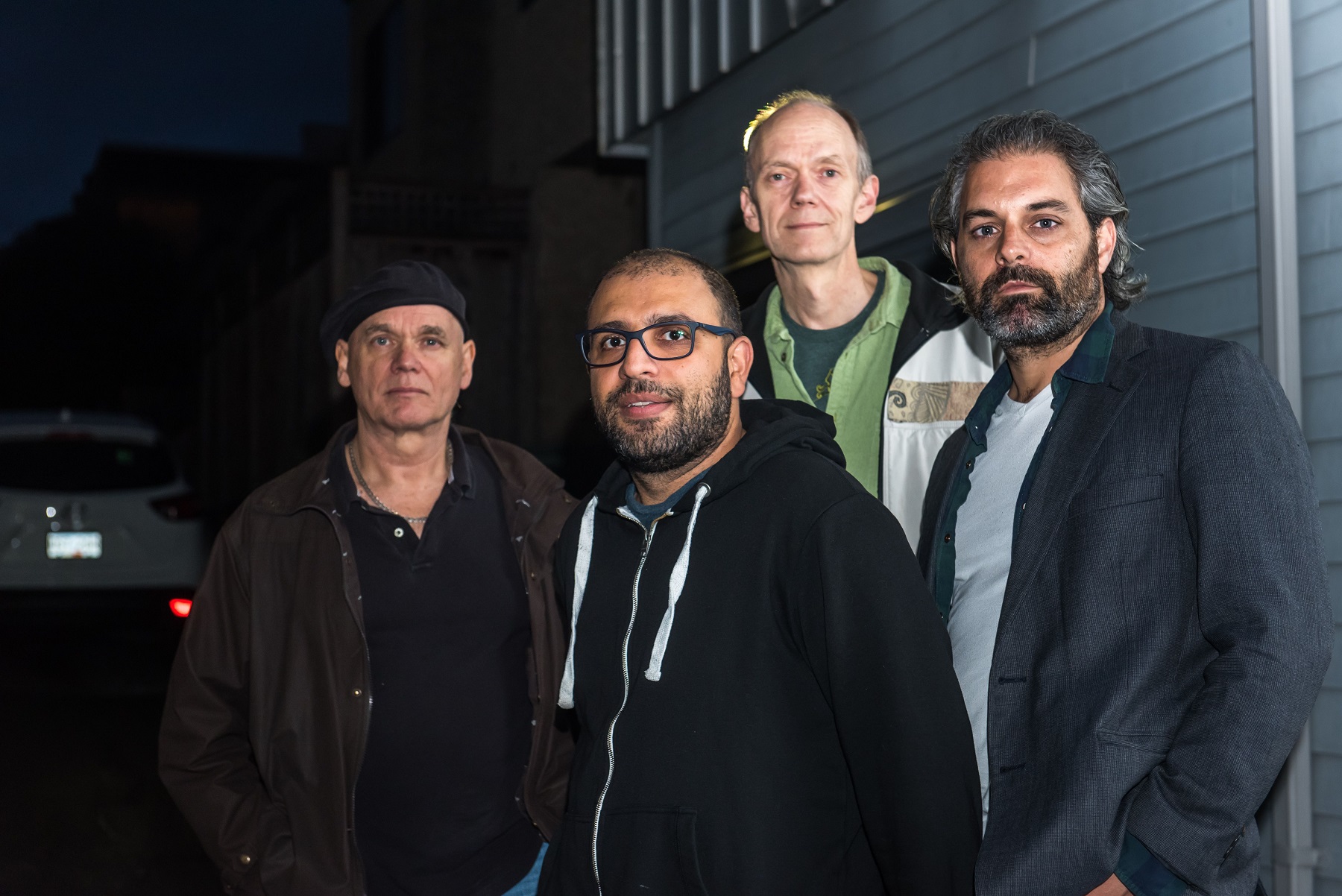 Online Sales Ended. Tickets available at the Door as of 5:30pm
Caravan World Rhythms presents
The Marrow - Jazz Middle-Eastern Fusion
Sunday, January 29, 2023 | 7:30pm
Hermann's Jazz Club
753 View St., Victoria, BC V8W 1J9
ONLINE SALES HAVE ENDED. YOU CAN PURCHASE TICKETS AT THE DOOR. DOORS OPEN 5:30PM ; SHOW 7:30PM.
The Marrow is:
Gord Grdina (Vancouver) - Guitar & Oud
Mark Helias (New York) - Bass
Hank Roberts (New York) - Cello
Hamin Honari (Montreal/Iran) - Persian Percussion
Show 7:30pm / Doors 5:30pm. Full restaurant menu available.

Virtuoso Vancouver oud player Grdina's new middle eastern/avant jazz ensemble is a quartet featuring illustrious New York collaborators Mark Helias (bass) Hank Roberts (cello) and Hamin Honari on Persian percussion. Grdina's compositions are mostly based on classical Arabic maqam and Persian dastgah traditions but are performed in a creative jazz context where improvised group interplay is as important as solos and expanded tonality is welcomed. The music is intricate and often delicate with a deep connection to the past while looking forward. It defies categorization but remains comfortably engaging. The compositions cover a lot of ground. There are dark, brooding but frequently exciting excursions on middle eastern modes and vamps, more contrapuntally through-composed works, and two slow, song-like explorations for strings without percussion. The final piece is a vibrant, foot-tapping tribute to west African guitarist Boubacar Traore. This project extends Grdina's previous fusions involving jazz improvisation and middle eastern music, from Think Like the Waves to East Van Strings and currently his 10-piece band Haram, while also drawing to some extent on his more avant jazz and guitar-based New York projects No Difference (featuring Helias) and Inroads (all on Songlines). But as Grdina points out, The oud has become about 50 per cent of my music...In the last few years it's starting to feel like the oud playing and the guitar playing are turning into the same thing...It feels like jazz is looking outwards...Indian music, Iraqi music, Arabic stuff, Persian music: they're all giving jazz another viewpoint on improvising.