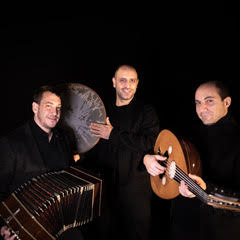 Caravan World Rhythms presents
Les Arrivants
Wednesday, June 21, 2023 | 8:00pm
Victoria Event Centre
Les Arrivants (The Arrivals) is comprised of Amichai Ben Shalev (accordion) Abdul-Wahab Kayyali (oud), and Hamin Honari (Persian percussion), three musicians who settled in Montréal during the COVID-19 pandemic between the summers of 2019 and 2020.
The repertoire Les Arrivants has developed mirrors their resettlement experience. It is informed by the traditions the instrumentalists have mastered throughout their careers – Argentine Tango, Classical Arabic music, and traditional Persian rhythms. It equally reflects the musical possibilities that can only emerge out of a cosmopolitan centre such as Montréal. In other words, Les Arrivants have created an introspective sonic experience that depicts the relationships and views of newcomers to Montréal, while channeling complex emotions associated with migration and travel.
Artist website: https://www.lesarrivants.com/about
Amichai Ben Shalev (Bandoneon): Amichai earned his degree from the "Manuel de Falla" Conservatory of Buenos Aires in 2012, he studied under the tutelage of maestro Rodolfo Daluisio, the great pioneer of concert bandoneon. He has forged a career encompassing the full range of the bandoneon: from solo classical to orchestral works, from tango to heavy metal compositions.
Abdul-Wahab commenced his oud studies in 1989 at the National Music Conservatory of Amman, Jordan under the tutelage of Sakher Hattar. While in Amman, he also received tutelage and guidance from Iraqi oud virtuoso Munir Bashir. As a soloist and a member of the Conservatory's Arabic Music Ensemble, he participated in many of the Middle East's musical and cultural festivals
Hamin Honari is a renowned percussionist and composer from Iran, who has become known for his innovative and distinctive approach to Persian music. He was born in 1983 in the city of Zahedan, and grew up in a family of musicians, with his father and grandfather both being prominent musicians in the region.
Honari began his musical education at a young age, studying the tombak, a traditional Persian hand drum, under the tutelage of Ramin Bahrami. He quickly developed a passion for percussion and began exploring a variety of different rhythms and styles, both within Persian music and beyond. He quickly became involved in the city of Vancouver's vibrant music scene, performing with a number of different ensembles and collaborating with a range of musicians from diverse backgrounds. Over the years, Honari has developed a unique style that blends traditional Persian rhythms and techniques with elements of jazz, classical, and other genres. He has released several albums, both as a solo artist and as a collaborator, that showcase his innovative and boundary-pushing approach to percussion and composition.
Honari has also become known for his virtuosic live performances, which are characterized by his powerful and dynamic playing style, as well as his ability to connect with audiences on an emotional and spiritual level. He continues to push the boundaries of Persian music through his innovative compositions and performances. He is a true ambassador of Persian music, and his work has helped to introduce this rich and vibrant tradition to audiences around the world.