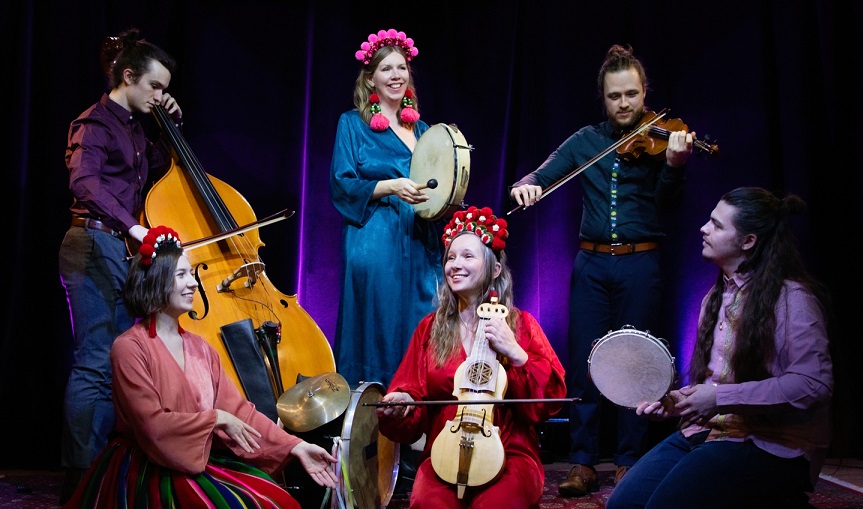 Caravan World Rhythms & Polish Zgoda Centre present
Polky Eastern European Band
Friday, July 7, 2023 | 8:00pm
Polish Friendship Centre
4015 Fraser St, Vancouver, BC V5V 4E6
Toronto's Polky was created by courageous Polish ladies, singer Ewelina Ferenc, dancer Ala Stasiuk, and multi-instrumentalist Marta Solek. Polky, meaning "Polish women," came together through a shared passion for Eastern European music's enigmatic and upbeat style. Joined by Canadian musicians, Polky brings its original sound to Eastern European traditional music by adding a uniquely Canadian and multicultural flavour. They take you on a musical journey to Poland, the melting pot of Eastern and Central Europe, with Ukrainian, Jewish, and Slovak musical influences!
Ewelina Ferenc - lead vocal, percussion
Ekaterina - vocals
Marta Sołek - Polish knee fiddles
Peter Klaassen - upright bass
Sam Clark - fiddle
Oisin Hannigan - percussion
Artist Website: https://polkyband.com/
Presented by Caravan World Rhythms in Collaboration with the Polish Zgoda Friendship Centre.