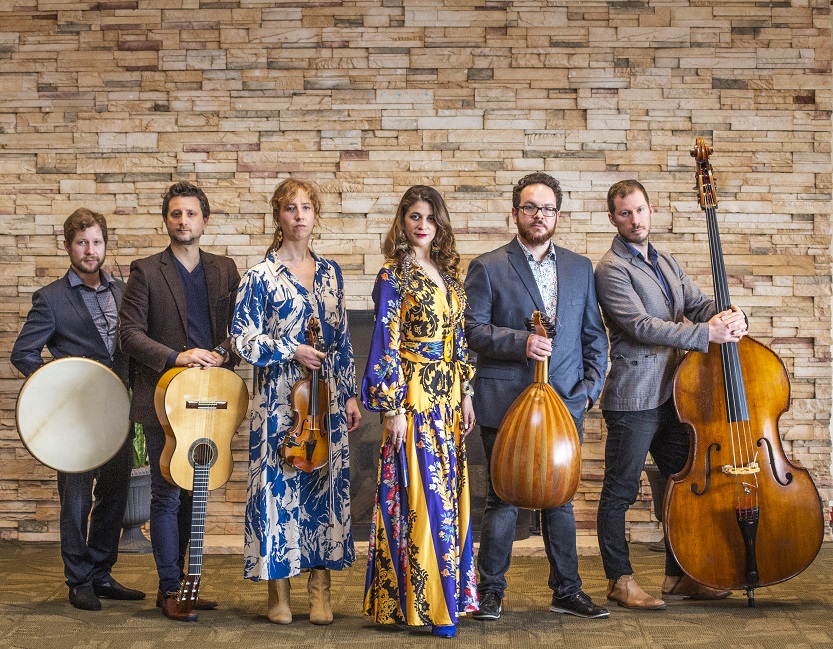 Caravan World Rhythms
Tamar Ilana & Ventanas
Sunday, February 4, 2024 | 7:30pm
Victoria Event Centre
1415 Broad St., Victoria, BC V8W 2B2
Founded in 2011, Ventanas interweaves flamenco, Sephardic and Balkan music and dance, and their own original compositions. The six-piece Toronto-based world music ensemble is fronted by the powerhouse vocalist and dancer Tamar Ilana, and features the city's finest world musicians. They perform in over 20 languages such as Ladino, Spanish, Bulgarian, Macedonian, Hebrew, French, Romani and Arabic, drawing inspiration from today's worldwide themes of migration and the questioning of one's identity. Drawing inspiration from such legendary artists as the Silk Road Ensemble, Paco de Lucía, and Yasmin Levy, they reimagine Mediterranean melodies and flamenco grooves, and mix contemporary interpretations of ancient ballads with original compositions.
Ventanas lineup:
Tamar Ilana – vocals, dance
Demetri Petsalakis – oud, keys
Briga – violin, vocals
Benjamin Barrile – flamenco guitar
Andrew Pacheco – upright and electric bass
Matías Recharte – drumset, percussion
Tamar Ilana bio
Tamar Ilana is a Toronto-born multifaceted artist who grew up on stage singing in multiple languages, touring internationally and dancing flamenco since a very young age. Of Jewish-Indigenous-Romanian-Scottish descent, Tamar sings in 20 languages and is most influenced by the Sephardic and Flamenco traditions.

Tamar's music and fierce talent reflect her personal and cultural history growing up in multicultural Toronto; accompanying her ethnomusicologist mother, Dr. Judith Cohen, on village fieldwork expeditions and on stage as a child; and living in Ibiza, Barcelona, Paris and Seville as a teen and young adult. Drawing on these experiences, Tamar founded her world music project, Ventanas, in 2011 with whom she has released three albums and been nominated for four Canadian Folk Music Awards including Best Traditional Singer. Tamar has collaborated with such renowned artists as Jesse Cook, Briga, Eliana Cuevas, Lenka Lichtenberg, Jaffa Road, Sultans of String, the Lemon Bucket Orkestra, and Tara Moneka. A highly sought-after flamenco dancer and singer, Tamar performs with the Esmeralda Enrique Spanish Dance Company, and at the Academy of Spanish Dance. Tamar has also been featured in award-winning, innovative international musicals in New York, San Francisco, Washington DC, the UK and Germany.

In 2020, Tamar co-founded the presenting arts organization FabCollab, and has since presented over 100 BIPOC women and minority artists at venues such as Koerner Hall and the Aga Khan Museum. Find out more at tamarilana.com or on socials @tamarilana.