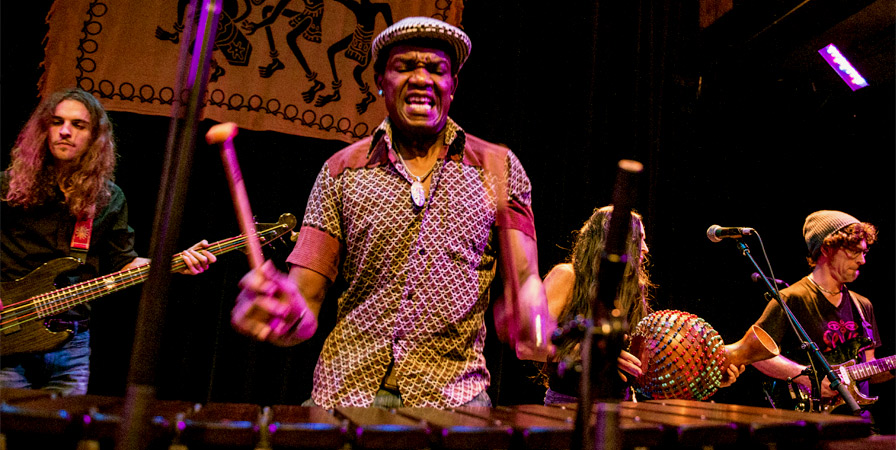 Caravan World Rhythms & AACCCS Issamba Centre present
ZIMBAMOTO - African Dance Party
Friday, January 19, 2024 | 12:00pm
Victoria Event Centre
1415 Broad St, Victoria, BC V8W 2B2
CO-PRESENTED with AACCCS.
Join us for a festive evening of Afrofusion dance music, and help use celebrate the birthdays of the founders and directors of Caravan World Rhythms and AACCCS (African Arts and Culture Society - Issamba Centre) - Robert Benaroya and Pulcherie Mboussi!
Led by master Zimbabwean musician, percussionist and singer Kurai Mubaiwa, ZIMBAMOTO brings an exhilarating flavour of traditional and contemporary music from Zimbabwe. Centered around the mbira (thumb piano) and songs in the Shona language, ZIMBAMOTO is backed by a thunderous rhythm section including noted percussionist Curtis Andrews on drum kit, lead guitarist Mark Campbell, and bassist Geordie Hart. The band plays with modern Afrobeat sensibility that's guaranteed to get you moving.
"ZIMBAMOTO is the most exciting band playing African music to emerge on the West Coast for too many years. They perform mesmeric music for mind, heart, and feet – you'll have to work hard to stay seated once they start!"- Tony Montague, Georgia Straight