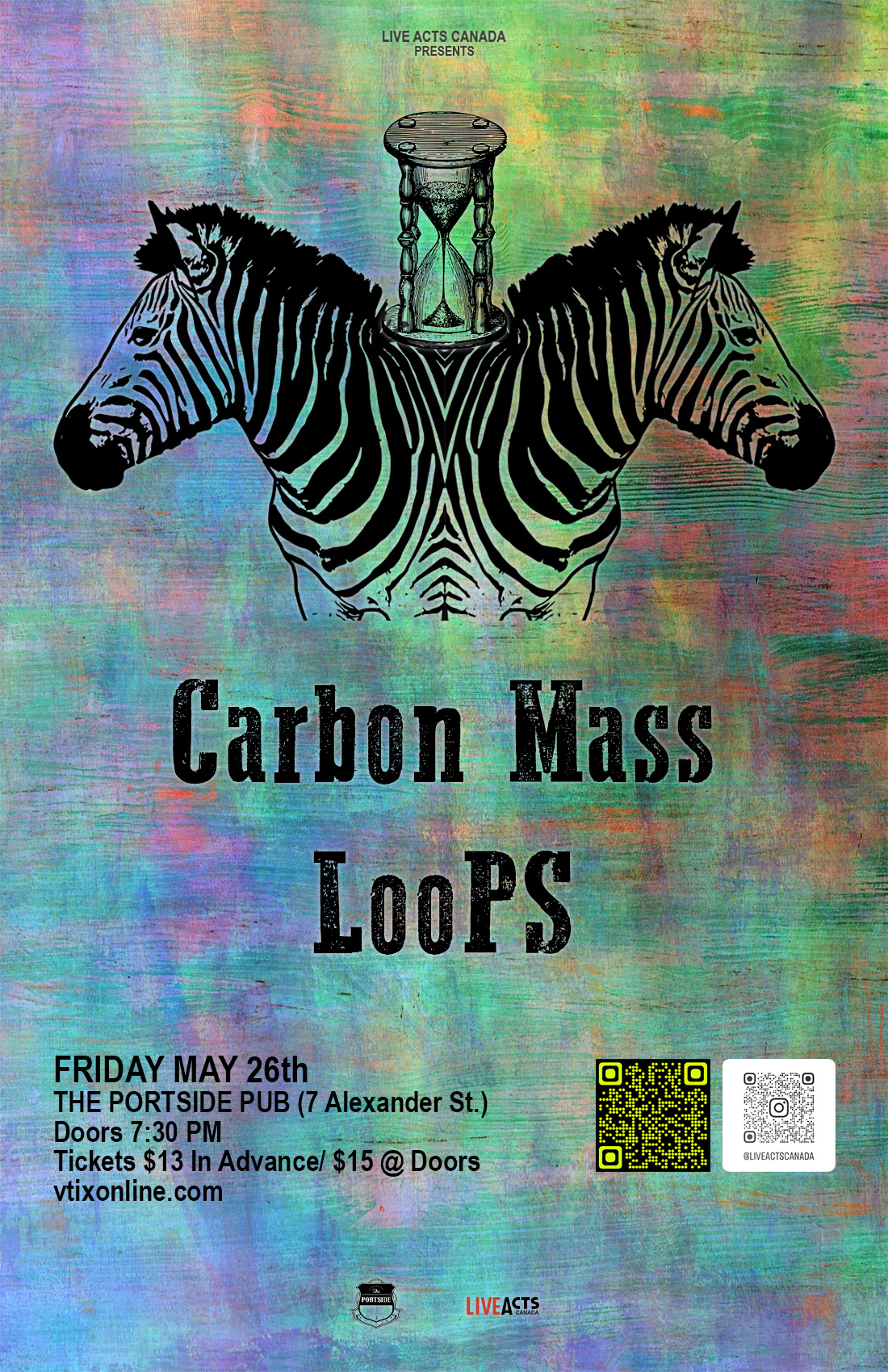 Carbon Mass with Special Guest LooPS
Friday, May 26, 2023 | 7:30pm
The Portside Pub
7 Alexander St., Vancouver, BC V6A 1E9
Live Acts Canada Presents
Carbon Mass with Special Guest LooPS
The Portside Pub. Doors: 7:30PM/ 19+
Tickets $13.00 In Advance $15.00 @ The Door
THE PORTSIDE PUB, 7 Alexander St
Carbon Mass//
Instagram: https://www.instagram.com/carbonmass/
Facebook: https://www.facebook.com/carbonmass
Soundcloud: https://soundcloud.com/carbon-mass
LooPS//
Consisting of lead singer Kevin Roy and instrumentalist/vocalist Jon Fennell, L∞PS are a Canadian Acoustic-Pop duo based out of the Interior BC. Their debut LP "LooPS" was released in spring 2022, with the album singles "Parachute" and "Checking Out" preceding its launch. Recorded with BC Music Hall of Famer/Juno nominated producer Doug Cox, "LooPS" is a throwback to the classic albums in that it is a true 'no-skip' record, full of upbeat radio friendly jams and soulful story driven ballads.
Due to L∞PS' commanding stage presence, their LIVE performances are known for being both memorable and captivating for the audience. In addition to performing their own tracks, their unique and original takes on cover songs that include creative mashups of classics, always entertain the crowd! The duo perform an acoustic guitar and piano based style with loop pedals incorporated into their sets, and can be best described as a mix of Ed Sheeran/Lewis Capaldi but with harmonies. L∞PS have a library of literally hundreds of covers they perform from the 1960s to current top 40 hits.
Recent achievements include making the top 100 finalists in the 2021 CBC Music Searchlight competition and winning the Best Band/Singer award in the 2022 Kamloops This Week Readers Choice Awards, firmly establishing themselves as the top act in the region. L∞PS completed their first ever BC wide tour to end 2022, playing 12 shows over 3 weeks in 10 different cities. They built the tour around recording their new single "Last Goodbye" which is slated for wide release in early 2023. In early 2023, the duo have already played the final weekend at "The Patch", the entertainment venue for the Scotties Tournament of Hearts, and will be the closing act for the Molson Canadian Hockey House, which is the concert series held for the 2023 Memorial Cup in June.

Website & Socials - https://linktr.ee/LooPShq