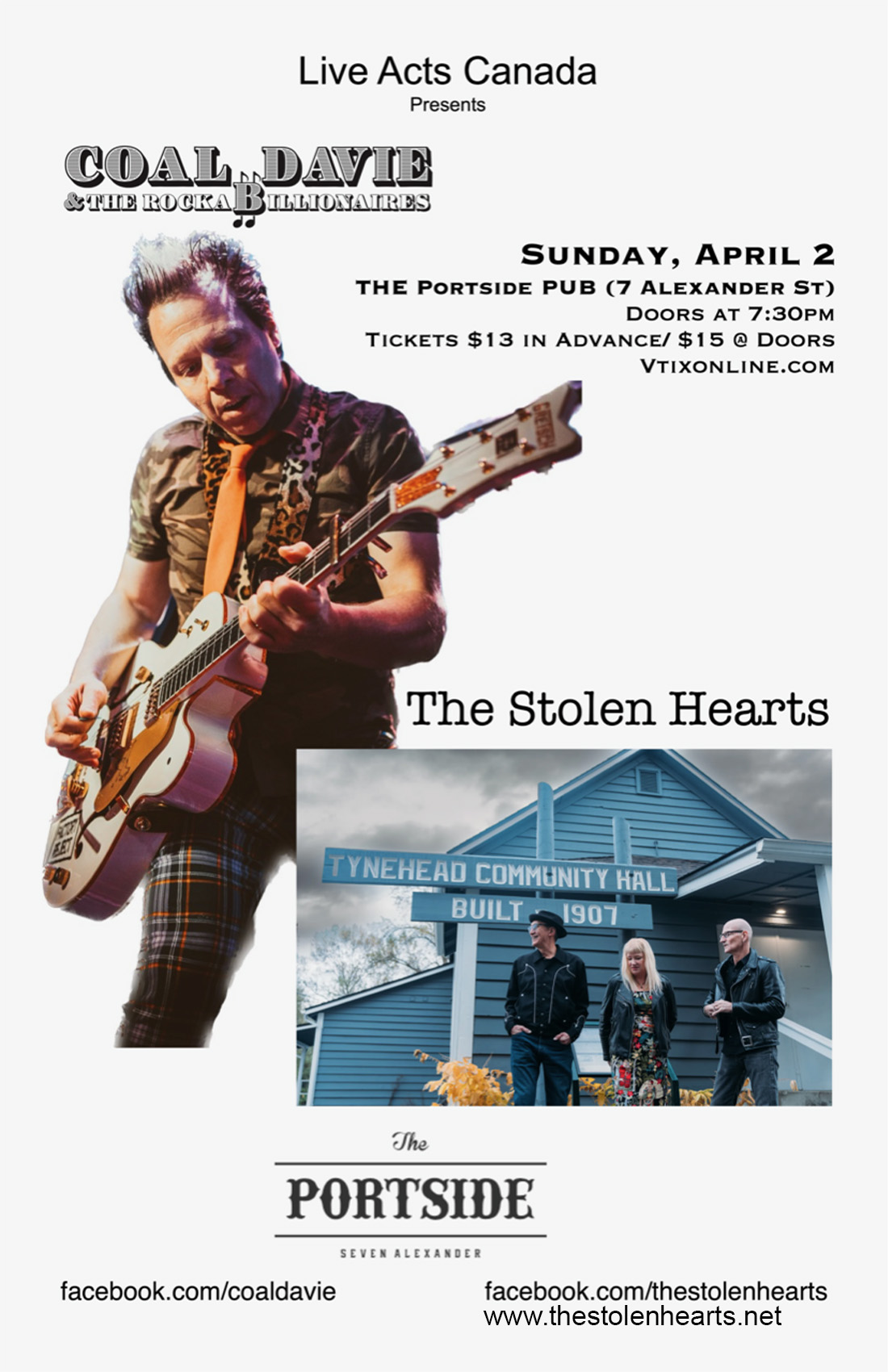 Coal Davie and the Rockabillionaires with Special Guest The Stolen Hearts
Sunday, April 2, 2023 | 7:30pm
The Portside Pub
Live Acts Canada Presents
Coal Davie and the Rockabillionaires with Special Guest The Stolen Hearts
The Portside Pub. Doors: 8:00PM/ 19+
Tickets $13.00 In Advance $15.00 @ The Door
THE PORTSIDE PUB, 7 Alexander St.
Coal Davie and the Rockabillionaires//
Facebook - https://www.facebook.com/coaldavieandtherockabillionaires
Instagram - https://www.instagram.com/coaldavie/
Website - https://coaldavie.com/
The Stolen Hearts//
Delivering a fresh take on a classic sound, The Stolen Hearts play all-original songs that'll keep your ticker racing and toes tapping.
The trio are based in Surrey, BC, Canada, and feature Gillian Lee (lead vocals and stand-up bass), Mike Lee (guitars and back-up vocals),and Michael Nathanson (drum set).
Blending vintage and modern Rockabilly sprinkled with Americana, The Stolen Hearts sing about stories we all know too well: the roller coaster of domestic life; learning (the hard way!) when to leave things alone; and the perils of gambling, be it your money, your luck or your life.
The rock-steady rhythm, full bottom end and sweet guitar provide a solid and melodic foundation for Gill's rich yet rugged vocals.
The Stolen Hearts are currently playing clubs around BC's Lower Mainland and look forward to playing for you!
Our upcoming self-titled debut is due out in early 2023.
Website - www.thestolenhearts.net