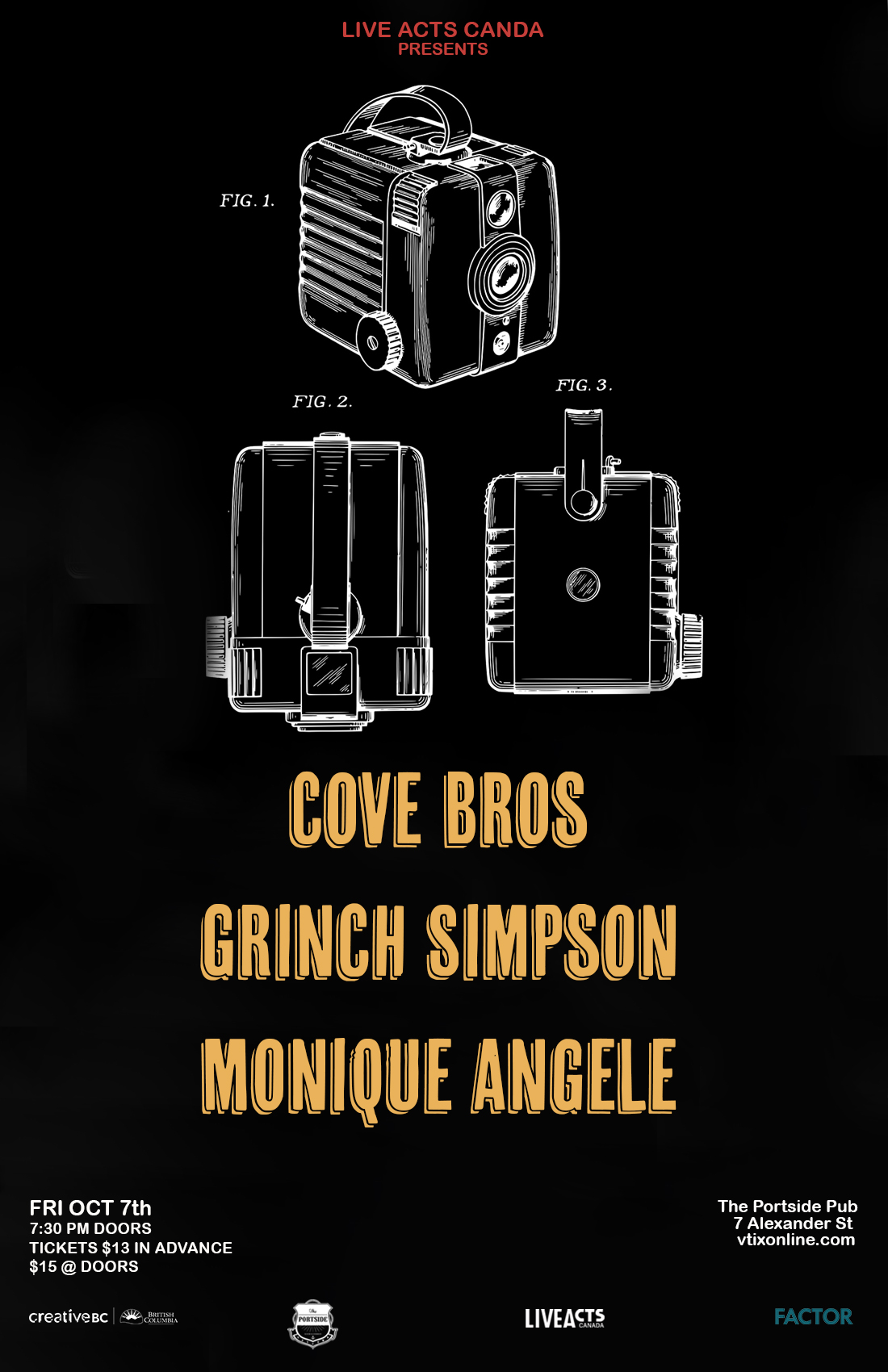 Cove Bros with Special Guests Grinch Simpson and Monique Angele
Friday, October 7, 2022 | 7:30pm
The Portside Pub
Live Acts Canada Presents
Cove Bros with Special Guests Grinch Simpson and Monique Angele
The Portside Pub. Doors: 7:30PM/ 19+
Tickets $13.00 In Advance $15.00 @ The Door
THE PORTSIDE PUB, 7 Alexander St.
Cove Bros//
Cove Brothers is a fluid musical project put together by the singer / songwriter Jesse Lorenz to bring three decades of music to life in the form of live performances. Jesse's songs have lived on SoundCloud and have been performed by other bands - and now his musical ideas get to see the dim light of local Vancouver live venues in pure, uncompromised form. Depending on the songwriting period that's brought to life, Cove Brothers delivers straightforward classic rock, keyboard infused melodic ballads, polished dance-friendly pop, and few other musical stops along the way. This musical variety fuels spicy, energic sets that leave audiences feeling happy and thirsty for more.
Website - https://www.covebrothers.com/
Instagram - https://www.instagram.com/covebrothers/
Soundcloud - https://soundcloud.com/cove-brothers
Grinch Simpson//
Facebook - https://www.facebook.com/GrinchSimpson
Instagram - https://www.instagram.com/grinch.simpson/
Linktree - https://linktr.ee/grinch_simpson
Monique Angele//
Monique Angele is a unique emerging Canadian/Australian operatic piano-pop singer-songwriter. Her music blends both classical and pop elements in a style that exhibits both pianistic finesse and soaring vocals. Monique's performance history makes her no stranger to the stage, possessing a background in solo piano and voice repertoire, opera and musical theatre. Originally honing her vocal skills in classical opera, she decided that performing her own music was her calling. Her live performances of her original music always convey a charismatic and elegant response from audiences and have won rave reviews wherever she performs. She has performed extensively throughout Canada, Australia and the UK. Her songs range from instrumental complexity and virtuosic vocals to simple and refined moments of bliss. Whether it be about heartbreak, seduction, anger, or lighthearted themes, she delivers honest emotions to the listener. Her highly anticipated new album "Time Will Fall" is out now!
Website - https://www.moniqueangele.com/
Instagram - https://www.instagram.com/monique_angele
Facebook - https://www.facebook.com/moniqueangeleofficial
Twitter - https://twitter.com/monique_angele