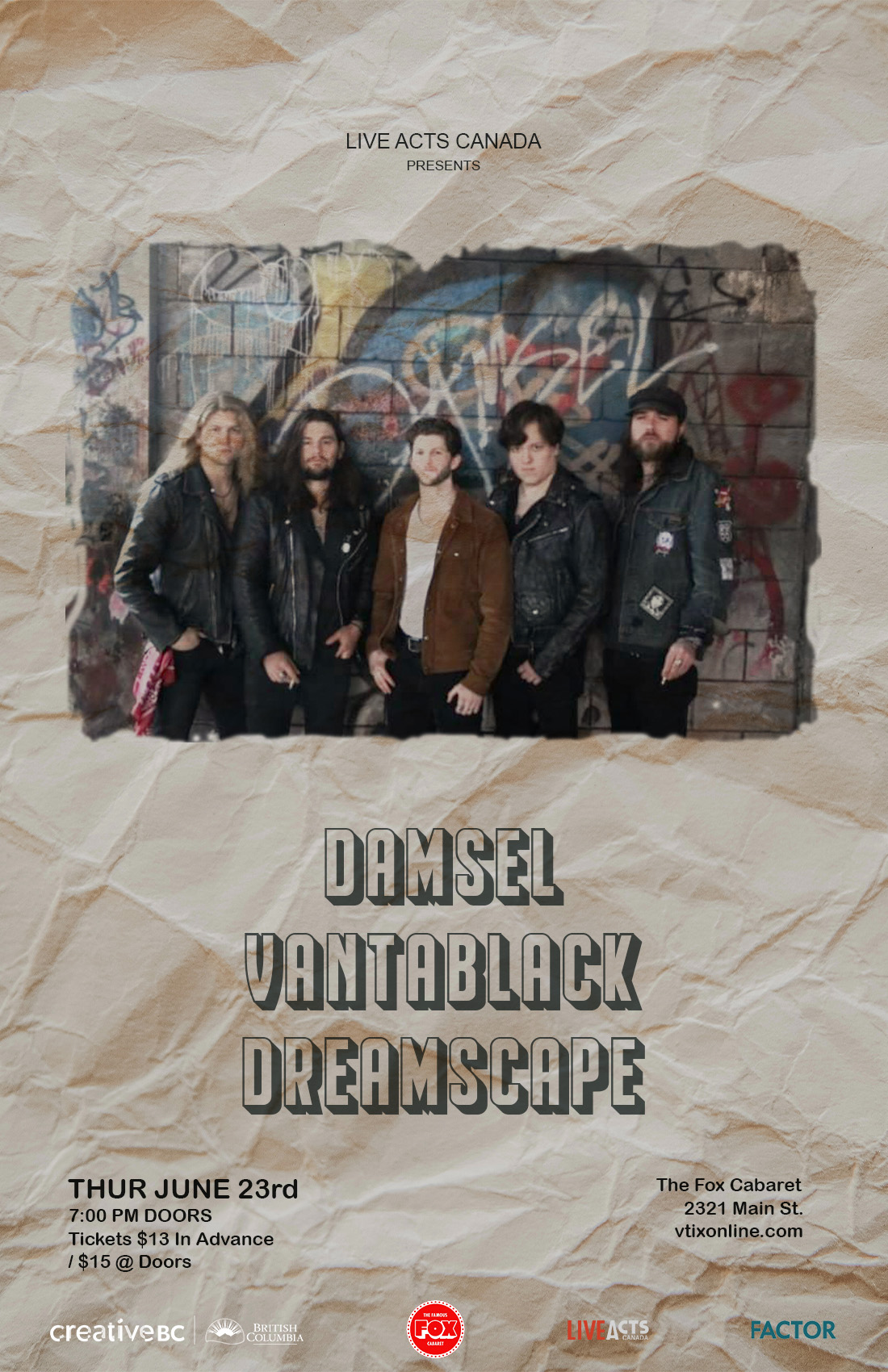 Damsel With Special Guests, Vantablack, and Dreamscape
Thursday, June 23, 2022 | 7:00pm
The Fox Cabaret
Live Acts Canada Presents
Damsel With Special Guests, Vantablack, and Dreamscape
The Fox Cabaret. Doors: 7:00PM/ 19+
Tickets $15.00 in advance/ $20 @ the door
THE FOX CABARET, 2321 Main St.
Damsel//
Damsel was formed in 2018 by lead guitarist and songwriter Kieran Marquis. Damsel's sound is built on catchy hooks, great riffs, and memorable guitar solos. Heavily influenced by rock legends of the 70s, 80s, and 90s, a Damsel concert harkens back to an era when rock shows were nothin' but a good time. Damsel's sound has been described as modern rock with an old-school attitude.
Mackenzie Marquis - Lead Vocals
Kieran Marquis - Guitar + Backing Vocals
Daniel Gottardo - Guitar + Backing Vocals
Michael Climie - Bass + Backing Vocals
Devon Sutherland - Drums
Damsel is hungry! Looking to rock the world and spread the gospel of rock n roll! Damsel is collectively influenced by several bands including: AC/DC, Scorpions, Motorhead, Skid Row, KISS, The Ramones, Motley Crue, April Wine, Whitesnake, Thin Lizzy, Guns N Roses, Van Halen, and many, many more!
From the band: "Thank you for your support and we hope to be rocking out with all you beautiful people real soon.. Cheers!"

Facebook - https://www.facebook.com/DamselOfficial
Instagram - https://instagram.com/damselband?utm_medium=copy_link
YouTube - https://youtube.com/channel/UCEb_LxsOOC3WoJBLig-Xh_g
Vantablack//
Lose yourself in the heavy-hitting, yet soothing melodies and riffs of Vantablack. With a concoction of influences ranging from Queens of the Stone Age, Soundgarden, and Rage Against The Machine, Vantablack touches on all of the grungy garage sounds of pure rock and roll. This Canadian-based band is sure to energize and intrigue as they strive to create original sounds and riffs that keep you coming back for more.
Apple Music - https://music.apple.com/ca/artist/vantablack/1537005476
Spotify - https://open.spotify.com/artist/4enMavEDwc71B3h0OgWVuh?si=RKy8juKkRzaDLzl7gJBkGA
Facebook - @vantablack.project
Insta - vantablack.band
Dreamscape//
Dreamscape is a Vancouver-based 5-piece hard rock band. Founded in 2018, the band members met through a UBC music club and started jamming shortly after realizing they were messaging the wrong Tom (drummer) for almost a month. Having a wide range of musical influences from the likes of Pink Floyd to Alter Bridge and Metallica, Dreamscape prides itself in writing songs that are unique and have incorporated in them elements from various different genres. Dreamscape played numerous shows from its inception through 2020 before the COVID pandemic and is ready to once more burst into the local music scene in Vancouver. Dreamscape's debut EP was recorded at Monarch Studios with Juno award winning producer Tom Dorbzanski (The Zolas) & Alex Penney and will be released in June 2022.
Instagram: https://www.instagram.com/dreamscape.music/
Facebook page: https://www.facebook.com/DreamscapeTheBand