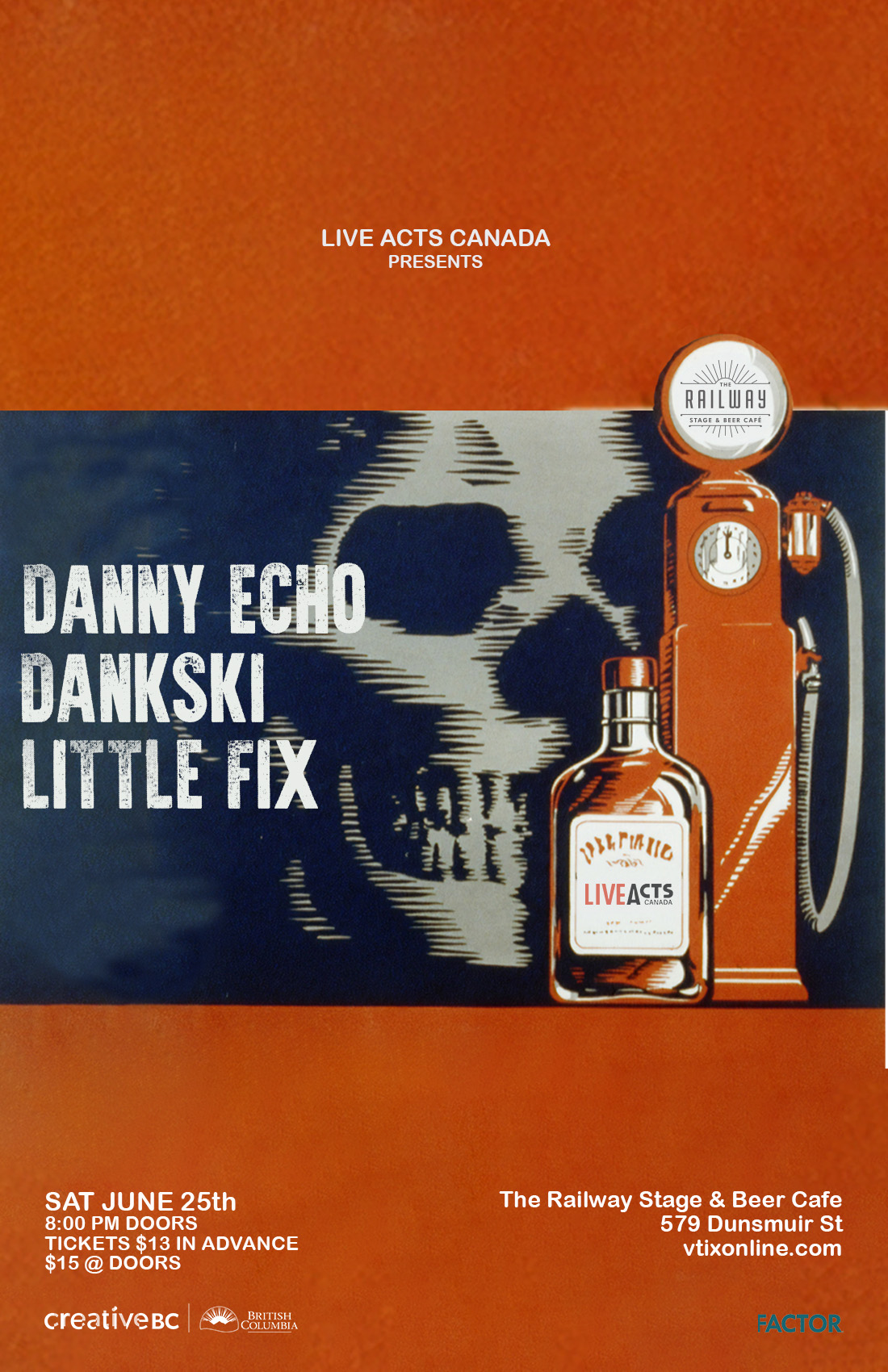 Danny Echo With Special Guests, Dankski, and Little Fix
Saturday, June 25, 2022 | 8:00pm
The Railway Stage & Beer Cafe
Live Acts Canada Presents
Danny Echo With Special Guests, Dankski, and Little Fix
Live From The Railway Stage & Beer Cafe. Doors: 8:00PM/ 19+
Tickets $13.00 In Advance $15.00 @ The Door
RAILWAY STAGE & BEER CAFE 579 Dunsmuir Street
Danny Echo//
Canadian Alt-Pop star Danny Echo pleases fans of The Stones, Beatles, Gorillaz, The Glorious Sons, Sloan, The Sheep Dogs, ACDC. Introspective and social commentary catchy lyrics.
Taking the name from one of his many guitar fx pedals Danny Echo combines brit-pop melodies, classic rock vocals with the alt-pop excitement of a Spacex launch!!
With life spinning out of control on a U.K. tour with The Ryecatchers, Danny decided it was time for a change...
Returning to Vancouver, Danny realized the need to continue the rainy city's musical heritage. After being awarded money from Vancouver's PeakFM as part of the Peak Performance Project he and fellow Ryecatcher Mark Christopher headed to the iconic Mushroom studios. They recorded their song "Tomorrow Today" with Jeff Dawson (Daniel Powter) and got it mixed by Mike Fraser (ACDC, Mother Mother) at another historic studio, Bryan Adams' Warehouse. The song gained some notoriety getting spins on Vancouver radio stations The Peak-FM, 99.3 The Fox, CITR, CO-OP, CBC and Cariboo's' GOAT FM, with the video and music streaming everywhere.
After that initial spark, two albums followed. The first repetitiously self-titled "Danny Echo, Danny Echo", and the more guitar driven "Rock Bottoms Up". The EP "unplugged and Unglued" showcased a quieter side with acoustic takes on new and previously released tracks. Playing this material live took Danny to Toronto's NXNE opening for Redd Cross at Lee's Palace, a couple western Canada tours and a five-date jaunt to Japan.
Taking a short break from the pop-rock sound Danny branched out and took on bass and drum duties on the self-titled album from neo-grunge outfit "Clementine". After a tumultuous tour Danny left the trio and felt motivated to get back at it with some new music of his own.
The following year Danny released the "Gorillaz" inspired "Atmosfear". During the filming of the video Danny asked the videographer and Hip-Hop artist Tyrow James to perform a verse in the song at the video release show. This inspired a "re-mix" of the tune and a subsequent release of both versions on 7" vinyl.
More collaborations and side projects follow with guitar, BG vox, and video producer duties in the psych-rock outfit "The Walk-Ins", live guitar and BGs with Scott Perry, whistling on the track "Painted Gold" by Human Girl, singing about tattooed fans on "After the show" by Neon North and starting the art rock trio "The Swimming Hammers" with two members of East Van punks "The Shit Talkers".
Following the advice of co-workers to not "quit his day job" as a SPFX technician in Vancouver's busy film industry, and during a pandemic Danny found time to finish the new single "Zeros and Ones". It is currently planned for release with accompanying video in spring of 2022. Look for it wherever you consume your music streams.
Always one for safety, Danny obtains all the appropriate permits, and ensures there is at least one fire extinguisher on stage during performances.
dannyecho.com
Website & Socials: https://www.dannyecho.com/
Dankski//
Who is the loved, loathed, mysterious badass, Banksy? More importantly, who is Dankski? Related or not, in punk we trust, and in music lies the absurd. Intelligent artists share more than just street cred, killer instincts, and sharp edges. It's about rock & roll, social disruption, and stirring shit up.
Dankski or Banksy. Chicken or egg. OG troublemakers and anti-media darlings, turned on to the truth: opposition rules. Anything goes. Fact is stranger than fiction. Turn up for what.
Website & Socials - https://dankski.com/?fbclid=IwAR0NLPHs-KelPsXdcuJbmMiLmrq2vZm4pu3Kny0OVjA3b33uoG2HYao3hYM
Little Fix//
With the upcoming release of their first EP, Little Fix are an alternative rock band primed and ready to fire on all cylinders! The band was formed in 2016 by four friends, and local Vancouverites, determined to forge a new rock identity from their deep-seeded roots in writing and crafting music in Western Canada for the last 20 years. After a brief seclusion to assemble and mold their musical ideas, Little Fix have emerged with a full arsenal of material ready to give the people the fix they need. The resulting EP will be an exciting new sound, brought to life under the expert hand of producer Theo Goutzinakis, the co-founder of Juno-nominated punk band Gob.
Website & Socials - http://littlefix.ca/
Insta - https://www.instagram.com/ltlfix/
Facebook - https://www.facebook.com/LTLFIX/
https://www.facebook.com/railwaySBC
https://www.twitter.com/railwaySBC
https://www.instagram.com/railwaySBC
For more information, email info @donnellygroup.ca