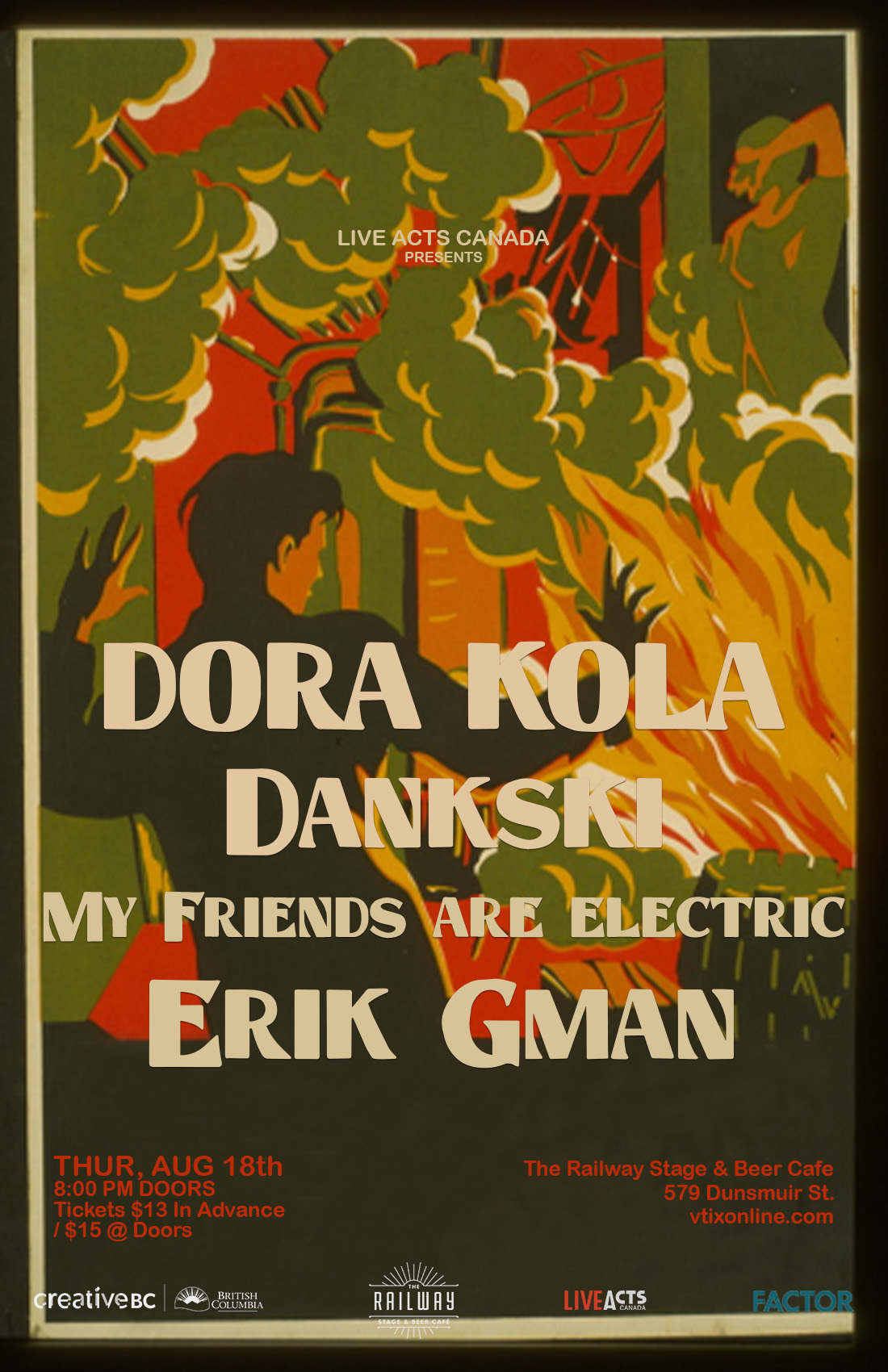 Dora Kola With Special Guests, Dankski, My Friends are electric, and Erik Gman
Thursday, August 18, 2022 | 8:00pm
The Railway Stage and Beer Cafe
Live Acts Canada Presents
Dora Kola With Special Guests, Dankski, My Friends are electric, and Erik Gman
Live From The Railway Stage & Beer Cafe. Doors: 8:00PM/ 19+
Tickets $13.00 In Advance $15.00 @ The Door
RAILWAY STAGE & BEER CAFE 579 Dunsmuir Street
Dora Kola//
Singer, songwriter, and entertainer Dora Kola is one of the edgiest West Coast artist's to have debuted in recent years being greatly inspired by the strip club, sexuality, heavy metal, 80's rock n' roll, and California. Being a hustler ever since a kid, Dora Kola has gone through a whole lot of tribulations including slut-shaming and bullying from peers and teachers at a young age, molding her into the person she is today; strong, bold, and success oriented.
After a lifetime of developing her craft, Dora Kola has finally released her long awaited single titled "After Sex Cigarettes". Though relatively new to the music scene, Dora's debut single has already garnered over 29k streams as well as raved reviews from peers and fans alike. The music video coupled with the single was also directed and produced by the artist herself, allowing her to give fans a glimpse into her wild child life. Being known for writing strong female empowering anthems, Dora Kola is also a superb classically trained pianist with a level 8 RCM certification.
After high school where she was known as the 'theatre nerd', Dora Kola enrolled in radio broadcasting school at BCIT and received a scholarship award for exhibiting the 'Most Creativity', and began work as a radio disc jockey at just 19 years old.
Dora Kola's music journey began at a tender age of 3, spurring her towards the direction of pursuing her passion for music later on in life. Dora Kola ingeniously presents a fresh new perspective with her distinctive brand of music consisting a distinctive blend of multiple styles leaving her listeners feeling chill, sexy, dreamy.
Armed with big Pisces dreams and plenty of hyperactive creative energy to spare, Dora Kola is no doubt, well on her way to becoming one of the most phenomenal and influential artists in this generation. A "no fucks given type bad bitch", that is clearly noted in her music. Come take a ride on the rock side and enjoy some Kola, it'll feeling so fucking good.
Website & Socials: https://dorakola.com/
Dankski//
Who is the loved, loathed, mysterious badass, Banksy? More importantly, who is Dankski? Related or not, in punk we trust, and in music lies the absurd. Intelligent artists share more than just street cred, killer instincts, and sharp edges. It's about rock & roll, social disruption, and stirring shit up.
Dankski or Banksy. Chicken or egg. OG troublemakers and anti-media darlings, turned on to the truth: opposition rules. Anything goes. Fact is stranger than fiction. Turn up for what.
Website - https://dankski.com/?fbclid=IwAR0NLPHs-KelPsXdcuJbmMiLmrq2vZm4pu3Kny0OVjA3b33uoG2HYao3hYM
Facebook - https://www.facebook.com/theofficialDankski/
My Friends are electric//
Bringing in all the best influences of 70's, 80's and 90's rock, My Friends Are Electric has built an ever evolving indie wtf sound and style that provides for a seriously energetic and loud live show.
Website & Socials - https://myfriendsareelectric.com/
Erik Gman//
Erik Gman Youtube Channel: https://youtube.com/erikgmanmusic
Live From Armoury Studios: https://youtu.be/ue41YYAiSYU
https://www.facebook.com/railwaySBC
https://www.twitter.com/railwaySBC
https://www.instagram.com/railwaySBC
For more information, email info @donnellygroup.ca