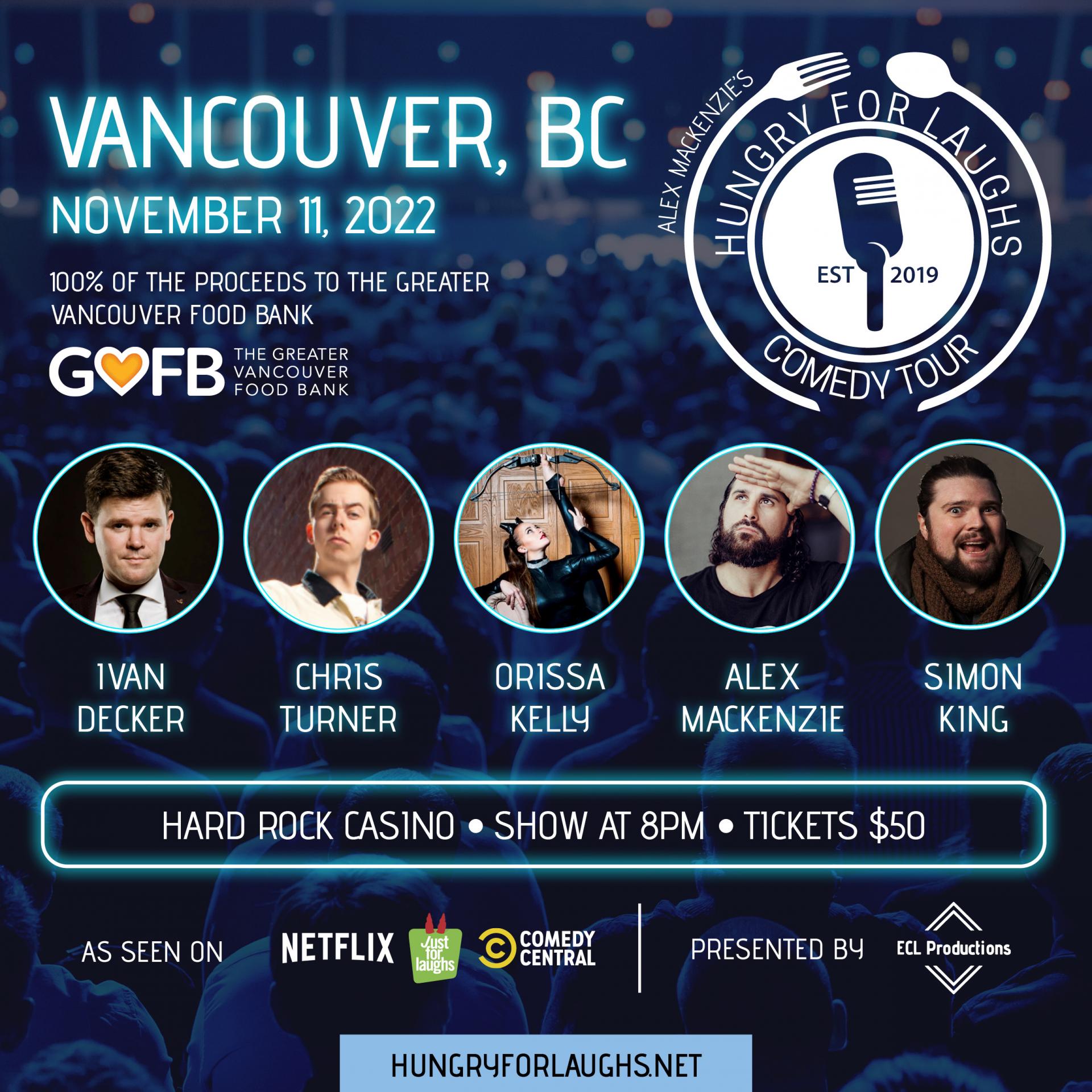 Magnum Nutraceuticals presents
Alex Mackenzie's Hungry for Laughs Comedy Tour
Friday, November 11, 2022 | 7:00pm
Hard Rock Casino
2080 United Blvd, Coquitlam, BC V3K 6W3
19+
Alex Mackenzie's Hungry For Laughs Comedy Tour is an annual fundraising variety act featuring the best performers in the world – it has 3 world-class comedians, the best freestyle rapper on the planet and one of the only foot archers in the world!

These acts have been featured on Netflix, Just for Laughs, MTV, Marvel Movie Wonder Woman, HBO, Conan O'Brien, The Late Show with Stephan Colbert, Cirque de Soliel in Las Vegas, NBA Half-time Shows, MLB Stadiums, Britain's Got Talent, Won Juno awards and even have performed for Her Majesty The Queen of England!
Hundreds of hours go into the production of these events all to create a moment. When you're in that moment, laughing with hundreds of people from your community you will feel a sense of Love and Belonging. After leaving, although there is nothing that you can hold in your hand, that moment will live on forever as a memory created with people you love
The Goal of Alex Mackenzie's Hungry for Laughs Comedy Tour is to bring people together and build a sense of community through the power of Laughter, Love and Giving! At a time where the world feels more divided than ever, Alex Mackenzie believes that laughter is the solution to re-uniting us.

Orissa Kelly
"2019 It was a fantastic performance,
everyone is still talking about it!"
- Her Majesty The Queen's Royal Household
Orissa's career began as an artistic gymnast, competing successfully for Great Britain. As her competitive career came to an end, she decided to utilize her skills and train aerial silks. Her professionalism and passion for her craft, has taken her all over the world, performing for events, TV productions as well as feature films. In April 2015, Orissa created her unique Foot Archery act, which involves her shooting a bow and arrow from a variety of acrobatic positions - including from her feet whilst in a handstand. Orissa is the only person in the UK to perform foot archery as well as the only person in the world to do this while on fire! She has truly invented the art of Fire Foot Archery. Orissa debuted her archery act on Britain's Got Talent, receiving high praise from all the judges. She was even nicknamed the "Hot bendy Cupid" by Amanda Holden! Orissa has gone on to perform worldwide for clients including HRH Queen Elizabeth II, the Hollywood blockbuster 'Wonder Woman', created viral videos reaching over 20 million views and also won the MTV series of 'Amazingness'. In 2018 she also completed a full world tour within a year, performing her foot archery act on every continent!
Chris Turner
"Very Funny, Uniquely appealing. Nobody on a Vegas stage does what Chris Turner Does" - Las Vegas Review-Journal
Chris's quotable gags and rapid freestyle raps have established him as one of the most in-demand acts on the corporate circuit, and at comedy clubs around the world. He is based in the USA and regularly performs at New York's world-famous Comedy Cellar. Chris has a residency in Las Vegas with Cirque de Soliel
In September 2021, he appeared on The Late Show with Stephen Colbert, becoming the first British Comedian to perform there, and received a standing ovation.
His keen wit and intelligent wordplay have seen him rack up over 35 million views on YouTube; headline for 1 million Dutch comedy fans on RTL4's flagship stand-up show, The Comedy Factory; appear live on BBC Radio, and perform sold-out five-star runs at festivals worldwide.
Ivan Decker

" one of the funniest and most likable young comics in the country"
— The Georgia Straight
Ivan Decker is a stand-up comedian and writer known for his sharp, polished, and multi-layered observational comedy. He is originally from Vancouver but is now based in Los Angeles.
Ivan has had numerous television performances filmed at the Just for Laughs Montreal festival, the Winnipeg and Halifax Comedy festivals for CBC Television and can be heard across North America on Sirius XM radio. Ivan can also be seen and heard on the popular CBC radio program "The Debaters." Most recently, Ivan was named a "Comic To Watch" by TBS at the New York Comedy Festival, and subsequently made his U.S. television debut on "Conan." Ivan's debut comedy album "I Wanted to be a Dinosaur" was the recipient of the 2018 JUNO award for "Comedy Album of the Year" which can be heard on all major streaming platforms, including iTunes
He is also a featured performer on the Netflix Stand up Series "Comedians of the world."
Simon King

"Having seen Simon perform many times I have been incredibly impressed with his unique talent. From everything I have seen Simon is truly a gifted comedian."
-Robin Williams

Simon King completely changes a room when he takes the stage. Aggressive, truly insightful and possessing a unique explosive delivery all his own he bombards the audience with intelligent and flat out hilarious material at break neck speed. This coupled with his ability to seamlessly insert characters, impressions and improvisation means he's unlike anything else in the stand-up comedy world.
Being the kind of comic that comes along maybe once in a generation gets you noticed. It wasn't long before he was being invited to play some of the world's most prestigious comedy competitions and festival. From his appearances at: the San Francisco International Comedy Competition, the Seattle International Comedy Competition, The Winnipeg Comedy Festival, The Edmonton Comedy Festival, FunnyFest Calgary, The Moncton Comedy Festival, The Vancouver International Comedy Festival, The NorthWest Comedy Fest, The Kuala Lumpur Comedy Fest, Virgin Music Festival and The Just For Laughs Festival to his breakout performances at the prestigious HBO U.S. Comedy Arts Festival in Aspen and the HBO, TBS Comedy Festival in Las Vegas: he's made a huge impact wherever he's been.
A workhorse and veteran performer with more than a decade and a half in stand up under his belt Simon has played everything from theatres to comedy clubs to dive bars. With numerous national television appearances including Comedy Network, CBC, CTV, TBS, Comedy Central to name a few and regular radio play on both terrestrial and satellite radio it seems only a matter of time before this grass roots superstar becomes a household name.
His unmistakable style, commanding stage presence and lightning wit will win you over but the scope, meaning and sheer hilarity of his material will blow your mind. There is no question that Simon King is an absolute force of nature.
Alex Mackenzie
"His Charisma and Clever joke writing have made Mackenzie Canada's fastest rising comic with his jokes being viewed over 60 million times online" - Vancouver Guardian
Alex Mackenzie has been described as a happiness cheerleader. "A genuinely funny man with a sincere desire to spread happiness" says Stage Whispers Australia. Alex Mackenzie lives in BC, but he could live anywhere! In 2019 Mackenzie quit his six-figure job, sold his house and moved into an RV to chase his stand-up dreams! Now he is in international demand - Mackenzie tours around the world performing in sold out theatres. He's performed at the Melbourne Comedy Festival, is the Host of the Hungry for Laughs Comedy Tour and his charisma and clever joke writing have gained him rapid popularity online that's increasing daily with his videos reaching over 40 million views! He often gets recognized in public and is asked to move his RV.