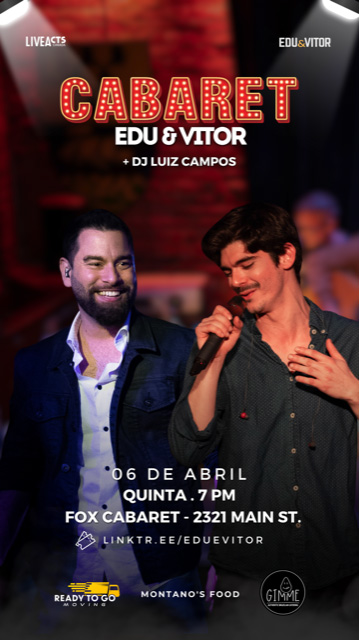 Edu & Vitor Live at the Fox Cabaret
Thursday, April 6, 2023 | 7:00pm
The Fox Cabaret
Live Acts Canada Presents
Edu & Vitor Live at the Fox Cabaret
Doors 7:00 PM/ Early Bird Tickets are $15.00, Discount Tickets are $20.00, Regular Admission Tickets are $25.00
Edu & Vitor//
Social Media: https://linktr.ee/eduevitor
With the guitar as its main instrument and mostly consisting of duets performed by duos, Sertanejo is a music style that had its origins in the countryside of Brazil in the 1920s. It consists of, basically, a mix of country music, with strong influences of Folk and Pop.
Come hang out with us and enjoy one of the most played genres on Brazilian radios that is conquering the world.
We look forward to seeing you there!