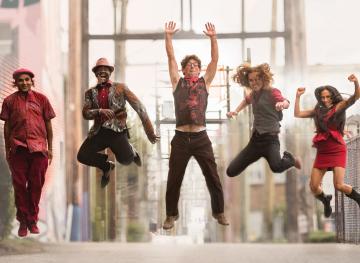 Caravan World Rhythms presents
ZIMBAMOTO ALBUM RELEASE
Thursday, November 23, 2017 | 8:30pm
Wise Hall
1882 Adanac St, Vancouver, BC V5L 4E5
ONLINE SALES HAVE ENDED, BUT TICKETS AVAILABLE AT THE DOOR, AS OF 7:30PM. Also at Highlife, Red Cat, and Zulu stores.
Caravan World Rhythms presents
Vancouvers Premier Afro-Fusion Band
ZIMBAMOTO
Debut Album Release
With guests MNGWA
Tickets $15 adv / $20 door. Buy CD and Advance ticket for $30.
Worldbeat and African music fans will be excited to hear that after nearly a decade of electrifying
festival and club shows across Canada, ZIMBAMOTO is finally releasing its first album, Tambai.
ZIMBAMOTO is a Vancouver-based ensemble led by Canada's foremost mbira and marimba virtuoso,
Kurai Mubaiwa. The band also features renowned world percussion artist and composer Curtis Andrews
on drums, percussionist Navaro Franco, guitarist Mark Campbell and bassist Greg Valou.
Mixing the traditional music of Zimbabwe with electric grooves and heavy beats, they create a hypnotic sound that
is uniquely built for the dance floor, evoking the village as well as the urban street party.
The music is rooted in the classical repertoire of the mbira, a metal-tined 'thumb piano' that first
appeared in the Zambezi River valley nearly 1,000 years ago, that is traditionally used to invoke ancestral
spirits.
Warming up the night is Vancouver's emerging World-Fusion group MNGWA.
MNGWA takes its name from a giant cat that once stalked the jungles of eastern Africa. A 9-piece band
made up of Russians, Mexicans, and Canadians, they are a strange beast indeed.
Mixing in elements of psychedelic rock, dub, African rhythms, and vocals in four languages, MNGWA
injects the local music scene with a fresh global perspective. They call it "Vancumbia Ambush."
Based in East Vancouver, MNGWA is earning a reputation as a juggernaut party band, hosting
underground shows that include video projections, costumes, puppets, live artwork, and a colourful
entourage of weirdos.