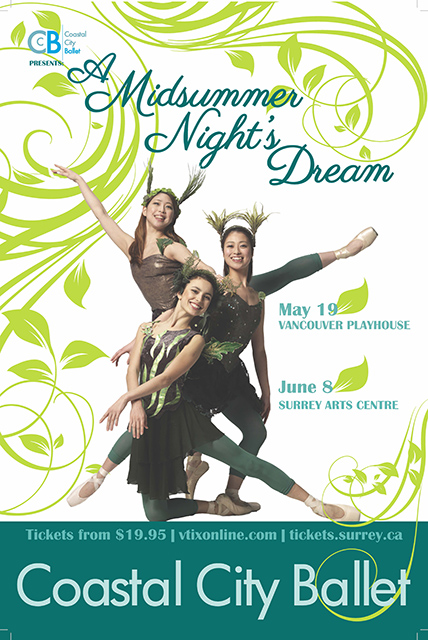 A Midsummer Night's Dream
Saturday, May 19, 2018 | 8:00pm
Vancouver Playhouse
600 Hamilton Street, Vancouver, BC
ONLINE SALES END AT 6:00PM ON MAY 19TH. TICKETS AVAILABLE AT THE DOOR STARTING AT 7PM.
Perfect for families and children of all ages, Coastal City Ballet's full-length version of the adventurous tale features lavish sets, spritely costumes, and Felix Mendelssohn's utterly enchanting score. The ballet will be brought to life by the members of Coastal City Ballet, as well as local dance students from throughout the Lower Mainland who auditioned for the opportunity to dance alongside aspiring dance artists.
The ballet's story is one of magic, mischief, and mistaken identities. Two sets of lovers have fled the city for the forest where they become entangled in a lover's quarrel between the Fairy King and Queen. Matters swiftly become more complicated with the introduction of the incorrigible Puck, a haphazardly applied love potion, and a crew of rough craftsmen attempting to rehearse a play. In the end, naturally, love conquers all and each character enjoys their happy ending.
To create the playful, magical work, Coastal City Ballet has commissioned Irene Schneider, former Artistic Director of Germany's Magdeburg Ballet. Schneider previously worked with Coastal City Ballet when she set last season's production of Giselle and 2016's production of Swan Lake to sold out audiences.
Everyone including children of any age requires a ticket. Choose the Stu/Sen pricing for children who are not attending school. Anyone with a Student ID card (high school, college/university etc) qualifies for the Student pricing. If you have a Group of 10 or more please contact 604-241 7292 ext 3 for a discounted group price.
Please note that there is no photography or filming by audience members allowed during the performance. Doors open 1 hour before show time.