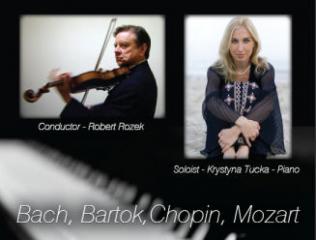 Stradivari Ensemble of Vancouver Academy of Music
Sunday, November 7, 2010 | 7:00pm
Terry Fox Theatre
1260 Riverwood Gate, Port Coquitlam
St. Patrick's Parish presents:
Stradivari Ensemble of Vancouver Academy of Music celebrating 200 years of birth of Frederic Chopin with conductor Robert Rozek and pianist Krystyna Tucka.

Stradivari Ensemble of the Vancouver Academy of Music consists of some of the most talented young people who reside in Greater Vancouver Area, but come from very diverse backgrounds. Mr. Robert Rozek, the leader and conductor of the ensemble is currently the head of the violin department at The Vancouver Academy of Music. He regularly gives master classes in Europe and Asia. He is a frequent guest lecturer at Wuhan Conservatory of Music in China.
Robert Rozek is a graduate of the Juilliard School of Music where he studied the violin with Ivan Galamian and Dorothy Delay. He continuted his studies at the Academia Chigiana of Siena, Italy. There he studied violin with Franco Gulli and conducting with Sergiu Celibidache. Later he studied the violin with Nathan Milstein in New York, London and Zurich, Switzerland. Mr. Rozek's career includes worldwide appearances as soloist and conductor. He has worked with the likes of Yehudi Menuhin , Maurice Andre, Claudio, Arrau, Martha Argerich, James Galway, Benedetti Michelangeli, Kiri-Te-Kanawa, Leonid Kogan, Luciano Pavarotti, Jose Careras.

The pianist Krystyna Tucka was born in Poland. She received there Masters Degree in Performing Arts. She completed her post-graduate study at L'Ecole Normale de Musique de Paris Alfred Cortot, obtaining the Virtuoso Diploma Le Diplome Superieur d'Execution de Piano. Later she received an Artist Diploma at The Vancouver Academy of Music where she studied withLee Kum Sing. Among her numerous awards and distinctions, prizes and recognitions, Tucka was the first-prize winner of the 1998 Eckhardt-Gramatté Music Competition, which was followed by a concert tour from the east to west coast of Canada. She has won numerous prestigious l competitions and performed many concerts and recitals throughout Europe, Africa and North America. Aside from being an accomplished solo pianist, she is also an experienced chamber performer. Her performances have been broadcast in both Europe, America and for CBC in Canada.Tucka has worked with the likes of Zygmunt Richter, Wanda Kaluzny, Sydney Harth and Bramwell Tovey as conductors.
Tickets will also be available for purchase at St. Patrick's Parish and at the door at 6:00 pm on the night of the concert.