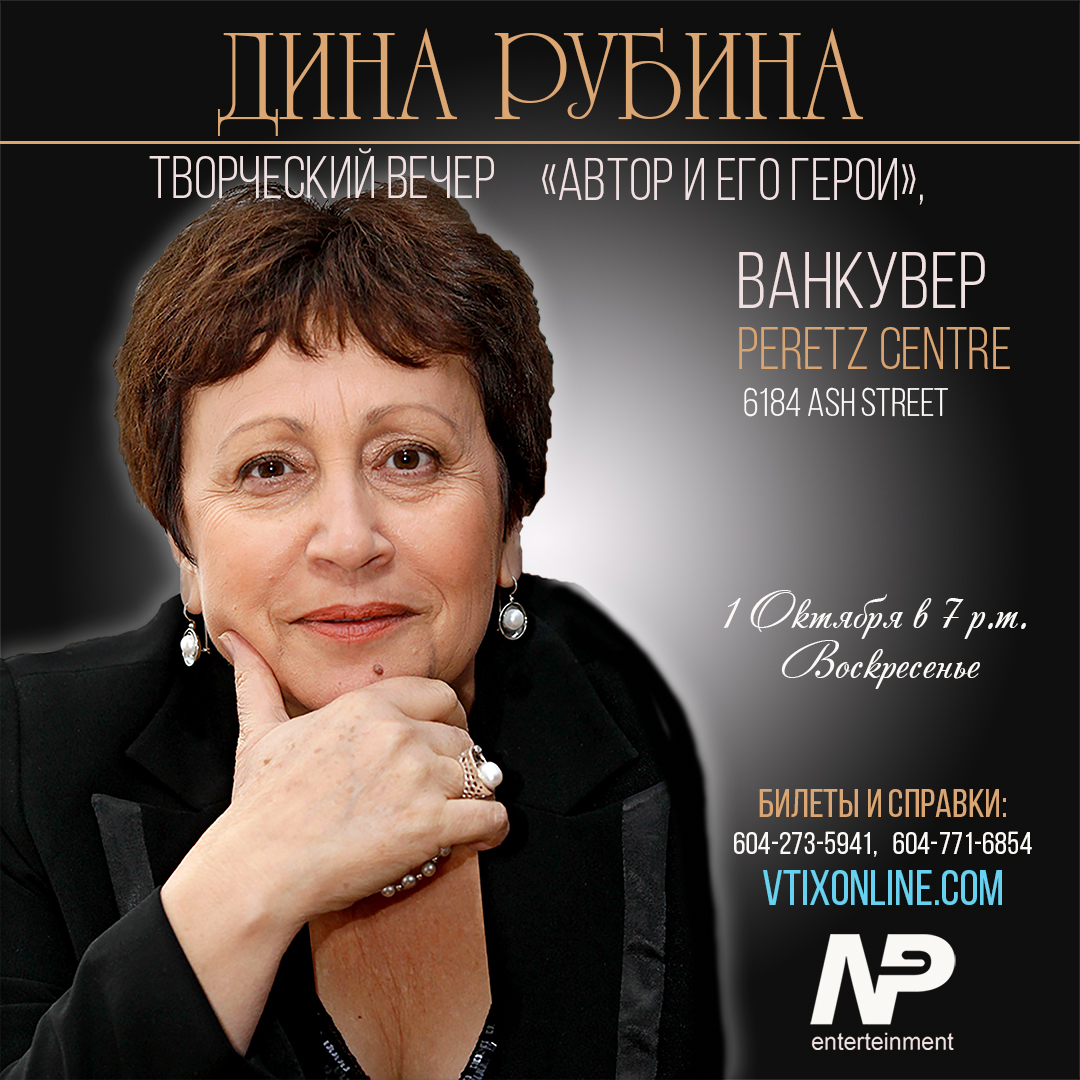 Dina Rubina Live
Dina Rubina Live
Sunday, October 1, 2023 | 8:00pm
Peretz Centre
6184 Ash Street, Vancouver
Дина Рубина в Ванкувере.
1 октября, воскрескнье October, 1,2023, Sunday
Peretz Centre,
6184 Ash Street, Vancouver
Приглашаем на творческую встречу с Диной Рубиной, ярким прозаиком и лауреатом многих литературных премий.
Дина Рубина ― одна из наиболее выдающихся авторов-прозаиков современности. Ее книги издаются сразу в нескольких форматах: печатный, электронный, аудиозапись.
Произведения замечательной писательницы наполнены иронией и жизненной мудростью. Приезд Дины Рубиной с концертами в США и Канаду в октябре 2023 года - прекрасная возможность почитателям ее таланта вживую услышать отрывки из произведений с неповторимой интонацией авторского голоса.
Творческий вечер писательницы и прекрасной рассказчицы, который называется «Автор и его герои», непременно порадует поклонников современного литературного творчества.
We invite you to a creative meeting with Dina Rubina, a bright novelist, and winner of many literary awards.
Dina Rubina is one of the most prominent prose writers of our time. Her books are published in several formats at once: print, electronic, and audio recording.
The works of a wonderful writer are filled with irony and life wisdom. The arrival of Dina Rubina with concerts in the USA and Canada in October 2023 is a great opportunity for fans of her talent to hear live excerpts from works with a unique intonation of the author's voice.
The creative evening of the writer and the beautiful storyteller, which is called "The Author and his heroes", will certainly please fans of modern literary creativity.