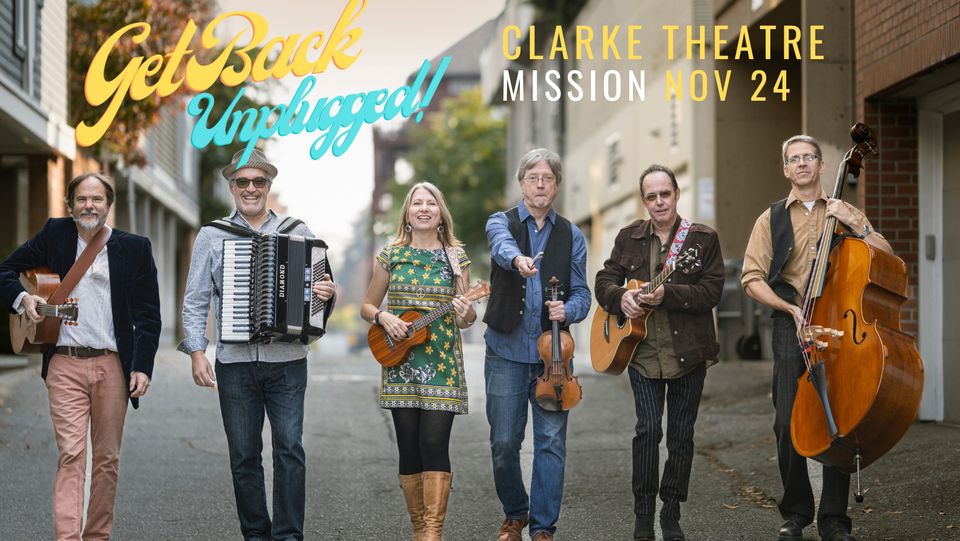 Clarke Theatre Presents
Get Back Unplugged Vancouver's fabulous Beatles retrospective
Friday, November 24, 2023 | 7:30pm
Clarke Theatre
33700 Prentis Ave, Mission, BC
*Get Back Unplugged - Vancouver's fabulous Beatles retrospective
It's been said that the sign of a great song is when it can stand on its own, without any need for complex production. With the warmth of voices in five part harmony, and the simple beauty of acoustic instruments, Get Back Unplugged aims to revisit some of the best loved songs of late-period Beatles, and to deliver them with the joy and spontaneity of friends singing around a kitchen table. Bringing together six stellar singers and players who, between them, have straddled the worlds of folk, Celtic, blues, jazz, and classical music, this intimate and fun performance does not try to imitate the Fab Four, but rather seeks to present interpretations that are authentic to the musicians' own unique voices. While they revere and respect the spirit of these classics, the group embodies the kind of playful, creative energy that the Beatles display in the studio, even occasionally alluding to other genres such as fiddle music, gypsy jazz, and classical music as the spirit moves them.
ABOUT THE ARTISTS
CAMERON WILSON, VIOLIN/VOCALS | Violinist Cameron Wilson has been a fixture on the Vancouver music scene for the past three decades. He is recognized as one of the most versatile violinists able to play a wide variety of different musical genres. He was a long standing member of the Vancouver Symphony Orchestra, and currently performs with classical crossover piano trio, Joe Trio as well as the gypsy jazz quartet, Van Django, The Wahs, Hard Rubber Orchestra, and the Marc Atkinson Quartet. He is one of the city's most sought after studio musicians and he is also a composer/arranger whose works have been performed by a number of symphony orchestras and chamber ensembles across Canada and the US
ANDREW HILLHOUSE, GUITAR/VOCALS | Andrew Hillhouse cut his teeth in the Folk world as the founder and manager of the Celtic funk band Mad Pudding, who toured festivals and folk clubs in North America and Europe through the 1990s. Since 2000 he has provided driving, groovy guitar for several the Celtic music scene's most respected and exciting acoustic musicians, including west coast innovative fiddler Zavellennahh Huscroft, champion Canadian fiddler Pierre Schryer, Irish flute player Nuala Kennedy, and The McDades, with whom he won a JUNO and two Canadian Folk Music Awards in 2006. His recent album Passages (2017) contains a mixture of traditional and original songs, and songs by a few of his favourite writers. Andy obtained a PhD in Ethnomusicology from the University of Toronto in 2013, and he is currently the Executive and Artistic Director of the Harrison Festival of the Arts in Harrison Hot Springs, BC.
LJ MOUNTENEY, VOCALS/UKULELE/KAZOO/PERCUSSION | Dubbed a "Canadian Bonnie Raitt," LJ Mounteney combines soulful vocals with high-energy, and relatable performances. Mounteney's sophomore album, Mama Danced, is an upbeat album of 13 blues and roots songs showcasing her range and musicality in a mixture of originals and covers. The album was produced by Canadian blues veteran Jack Lavin. Mama Danced has been receiving airplay on radio stations in the UK and US as well as Canadian Radio – CBC's Hot Air, Saturday Night Blues, CKUA's Friday Night Blues and many more.
An in-demand vocalist in the Vancouver jazz and blues scene, LJ also works in the Frank Zappa themed group Zappostrophe' and provides vocal tracks to composers from Bowen Island to Australia from her home studio. Connect with LJ on Spotify, Facebook, and Instagram!
BRENT GUBBELS, ACOUSTIC BASS | No stranger to the Vancouver music scene, Brent Gubbels has been a locally based professional musician and teacher for many years. In that time he's worked with a diverse group of musicians and ensembles including Van Django, the Hard Rubber Orchestra, Gypsalero, Rumba Calzada, John Reischman, the Vince Mai Project, Dal Richards, Lee Aaron, Dee Daniels as well as Stuart Maclean (Vinyl Café) and Bob McGrath (Sesame Street). As a member of the Oscar Lopez trio he performed pops concerts with the Edmonton Symphony Orchestra, Calgary Symphony Orchestra, Winnipeg Symphony Orchestra, Regina Symphony Orchestra and Saskatoon Symphony Orchestra in addition to playing many of the major jazz and folk festivals across Canada and the United States.
He has toured North America and Europe extensively, performed concerts at Lincoln Centre Plaza, the Kennedy Centre, Southbank Center, Tonder Festival, Towersey Village Festival, Philadelphia Folk Festival, the Clonakilty International Guitar Festival as well as the Nanjing International Jazz Festival in China . He's also been regularly featured in groups performing at the Vancouver Jazz festival, Vancouver Folk Festival, Edmonton Folk Festival, Calgary Folk Festival and the Winnipeg Folk Festival.
Brent can be heard on recordings by Van Django, Gypsalero, Juno nominees Susan Crowe, Compadres and the Hard Rubber Orchestra as well as Juno winners James Keelaghan and Oscar Lopez.
ALLAN DIONNE, ACCORDION/VOCALS | Allan Dionne has been an active part of the Vancouver music scene for many years playing accordion, drum set and percussion. Since obtaining a BMus in percussion from UBC Allan has performed with many notables in Celtic music including Mad Pudding, with whom he has performed at festivals worldwide, and Ashley MacIsaac. As an accordionist and a drummer, Allan is currently a full-time member of the Francophone trio Pastiche (accordion/ percussion) and is currently active in the Vancouver Brazilian music scene (accordion/percussion), specializing in Forró and Choro and performing with groups such as Brazilian Flavours. Allan is a fixture within the Celtic, Francophone and Brazilian music communities in Vancouver, where he continues to perform and record on accordion, drum set and percussion.
DAVID GIBBONS, GUITAR/VOCALS | David Gibbons was born in Kent, England. He started playing trumpet at age 8 and progressed to include guitar and bass by 16. An excellent rock vocalist, David also composes and has written many songs and arrangements for various projects. David was a member of the band 'Groove Connection' and toured in Europe extensively working with bands including Jamiroquai, Bad Manners and Billy Childish as well as regular stints at the Jazz Cafe in Camden, London and numerous festivals including the Phoenix Festival in Stratford upon Avon. Now making Vancouver his home, David works with violinist Cameron Wilson in the Wilson Gibbons duo and the Hazmatics with Allan Dionne and Cameron Wilson.