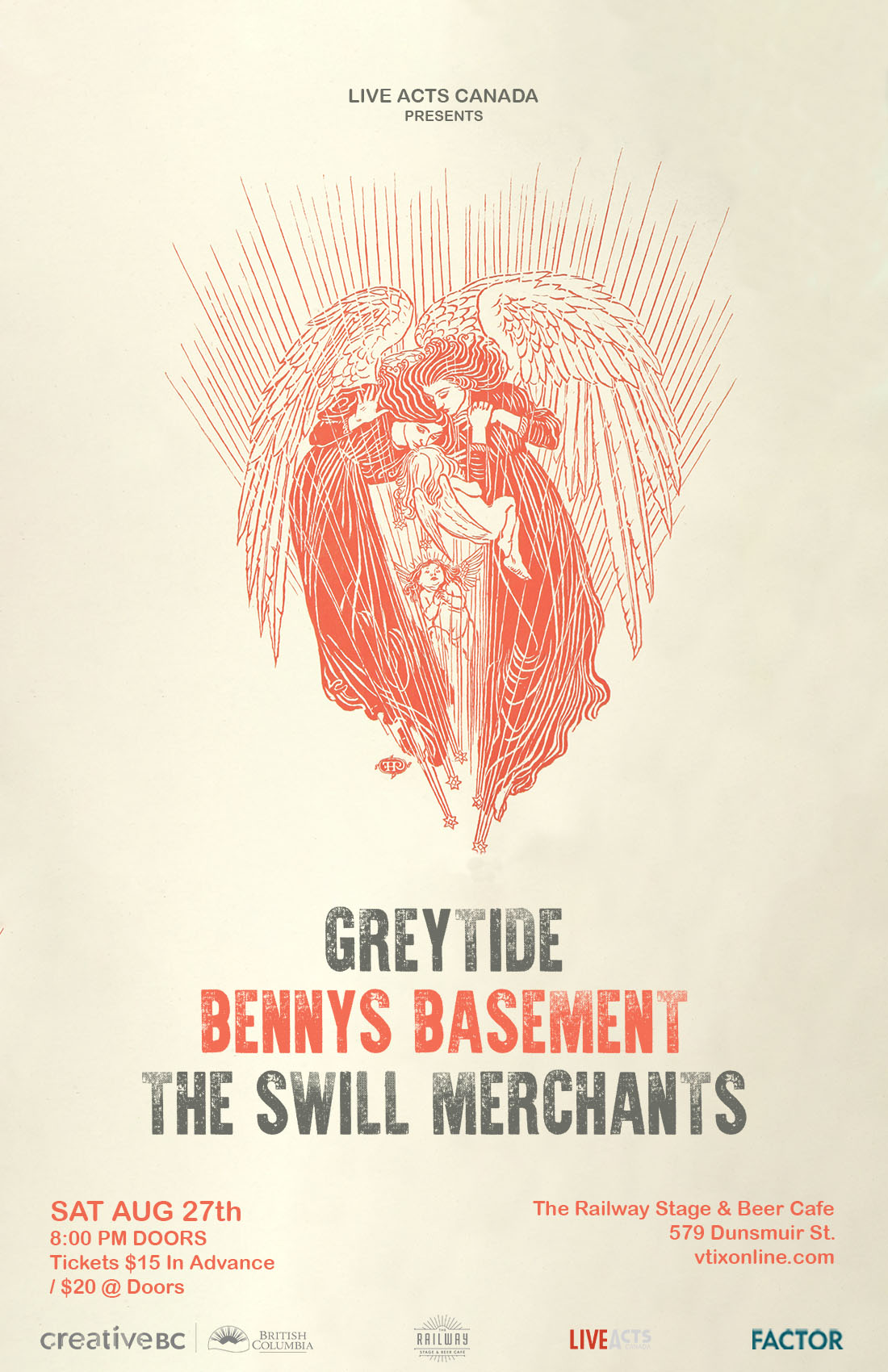 Greytide With Special Guests, Benny's Basement, and The Swill Merchants
Saturday, August 27, 2022 | 8:00pm
The Railway Stage and Beer Cafe
Live Acts Canada Presents
Greytide With Special Guests, Benny's Basement, and The Swill Merchants
Live From The Railway Stage & Beer Cafe. Doors: 8:00PM/ 19+
Tickets $13.00 In Advance $15.00 @ The Door
RAILWAY STAGE & BEER CAFE 579 Dunsmuir Street
Greytide//
Greytide is a Vancouver-based 5-piece hard rock band. Founded in 2018, the band members met through a UBC music club and started jamming shortly after realizing they were messaging the wrong Tom (drummer) for almost a month. Having a wide range of musical influences from the likes of Pink Floyd to Alter Bridge and Metallica, Greytide prides itself in writing songs that are unique and have incorporated in the elements from various different genres. Greytide played numerous shows from its inception through 2020 before the COVID pandemic and is ready to once more burst into the local music scene in Vancouver. Greytide's debut EP was recorded at Monarch Studios with Juno award-winning producer Tom Dorbzanski (The Zolas) & Alex Penney and will be released in August 2022.
Instagram - https://www.instagram.com/greytide.music/
Facebook - https://www.facebook.com/Greytide.music
Benny's Basement//
The Swill Merchants//
The Swill Merchants are a band from New York whose music is a blend of pop, rock, and punk influences, accompanied by lyrics that celebrate love while examining the effects of time and the idea of personal development. The Swill Merchants are Darren Colvil on guitar, James (Jimmy) Colvil on guitar, Dan Salzillo on bass, Patrick Colvil on drums, and Matt MacPherson handling vocals and lyrics. From Staten Island, New York, the band has been friends for almost 15 years.
Spotify - https://open.spotify.com/artist/3actq21MS6EfJGKeiL8eee
Instagram - https://www.instagram.com/swillmerchantsband/?hl=en
Facebook - https://www.facebook.com/swillmerchantsband/
https://www.facebook.com/railwaySBC
https://www.twitter.com/railwaySBC
https://www.instagram.com/railwaySBC
For more information, email info @donnellygroup.ca