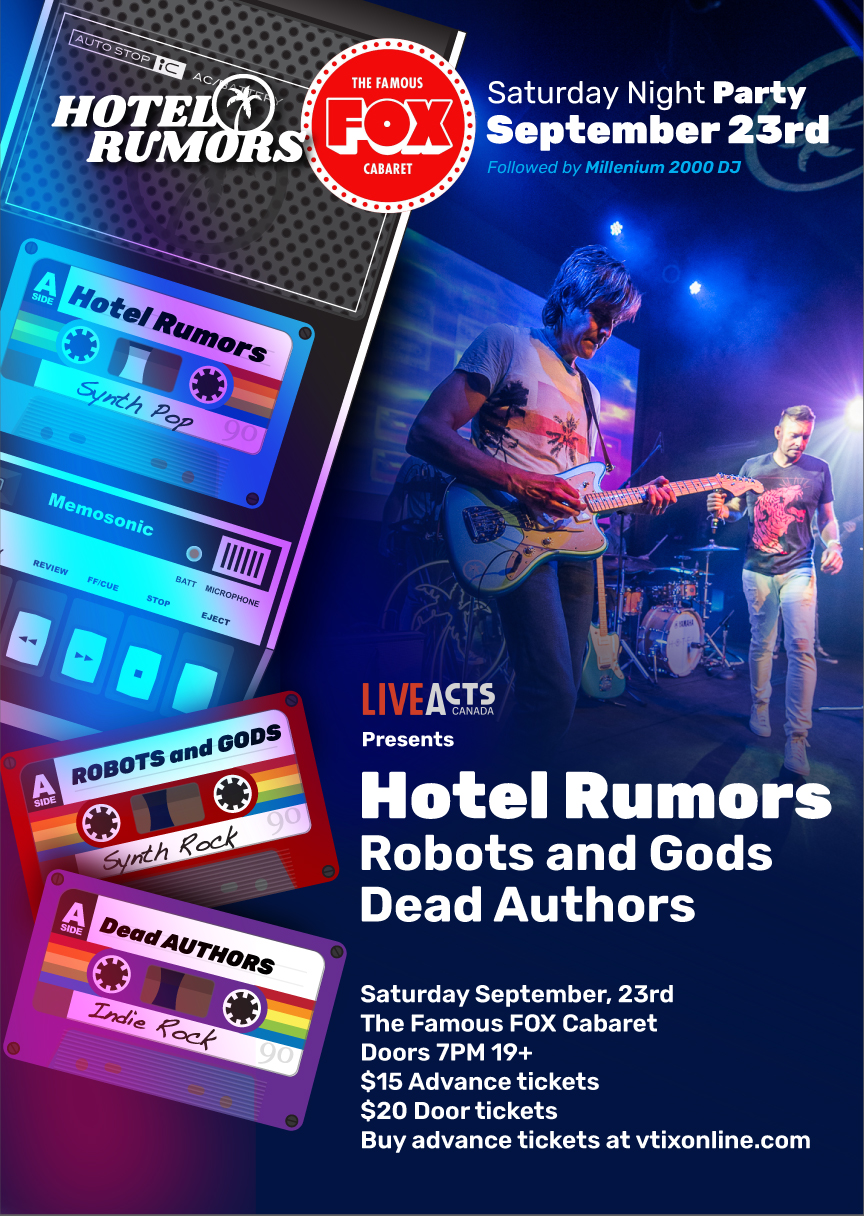 Hotel Rumors with Special Guests Robots And Gods and Dead Authors
Saturday, September 23, 2023 | 7:00pm
The Fox Cabaret
2321 Main St, Vancouver, BC V5T 3C9
Live Acts Canada Presents:
Hotel Rumors with Special Guests Robots And Gods and Dead Authors
The Fox Cabaret. Doors: 7:00 PM/ 19+
Tickets $15.00 In Advance $20.00 @ The Door
THE FOX CABARET| 2321 Main St.
Hotel Rumors //
"We are writing pop songs that make you feel the excitement and anticipation of travelling to your dream destination, meeting a new love or soaking up the scene in a chill lobby lounge." - James Faulkner
Hotel Rumors is an indie pop band from Vancouver British Columbia Canada formed in 2019 by James Faulkner and Colin Holyk. The two friends spent ten years playing hundreds of gigs with their cover band Line49, and now, as Hotel Rumors, have brought their own musical ideas to life. Their debut album, Riviera, was released in 2019 and was followed by their new singles Gulfstream and Train to '95 as well as the Riviera Nights remix album in the summer of 2020. Band Members, James Faulkner - Vocals, Colin Holyk - Guitar, Dave Law - Bass, Rob Riley - Synth Rig/Keys, Francois Lucas - Drums.
Website: www.hotelindieband.com
Instagram: www.instagram.com/hotelindieband
Robots And Gods //
ROBOTS AND GODS are an original rock band, based in North Vancouver, Canada. Inspired by the 90's Seattle grunge scene, and 80's New Wave, their music is a dynamic, intense combination of heavy rock and synth-pop.
Website: www.robotsandgods.com
Instagram: www.instagram.com/robotsandgods
Dead Authors //
Dead Authors are 4-piece indie rock band from New Westminster, BC, Canada. Hopping between instruments, they explore the sounds of effects-laden guitars and lush synthesizers. Drawing influence from bands such as Wild Beasts, Grizzly Bear and Radiohead, they pen songs with a melancholic introspection of a world governed by chaos.
Facebook: www.facebook.com/deadauthors
Soundcloud: soundcloud.com/dead_authors