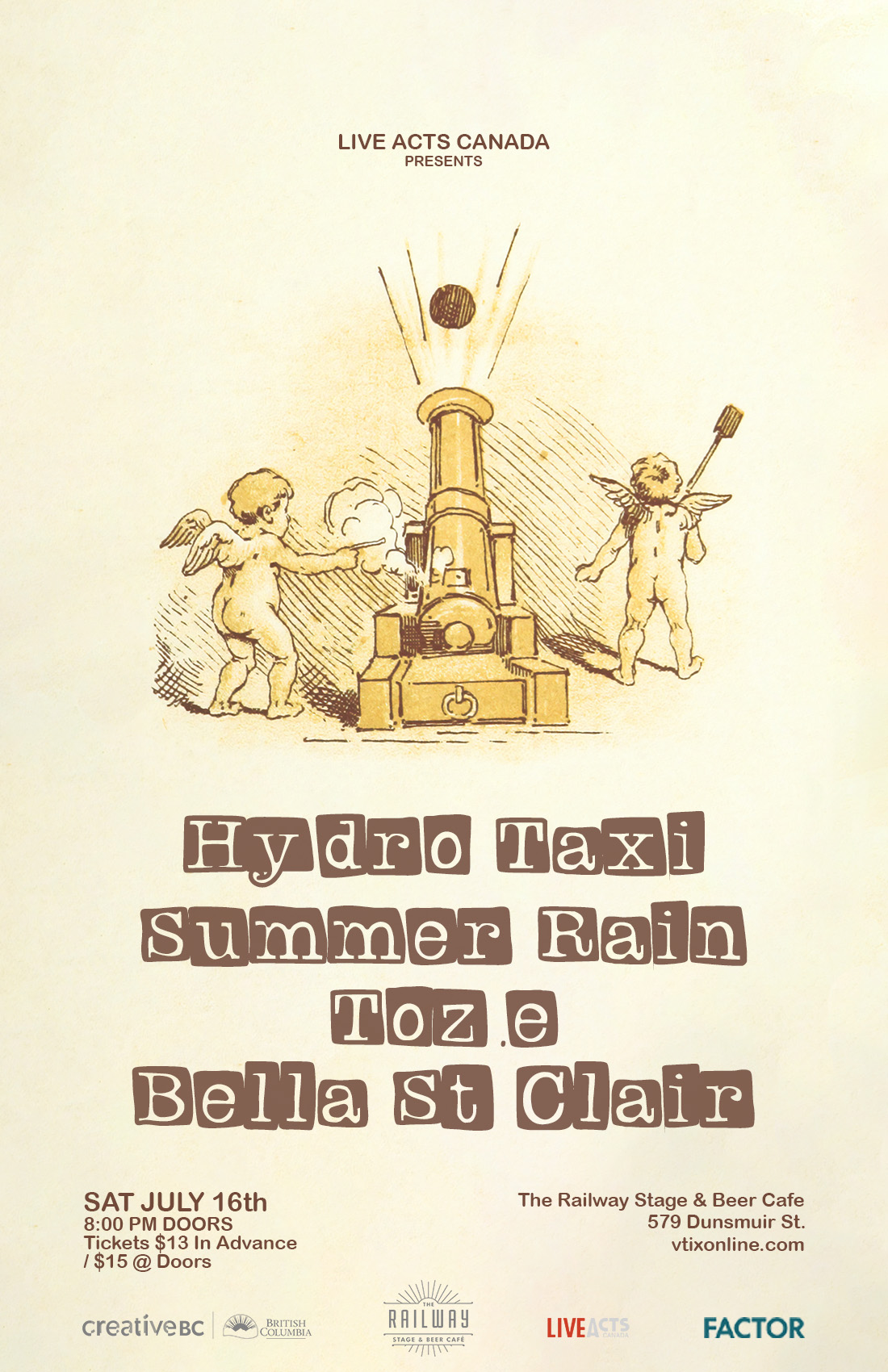 Hydro Taxi with Special Guests, Summer Rain, Toze and Bella St Clair
Saturday, July 16, 2022 | 8:00pm
The Railway Stage and Beer Cafe
Live Acts Canada Presents
Hydro Taxi with Special Guests, Summer Rain, Toze and Bella St Clair
The Railroad Stage and Beer Cafe. Doors: 8:00PM/ 19+
Tickets $13.00 In Advance $15.00 @ The Door
THE RAILROAD STAGE AND BEER CAFE, 579 Dunsmuir St
HydroTaxi//
Music is a vehicle that takes us to many destinations, be it sad, thoughtful songs to reflect on, happy tunes to brighten your mood, or driving beats to pump you up. This taxi's only stop is funky rock that you can't help but groove to!
Driving this cab is a trio of multi-talented players who each bring their unique musical influences and style.
Forming right out of their graduation from various Douglas College music programs, Adrian, James, and Marcus took the pandemic to hone their craft and write songs that represent the fun and funky way of performing.
If there's room to get up and move, don't do your body a disservice, audience interaction is encouraged.
Get in, buckle up, and enjoy the ride.
Summer Rain//
Summer Rain consists of three young guys – Will McLelland (Guitar, Vocals), Josh Beausoleil (Bass, Vocals), Logan Hale (Drums, Slide Whistle).
Taking influence from Coldplay, Kings of Leon, and Oasis (among many others), their sound captures the ethos of the modern rock greats without forcing a generic sound or image.
They are a melting pot of personalities, energetic performances, and melodies made for singing in the shower.
Website - https://musicsummerrain.com/
Toze//
Singer-songwriter on a mission to bring something new to this musical world

Linktree - https://linktr.ee/itstoze
Bella St Clair//
your source of music, art & chaos.
Linktree - https://linktr.ee/thebellastclair
https://www.facebook.com/railwaySBC
https://www.twitter.com/railwaySBC
https://www.instagram.com/railwaySBC
For more information, email info @donnellygroup.ca