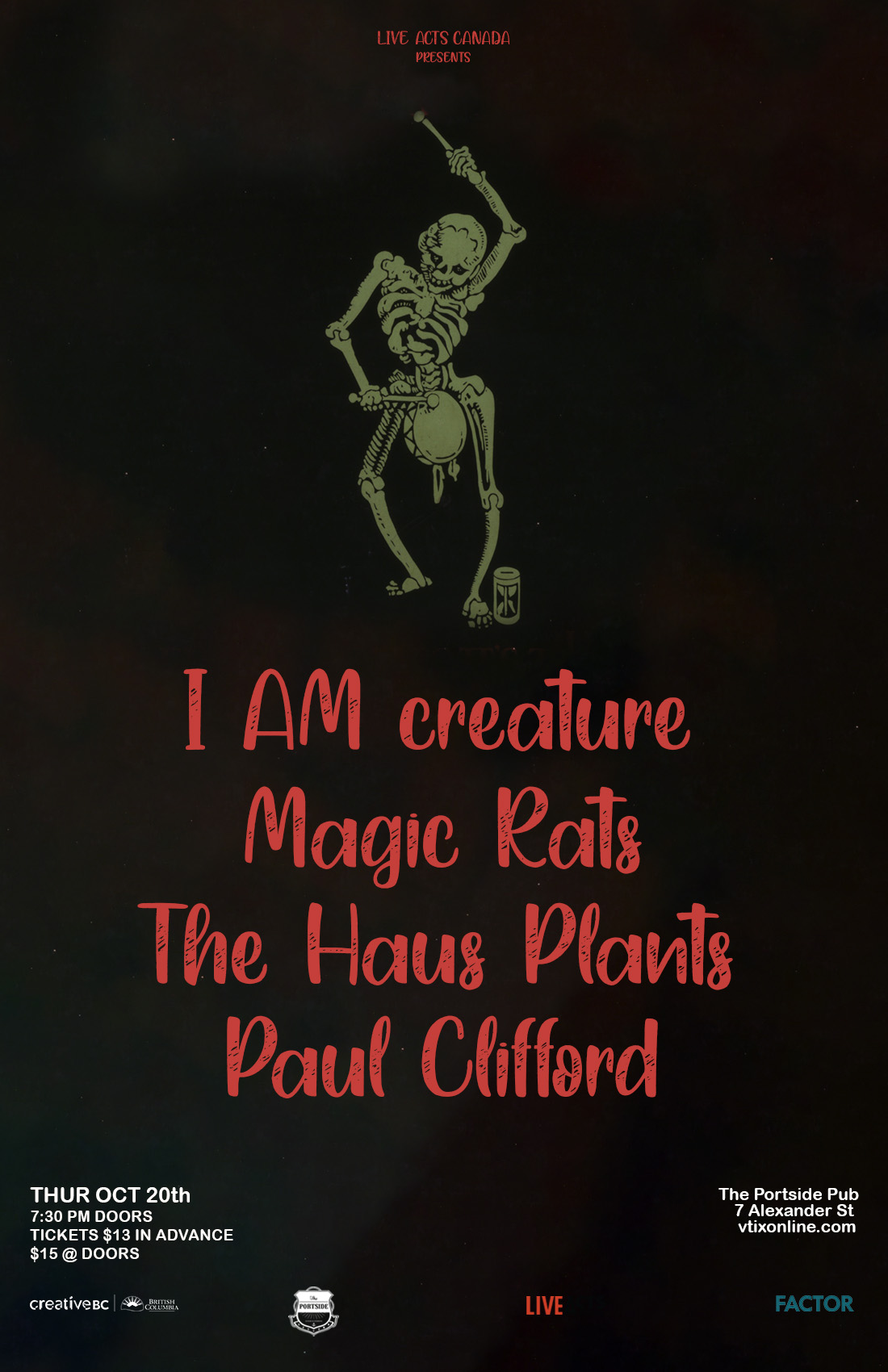 I AM creature with Special Guests Magic Rats, The Haus Plants, and Paul Clifford
Thursday, October 20, 2022 | 7:30pm
The Portside Pub
Live Acts Canada Presents:
I AM creature with Special Guests Magic Rats, The Haus Plants, and Paul Clifford
The Portside Pub. Doors: 7:30PM/ 19+
Tickets $13.00 In Advance $15.00 @ The Door
THE PORTSIDE PUB, 7 Alexander St.
I AM creature//
Bandcamp - https://iamcreature.bandcamp.com/
Facebook - https://www.facebook.com/iamcreatureyvr
Magic Rats//
Given the disappointment of the canceled Railway Club gig the Rats are primed to give the fans the best show yet. "Yeah, this one is going to be a great one", said six and four string God Brapps "the accountant" Kansas. "We've swapped in some new tunes and they are sounding incredible! In fact, I would say if you miss this show you're likely going to regret it for the rest of your life." "I have to agree with Brapps" Mongoose chimed in. "I mean, what else are you going to be doing on a Thursday night in October? Watching Friends reruns on Netflix while your nine year old complains that it's to early to go to bed and that their friend Jayton doesn't even have a scheduled bed time. Get a grip, this isn't 1994. Must See TV is long gone and it wasn't really that great anyway, well, except for Seinfeld, that's one of the greatest sitcoms of all time. Plus, you know Jayton is an idiot and you are about 17 minutes away from saying something stupid to your kid like you can't see your friend Jayton anymore and you know in your heart that will only bring your daughter closer to him and nobody wants that. Newest edition to the band Patrick Beverley couldn't be reached for comment but rumour has it he has been seen eating pizza pies at several Metro Vancouver Boston Pizza's lately. That and attending doctor's appointments for a "lung issue" that the rest of the Rats think is all in his head. The great MojoRise is headlining and I AM Creature and Paul Clifford are also on the bill and they seem like cool dudes. Point is, if you know what's good for you, best be at the show on October 20 at the Portside Pub if you want to have a good time and enjoy all that life has to offer. Stay tuned for further information about ticket purchases. Until then Rock on with your bad selves and remember it ain't a crime to be good to yourself.
Best,
Magic Rats
Website - http://magicrats.ca/
Instagram - https://www.instagram.com/bobbymongoose/
The Haus Plants//
We're the HausPlants an indie punk band out of Vancouver.

Instagram - https://instagram.com/thehausplants?igshid=YmMyMTA2M2Y=
Paul Clifford//
Paul Clifford - A Vancouver based musician originally from the U.K. Paul brings his unique style and blend of melodies and vocals while creating original and cover tracks. A He draws his influences from artists such as Bon Iver and Ben Howard to name a few.
A previous top 16 Canadian Idol finalist now resides in Vancouver busking for a living and continuing to work on multiple music projects. 2022 will see Paul record and release some new music to share on all platforms. Look out for Paul performing in and around Vancouver while sharing the stage with other local musicians.
Instagram - https://www.instagram.com/paulcliffordmusic/
Facebook - Facebook.com/Paulcliffordmusic