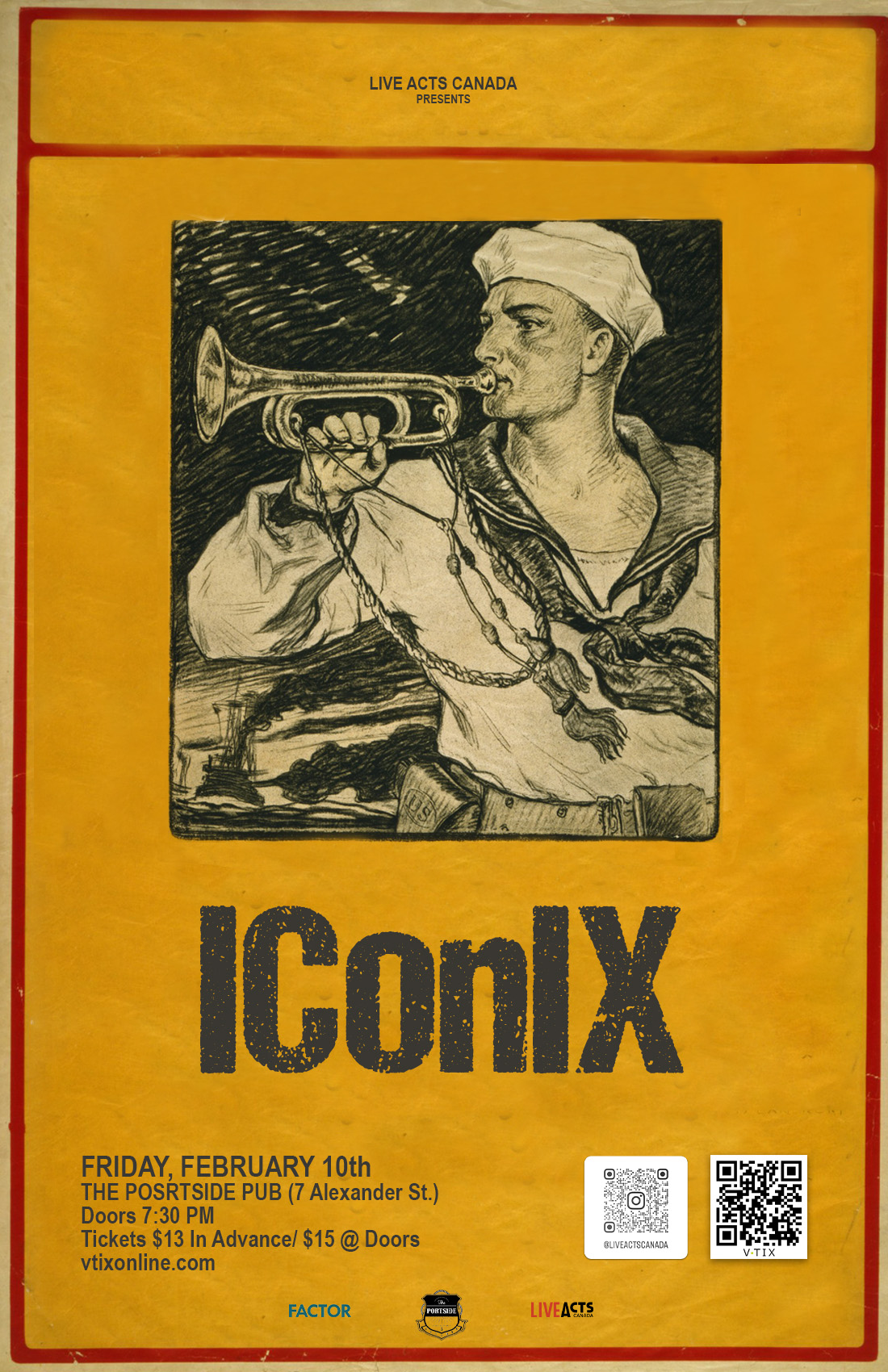 IConIX
Friday, February 10, 2023 | 7:30pm
The Portside Pub
Live Acts Canada Presents:
IConIX
The Portside Pub. Doors: 7:30PM/ 19+
Tickets $13.00 In Advance $15.00 @ The Door
THE PORTSIDE PUB, 7 Alexander St.
Jonny Epplette (Lead Singer)
Family is his life, singing is his passion! Jonny has been blessed in his amazing marriage of twenty - three years with three music loving kids. In 2015 he found IConIX and felt like part of him was complete! The ability to share his passion with family and friends is a dream come true. Jonny loves singing the endless upbeat rock music with IConIX. There's nothing more fulfilling to Jonny than seeing the music make people smile and dance!
Michael Foot (Guitars)
Michael's first love was music. At six years old he would steal his older sisters AM transistor radio and listen under the covers after going to bed each night. At eight, he borrowed his uncle's Stratocaster and hasn't looked back. At ten he joined his first band, enrolled in all things musical in school and after graduation began writing and collaborating with others while attending the music program at Capilano University. In 2014 Michael surrounded himself with four other amazing, musically talented individuals and the wheels for the IConIX band began to roll.
Raymond Pedersen (Keyboards and Harmonica)
Ray has embraced many musical styles through out the years. Whatever makes people feel good! His formative musical years were spent with console organs, analogue synthesizers and electric pianos. Now the equipment thankfully has become lighter and smarter! He is well prepared to manage any challenge presented by IConIX with their eclectic music. Performing with keyboards, Ray loves to capture the sound and get that authentic, rather than a "press play" result.
Lisa Stuible (Bass)
Lisa is the bass player and thoroughly enjoys keeping the beat for the boys in the band. You can hear the music, but you can feel the bass. Lisa's musical journey began when she was three years old, sitting atop an old upright piano at Oakridge Mall performing "All I Want For Christmas" and seeing Santa Claus in the audience. She was hooked! Live music has always been her passion and to now be grooving on the bass and sharing her love of music; feeding off the audience's energy and enjoyment, well, it is a life-long
dream come true. Music expresses emotion without judgement.It speaks to everyone differently yet brings us together.
"The only truth is music."―JackKerouac
"Music gives a soul to the universe, wings to the mind,
flight to the imagination and life to everything."―Plato
Viktor Simon (Drumsand Electronic Percussion)
Viktor likes to hit things with sticks. He started his musical journey playing the bass drum in grade six music class. There have been the rockin years when he played in cover and original bands in Vancouver and a few years where he didn't play at all. His passion for drumming never died and after joining a jam band in an industrial studio space in 2007, he got back into it and has been rockin out ever since.
Good things happen you know, even in crazy days. In 2020, Victor was welcomed to the band - IConIX