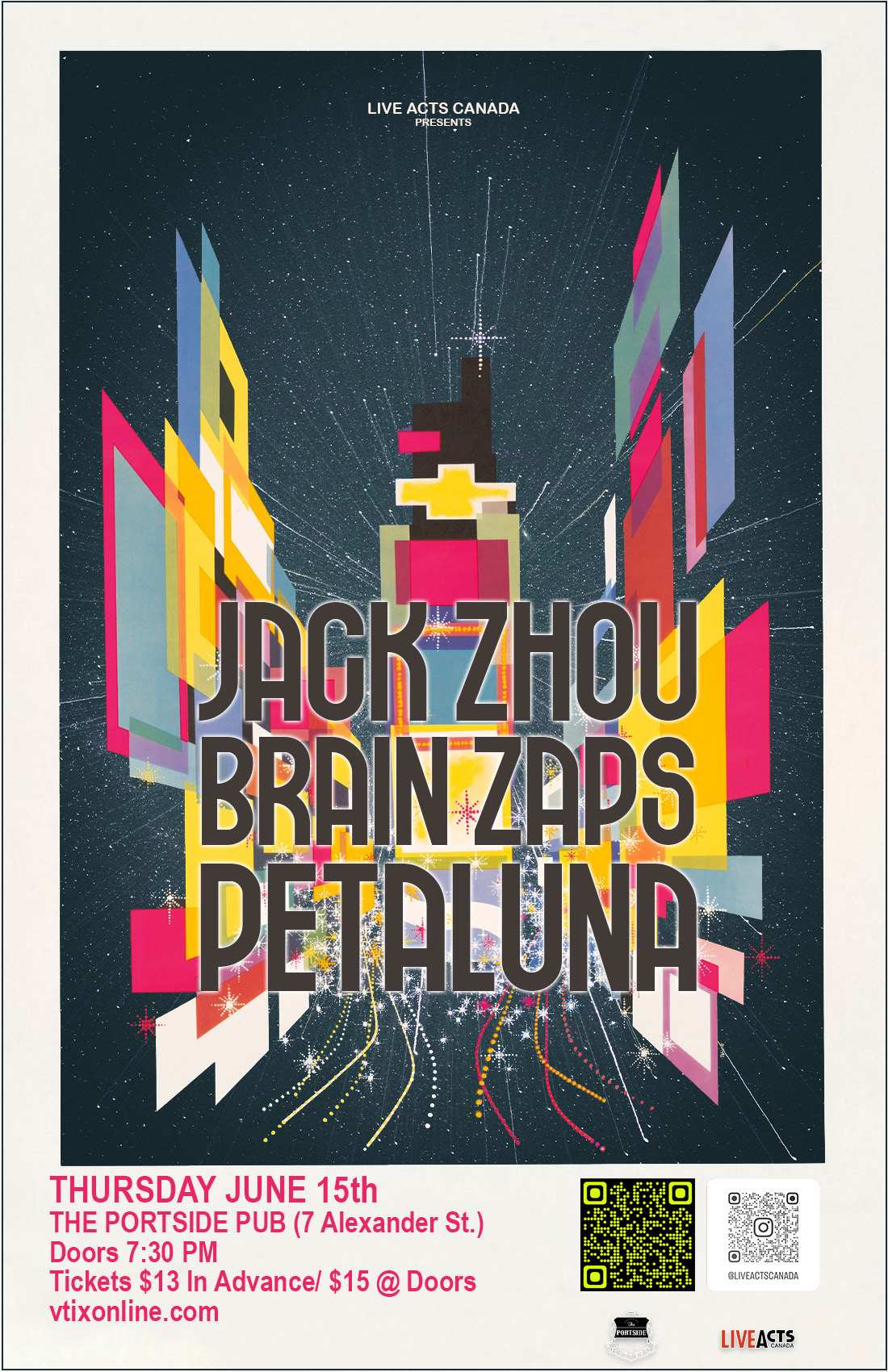 Jack Zhou with Special Guests Brain Zaps and Petaluna
Thursday, June 15, 2023 | 7:30pm
The Portside Pub
7 Alexander St., Vancouver, BC V6A 1E9
Live Acts Canada Presents
Jack Zhou with Special Guests Brain Zaps and Petaluna
The Portside Pub. Doors: 7:30PM/ 19+
Tickets $13.00 In Advance $15.00 @ The Door
THE PORTSIDE PUB, 7 Alexander St
Jack Zhou //
A contemporary guitarist based in Vancouver, Canada. Jack released his first solo instrumental album Livin' the Moments in 2018, and is currently working on his next album.
Spotify: https://open.spotify.com/album/7Kx5m8Xa8xFGpsNa0mNLXD
Instagram: https://www.instagram.com/jackzhouguitar/
Facebook: https://www.facebook.com/jackzhouguitar
Brain Zaps //
Vancouver duo, Brain Zaps, blends both the melodic and biting sounds found throughout 80's and 90's alt music, into their own distinct, hazy take on post-punk. Vincent Fournier (guitar, vocals) and Devon Forsythe (drums) reunited 2 years after the dissolution of their previous band, Owlface, and immediately got back to work writing and recording new material. With almost a decade long history of playing together, the two-piece operates as one, delivering an airtight and commanding live show. Brain Zaps is currently recording an EP scheduled for a 2023 release.
Spotify: https://open.spotify.com/artist/3XSobWvHpvm9F9oi1pxpkZ?si=S-q556JTRT6mX_zXwu_oUA
Apple Music: https://music.apple.com/ca/artist/owlface/1092934344
Petaluna //
Petaluna channels elements of Shoegaze, alt-rock, and beyond- experimenting with texture and dynamics for a noisy and catchy experience.
Spotify: https://open.spotify.com/artist/03gzigtS7A33VcR6S7Bi9G?si=65AcKhPcSxGrWpxiMAx3gQ
Insta: https://instagram.com/petaluna.music?igshid=OGQ5ZDc2ODk2ZA==