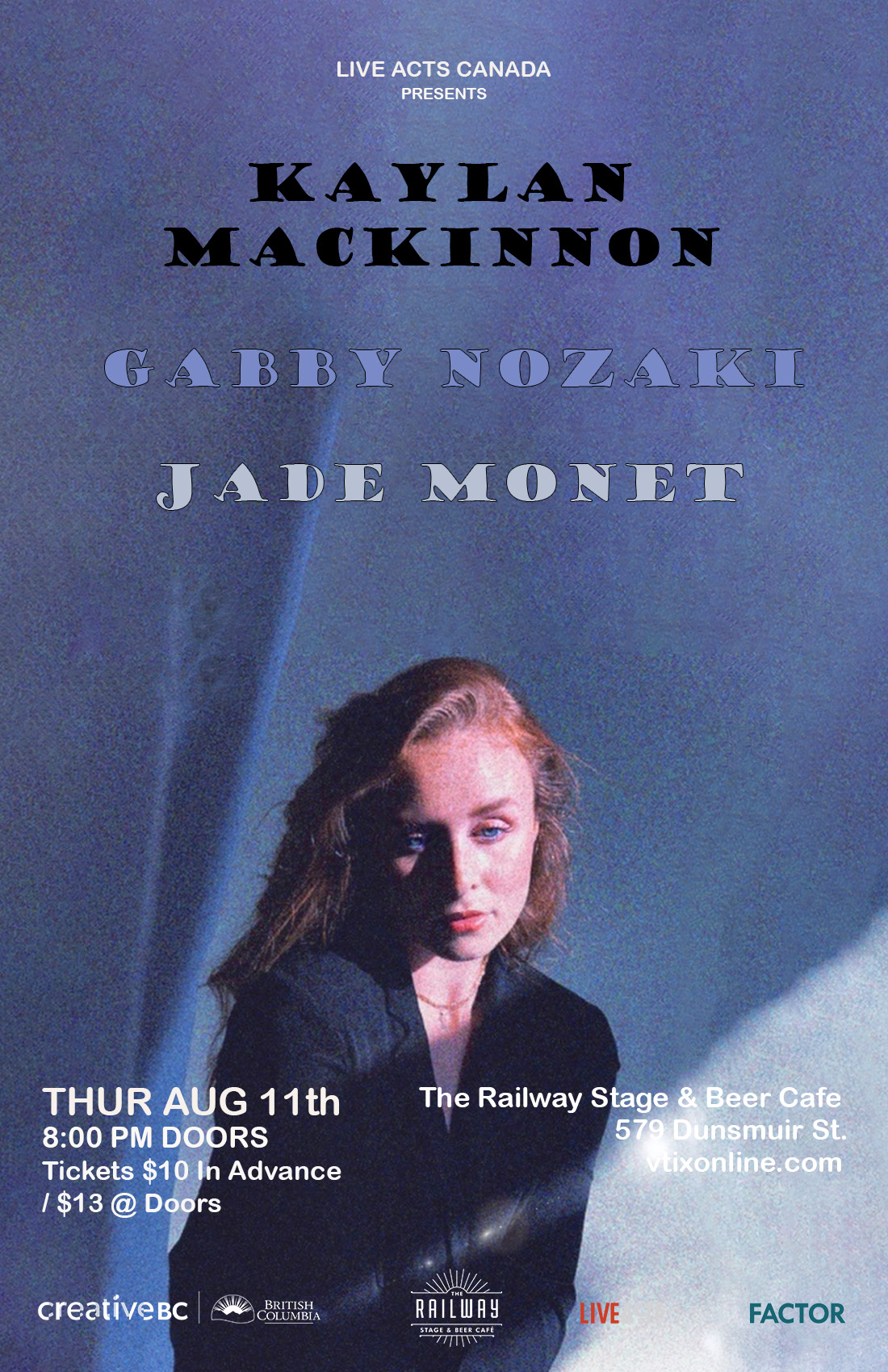 Kaylan Mackinnon with Special Guests Gabby Nozaki and Jade Monet
Thursday, August 11, 2022 | 8:00pm
The Railway Stage & Beer Café
Live Acts Canada Presents
Kaylan Mackinnon with Special Guests Gabby Nozaki and Jade Monet
The Railway Stage and Beer Cafe. Doors: 8:00PM/ 19+
Tickets $10.00 In Advance $13.00 @ The Door
THE RAILWAY STAGE AND BEER CAFE, 579 Dunsmuir St
We will be using this event to raise money for the National Network of Abortion Funds in the USA.
Kaylan Mackinnon//
This songstress grew up in Toronto, Ontario, and from the young age of 13, she began pursuing her passion for singing and writing. For Kaylan, it's all about creating a song that pulls on your heartstrings and brings everyone together. Kaylan has her Bachelor of Arts degree from The University of British Columbia, and a Master's in Business Management from the British Columbia Institute of Technology (BCIT).
Wanting to use her education to empower herself as a young businesswoman in the music industry, she continues to write and record new music that is set to be released later this year. You can find her original songs featured in films such as Just in Time for Christmas (Hallmark), The Miracle Season (Helen Hunt), Mighty Oak (Paramount Pictures), and Cats & Dogs 3: Paws Unite! (Warner Bros).
Mackinnon has also been featured in Spotify's editorial playlist New Music Friday. Her newest singles "LIES" and "Sincerely, Not Yours" are now available to all listeners around the world. She is set to release new music later on in 2022.
Instagram - https://www.instagram.com/iamkaylan/
Twitter - https://twitter.com/kaylanmackinnon
Facebook - https://www.facebook.com/kaylanmackinnonmusic
Gabby Nozaki//
Gabriela Nozaki sings sweet truth. She'll bring you to the oceans of Brazil and to the cafes of France with her guitar playing. Her work can be found on her Youtube channel.
Youtube - https://www.youtube.com/user/gabbyrn18?app=desktop
Jade Monet//
After experimenting with new sounds on her debut EP, "Awake & Dreaming", Jade took a step
back to re-explore her roots of Jazz & Soul. Now returning with a clear vision and defined
direction - she is hard at work in the studio readying the release of her best material yet. Heavily
influenced at a young age by greats such as Etta James, and later, Amy Winehouse - Jade
Monet is an incredibly talented singer whose powerful vocal abilities can be compared to other
great vocalists of our time such as Adele, Leona Lewis, Alicia Keys & Christina Aguilera,
amongst others.
Facebook - https://www.facebook.com/lovejademonet
Instagram - https://www.instagram.com/lovejademonet/
Fanlink - https://jademonet.fanlink.to/awakeanddreaming
https://www.facebook.com/railwaySBC
https://www.twitter.com/railwaySBC
https://www.instagram.com/railwaySBC
For more information, email info @donnellygroup.ca